Editorial: Fighting fires — and drones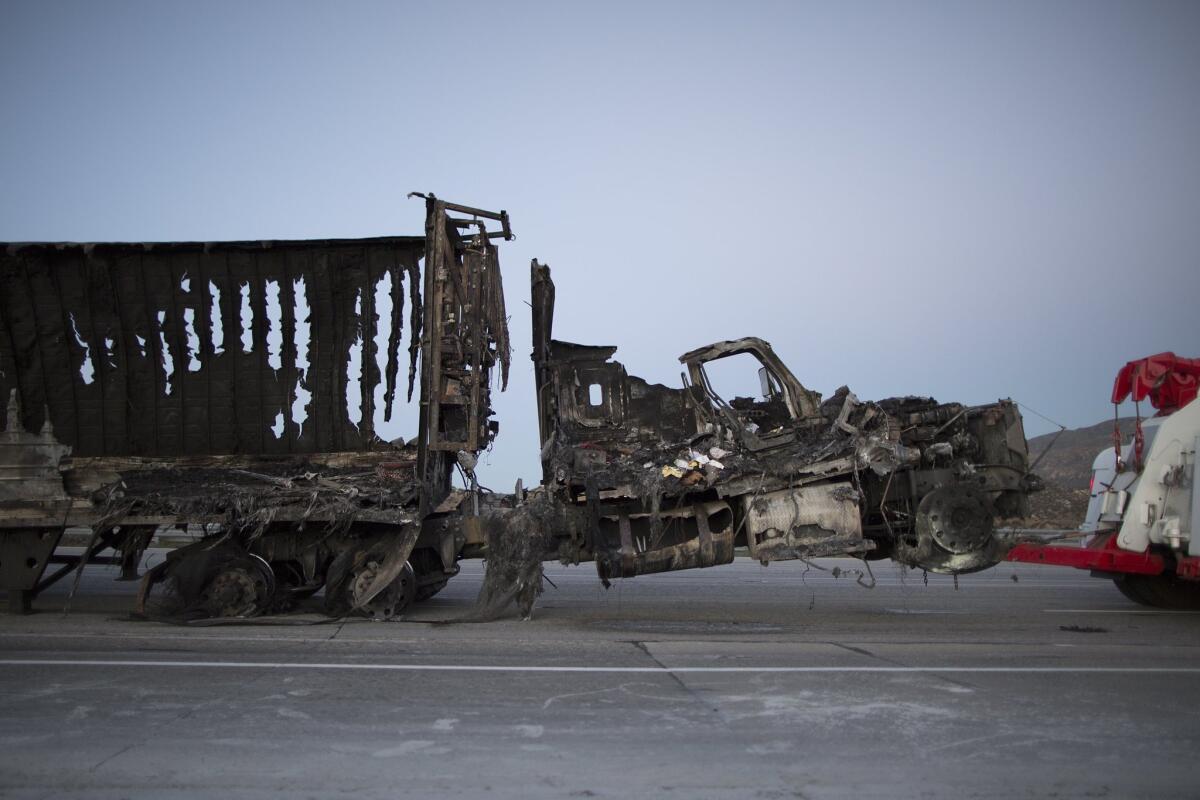 It is obviously reckless — as well as illegal — to fly personal drones in a wildfire zone, whether for fun or profit, and yet here we are: At least twice in the last month, firefighting aircraft were hampered from dropping water or chemicals on Southern California brush fires after recreational drones buzzed into the area. Most recently, water drops were halted Friday on the Cajon Pass fire, shortly before it jumped the freeway; in June, drones disrupted flights during the Lake fire in the San Bernardino Mountains.
Nor were these the first times that drones impeded firefighting efforts. According to the California Department of Forestry and Fire Protection, personal drones posed dangers to aircraft in at least two fires last year as well.
The soaring popularity of hobby drones has already raised concerns about personal privacy and public nuisance. But the potential for serious public endangerment adds a whole new level of worry.
Two bills are being introduced in the Legislature to curb this irresponsible use of drones. Both have commendable intentions and would impose policies worth consideration, but given the current status of drone technology and regulation, they seem premature and unlikely to make a significant difference.
SB 167 would increase the penalty for flying drones in wildfire zones from the current $1,000 fine to $2,000, or in extreme cases to $5,000. But if scofflaws are willing to ignore an already hefty $1,000 fine, they're unlikely to change their behavior in fear of the higher amount. And some hobbyists don't know the law, though it's their responsibility to do so.
The bigger problem is the difficulty of finding the operator in order to enforce the law. Without transponders on each drone to identify its owner, and black boxes to record its flights, it can be too easy for the person at the controls to remain unknown. Both of those technologies are readily available, but they are included in very few personal drones, and the Federal Aviation Administration has so far been unwilling to require them.
Companion bill SB 168 would release public safety agencies from liability if they destroy a drone during such emergency situations as a wildfire, medical evacuation or search-and-rescue operation. No sympathy for the drone owner, but the bill does nothing to define safe ways for doing this. Causing a drone to crash could create a fire problem of its own. There are technologies for jamming drone frequencies in a way that force a safe landing — but again, most drones aren't required to include that technology.
In other words, the bigger questions about how and when to regulate dangerous drone use must be resolved by the federal government. The FAA has been moving slowly on these issues, but these most recent threats to public safety show that it's running out of time to make some crucial decisions.
Follow the Opinion section on Twitter @latimesopinion and Facebook
A cure for the common opinion
Get thought-provoking perspectives with our weekly newsletter.
You may occasionally receive promotional content from the Los Angeles Times.