Editorial: L.A.'s trade-off: Lower DWP bills and less money for city services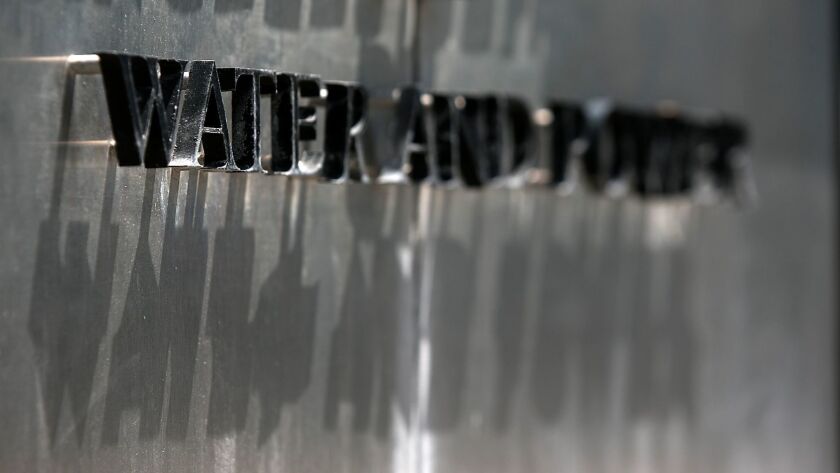 Los Angeles Department of Water and Power ratepayers could soon see their electricity bills trimmed under a proposed settlement that would limit the payment the DWP is required to make to the city each year. But don't celebrate just yet — this may be a case where the winners and the losers are the same people.
The $200 million-plus transfer has been a perennial fight in Los Angeles politics. It's been the subject of protests, audits and showdowns over how much the city-owned utility and its ratepayers should have to subsidize city services, such as park maintenance and public safety. Of course, the ratepayers are also the residents who rely on those services.
There is nothing inherently wrong with the DWP sharing a portion of its income with the city. As a municipally owned utility, the DWP makes the payment in lieu of the taxes that privately owned utilities pay the state or the dividends they pay investors. The biggest problems have been the lack of transparency and the temptation by city officials to treat the DWP as a piggy bank.
The City Charter allows the utility to transfer a portion of "surplus" revenue to the city's general fund. But critics have argued that there isn't a true surplus; if there was, why would the utility be so far behind on basic infrastructure and maintenance? Rather, the mayor and City Council over the years have set electricity rates higher than necessary to create a "surplus" that could then be transferred to the city budget. The transfer plus a separate utility user tax generate more than $600 million for the city.
Three lawsuits filed against the city argue the transfer is a hidden tax and illegal under Proposition 26, the 2010 ballot initiative that bars governments from charging more for a service than it costs to provide it. Attorneys for the plaintiffs had warned the city could be on the hook for more than a billion dollars in refunds if the transfer is deemed illegal. The proposed settlement, which still has to be approved by the court, would be significantly less painful for city coffers while still offering a modest reduction in utility bills.
Most important, the agreement restricts the size of the transfer going forward, eliminating the temptation to rely on DWP ratepayers to plug city budget gaps. Yes, that means less money for services, but the trade-off is more transparency.
Follow the Opinion section on Twitter @latimesopinion and Facebook
---
A cure for the common opinion
Get thought-provoking perspectives with our weekly newsletter.
You may occasionally receive promotional content from the Los Angeles Times.