Editorial: A year after the election and Trump's opponents still haven't figured out why they lost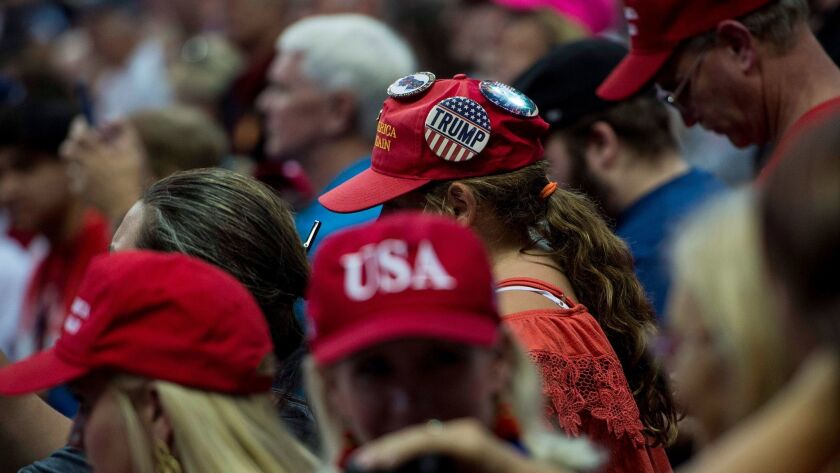 Soon after the numbers began popping up on screens across the country on the evening of Nov. 8, 2016, Donald Trump's opponents, many of them conservatives, far more of them liberals, allowed their shock to give way to a moment of introspection. Could they have misread so many of their friends, neighbors and other Americans? Was it possible that their own definitions of success and progress were not universally shared? Had they inadvertently — oh, very well then, perhaps intentionally — bulldozed their way past the wants, needs and values of millions of former Obama voters who were still seeking change and hadn't yet found it, and millions of Obama opponents who didn't like the change they were getting? Was it time for a listening tour of Trump's America, some stock-taking, some reconciliation and renewal?
It seemed so. But the period of reflection lasted about 10 minutes.
In the year since Trump was elected president, his opponents have offered little but excuses for losing the election a year ago: It was the electoral college. It was the Russians. It was the racists. It was the alt-right. It was social media. It was anti-feminist backlash. It was Hillary, it was Bernie, it was Obama, it was Comey. It was the tens of millions of strangers who for reasons obscure and unknowable cast their ballots in favor of the tweeting tycoon-turned-reality-show-host-turned-politician.
In the last year Democrats, especially, have shown little ability or even desire to reach out to those very alienated voters who not long ago were their base.
But of course they are not strangers. They are Americans, and let's not quibble over shares of the popular vote and whether it falls short of half, and by how much. They are us.
In the months leading up to the election, USA Today published a remarkable feature called Trump Nation — brief profiles of people who intended to vote for Trump. A few of them might be dismissed as borderline bigots or crazies, but the vast majority seemed like perfectly reasonable folks, inasmuch as the brevity of the profiles could attest. That was doubtless the point of the project — the publication's staff and editors correctly perceived that Trump's America was unknown and unfathomable to those of us in the rest of the nation.
The Los Angeles Times editorial page has been unflinching in its critique of Trump both as a candidate and as president, and with good reason. He is a disaster for the nation and for the world. He is a lying tweeter, an amateur, a demagogue. He earns his bad reviews. We won't let up.
But Trump voters are not Trump, even if they continue to support their man. Democrats and establishment Republicans may or may not be able to win them over, but they shouldn't write them off. The very reason so many of them have said they opted for a disruptor-in-chief is that they were tired of being written off by those in power.
But in the last year Democrats, especially, have shown little ability or even desire to reach out to those very alienated voters who not long ago were their base. Positions have hardened, lines have been drawn.
It ought to be possible to argue vigorously for a comprehensive immigration solution without ridiculing opponents as backward — but of course that means hearing them out and considering the possibility that they are right about something. It ought to be possible to stand firm against Confederate statues and flags without branding everyone who disagrees as racist, no matter how vocal the truly racist tiki torch bearers and swastika wearers may be. It ought to be possible to understand the hardships borne and the resentments felt by people on the losing end of the economy and to mutually hammer out policies and programs that offer meaningful work and a proper measure of dignity. It ought to be possible to recognize that not all good fortune among the haves in this society is earned and not all bad fortune is a mark of moral failure. It ought to be possible to have a debate without calling the other side names. You do not call someone "deplorable" and expect them to forget it.
Politics is a hard-charging, rough-and-tumble sport — except that it is not a sport at all. In this nation, it is the operating system of democracy and the arena in which people of different backgrounds and values come together for debate. Without a little empathy and some mutual respect, it can also become our means for self-destruction, or at least for another term for President Trump — which may be the same thing.
Follow the Opinion section on Twitter @latimesopinion and Facebook
---
A cure for the common opinion
Get thought-provoking perspectives with our weekly newsletter.
You may occasionally receive promotional content from the Los Angeles Times.