Endorsement: Our recommendations for the California Supreme Court and Second District Court of Appeal elections: Just say 'yes'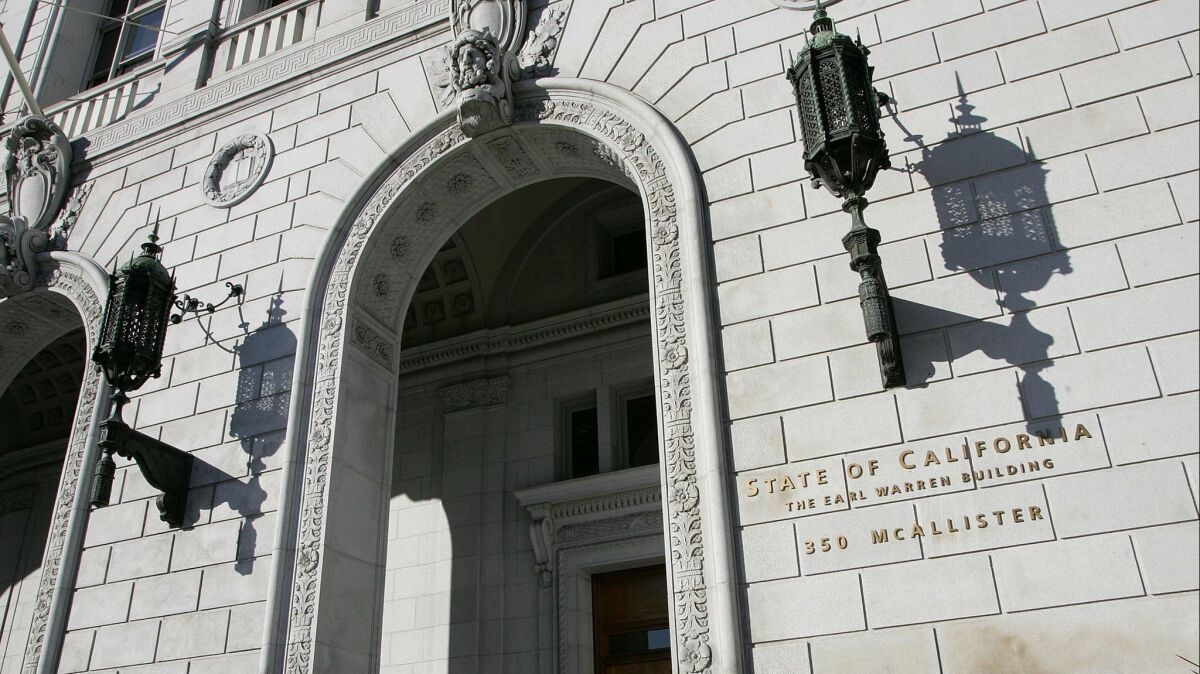 As the nation grapples with the drama surrounding the nomination of Judge Brett Kavanaugh to a lifetime seat on the U.S. Supreme Court — the contentious testimony, the FBI investigation, the rancorous party politics and the fraught confirmation vote — California is preparing to quietly confirm not one but two state Supreme Court justices and dozens of justices of the Court of Appeal.
But perhaps "confirm" is not quite the right word. Carol Corrigan, Leondra Kruger and those Court of Appeal justices were each already confirmed by three-member panels following their appointments, and all are now serving on their respective courts. State voters have the final say, though, and must retain or reject each justice in the first gubernatorial election after their appointment, and then again every 12 years. That's why Corrigan, Kruger and their appellate court colleagues will be on the ballot next month.
At the moment, that process looks more thoughtful and civilized than its federal counterpart. But it hasn't always been that way. In two bitterly partisan campaigns more than three decades ago, voters rebelled against Gov. Jerry Brown's appointments to the state Supreme Court, narrowly retaining three justices in 1982 and then famously removing Chief Justice Rose Bird and two other justices in 1986. Those ousters swept away Brown's early stamp on the court (he had appointed seven justices over the course of his first two terms in office), as liberal justices were replaced by conservative appointees. The ramifications are discussed even today, as court watchers debate the proper balance not just between liberals and conservatives, but also between judicial independence and judicial accountability.
The same arguments play out in trial court elections, like the one this year in which Santa Clara County voters ousted Superior Court Judge Aaron Persky for sentencing a Stanford student to a relatively brief six months in jail for sexually assaulting an unconscious woman. Challenges to judges for unpopular decisions almost certainly cause other judges to consider the political ramifications of their decisions, and they make some observers yearn for something more like the election-free federal system — the one that produced the Kavanaugh drama. As we have seen, each system has its own benefits and shortcomings.
Retention votes support independent courts that make decisions based on the law and not on popular sentiment or political partisanship.
Unlike in the case of Persky and other incumbent trial court judges, who end up on the ballot only when they are challenged by other candidates, California Supreme Court and Court of Appeal justices face simple up-or-down votes, with no challengers. For Corrigan, Kruger and the Court of Appeal justices, voters should just say "yes." None face any organized opposition campaign, and each has demonstrated proficiency on the bench.
Corrigan is a former prosecutor who was appointed to the trial court and appellate positions by Republican governors. Gov. Arnold Schwarzenegger put her on the state Supreme Court in 2005. Voters retained her the following year and now, 12 years later, should do so again.
Kruger has taken a different path to the same place. She was a clerk for a federal Court of Appeals justice and then for Supreme Court Justice John Paul Stevens. She was a law professor. She was an assistant to the U.S. solicitor general and argued numerous cases before the U.S. Supreme Court.
Brown named her to the seven-member state Supreme Court in 2014. She sits with two other Brown appointees — both of whom already have been retained by voters — and three appointees of Republican governors, including Corrigan.
But generalizations fail. Their different backgrounds notwithstanding, Corrigan's and Kruger's votes and opinions peg neither justice as an obvious liberal or conservative, ideologue or pragmatist. Both are considered deft thinkers and writers. Both would serve the state well should they be retained and serve another 12 years.
Enter the Fray: First takes on the news of the minute from L.A. Times Opinion »
The Court of Appeal, which hears appeals from the state's trial courts, is divided into geographic districts and divisions, with the Second District Court of Appeal serving Los Angeles, Ventura, Santa Barbara and San Luis Obispo counties. Seventeen justices of that district — more than half of whom were appointed by Brown in his most recent tenure — come to voters this year for retention.
Again, voters should say "yes" — as they should for judges and justices generally, absent any serious concerns about their fitness for office. Retention votes support independent courts that make decisions based on the law and not on popular sentiment or political partisanship.
The justices up for confirmation in the Second District are Anne H. Egerton, Carl H. Moor, Dorothy C. Kim, Gail R. Feuer, Halim Dhanidina, Helen Bendix, John L. Segal, Lamar W. Baker, Luis A. Lavin, Martin J. Tangemen, Thomas Willhite, Victoria G. Chaney, Victoria M. Chavez, Arthur Gilbert, Elwood Lui, Nora M. Manella and Patricia A. Bigelow. Like Corrigan and Kruger, they are known less for their ideology than for their competence.
Brown has dragged his feet on filling one more Supreme Court court vacancy, so that appointee — whoever it may be — won't come before voters until the next gubernatorial election, in 2022. In any event, the court majority will once again be made up of Brown appointees, just as it was — briefly — more than 30 years ago.
Follow the Opinion section on Twitter @latimesopinion and Facebook
Our six-week newsletter will help you make the right decision for you and your property.
You may occasionally receive promotional content from the Los Angeles Times.