Editorial: Gavin Newsom has a conflict of interest problem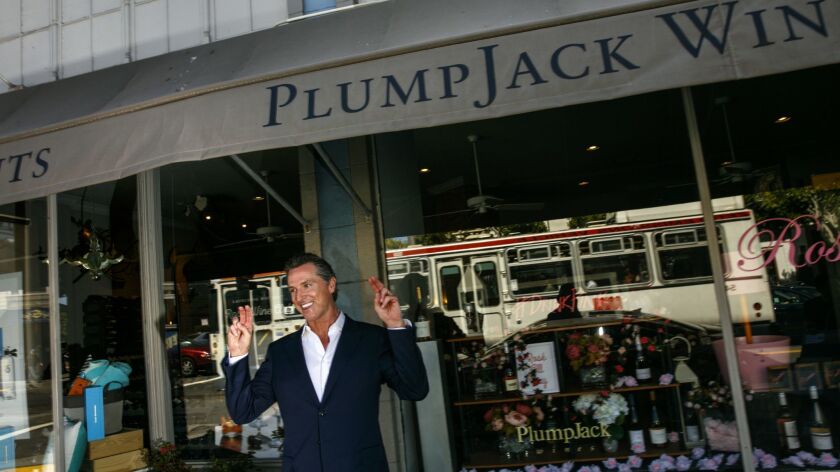 Gov.-elect Gavin Newsom's family wine and hospitality business, the PlumpJack Group, is not in the same league as the billion-dollar Trump Organization, whose brand encompasses hotels, resorts and golf courses around the world.
All the same, PlumpJack is a healthy multimillion-dollar enterprise with some 800 employees at 23 properties around the state — wineries, restaurants, hotels and retail stores — that has made Newsom and his family wealthy. And his partial ownership of the company raises the same conflict-of-interest red flags that continue to surround Donald Trump's presidency.
When he became mayor of San Francisco in 2004, Newsom sold the PlumpJack-owned wine stores and restaurants within the city so that there would be no question he was making decisions for the public's benefit rather than his own. He retained a stake in PlumpJack businesses outside the city, including a Napa County winery and a Lake Tahoe-adjacent resort. When he left the job, he bought back ownership in the San Francisco properties and earned millions during his two terms as lieutenant governor.
Now that he's becoming governor, Newsom is reluctant to sell his interest in PlumpJack again.
Now that he's becoming governor, Newsom is reluctant to sell his interest in PlumpJack again. "It's my life," he told The Times' editorial board this year, adding that if he was elected he would find some way to wall off the family business to ensure there's no whiff of conflict, including partially divesting himself of company assets.
Now that Newsom has won the election, we're eager to hear what his lawyers cook up. But we worry that anything short of complete divestiture will not produce a truly conflict-free portfolio. It certainly hasn't worked for the president.
Before his inauguration in 2017, Trump announced that he was turning control of the business over to his children and putting his assets in a blind trust. That was hardly an arm's-length separation, however, and it did little to address concerns that Trump would gain financially from his actions as president. Compounding the concern, Trump refused to follow four decades of presidential tradition and release his tax records. We have only the clues that his annual financial disclosure forms provide to what the potential conflicts may be, not the degree to which he might be feathering the family nest with his policy decisions. Meanwhile, Trump properties have seen regular business from political groups, including the Republican National Committee, and foreign interests.
"I'm no Donald Trump," Newsom told the editorial board in April when asked about what he intended to do with PlumpJack after the election. "I won't be asking the Democratic Party to do events at my hotel."
Enter the Fray: First takes on the news of the minute from L.A. Times Opinion »
We certainly hope not. Newsom, who has been a harsh critic of the president, should be the last person to take a page from the Trump ethics playbook. Nevertheless, there are a lot of uncomfortable similarities between the two leaders' potential conflicts. Like Trump's, Newsom's family business is run by a close relative — his sister, who seems unlikely to maintain radio silence with her brother for his four-year gubernatorial term. And if Newsom continues to accrue profits from the business' assets, there's the potential that lobbying firms or interest groups wishing to curry favor with or grab the ear of the governor might arrange to spend a ski vacation at the PlumpJack Squaw Valley Inn or a rejuvenating long weekend at the Ingleside Inn in Palm Springs, book a party at one of the company's event spaces or order cases of wine from one of the wineries.
To his credit, Newsom has shared his tax returns with reporters, and his spokesman said he will continue to do so when he is governor. In addition, state law requires all statewide constitutional officers to fill out annual statements of economic interest, though they offer limited details about his holdings and business arrangements. And, unlike U.S. presidents, California governors are subject to the state's conflict of interest rules, at least in theory. In practice, the requirement that public officials recuse themselves from decisions on matters in which they have a financial interest is easier to apply to local government officials, such as city council members whose votes on land-use rules or business regulations could have a more direct impact on their personal finances. Furthermore, the state's conflict of interest laws don't apply to policy decisions that affect the "public generally," which is how most of a governor's decisions could be described.
No one expects elected officials to give up their livelihoods for a term-limited position that doesn't pay all that well. But we do expect them to ensure that there is no question about whose interests they're serving. California's next governor is no exception.
Follow the Opinion section on Twitter @latimesopinion and Facebook
---
Life is stressful. Our weekly mental wellness newsletter can help.
You may occasionally receive promotional content from the Los Angeles Times.