Editorial: The Getty Bronze belongs right here in its climate-controlled L.A. Villa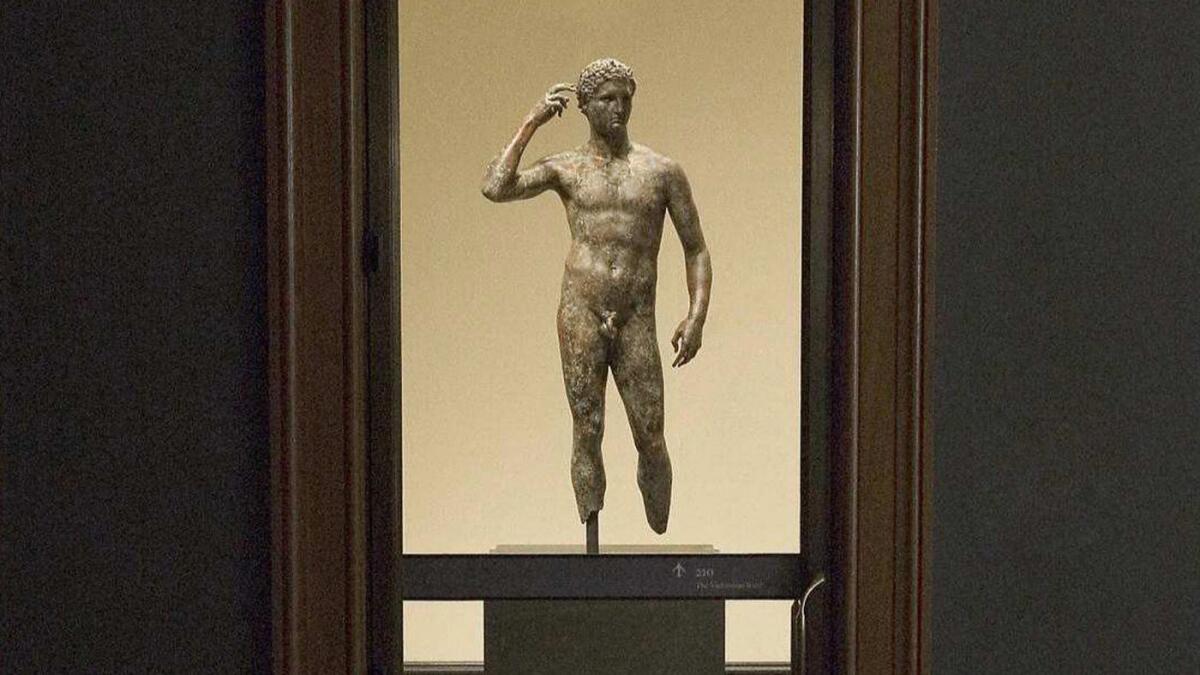 The J. Paul Getty Museum has been fighting in Italian courts for more than a decade to keep its bronze "Statue of a Victorious Youth," one of the museum's most prized antiquities. But the Getty itself has yet to emerge victorious. In the latest round, a court in Pesaro ruled that the bronze — which was pulled out of the sea by Italian fishermen in 1964 — should be forfeited by the Getty and turned over to Italy.
The tortured battle over this priceless bronze will continue, since Getty officials plan to appeal, as they should. This is not another case in which the Getty purchased antiquities of questionable provenance. Since 2007, the Getty has returned more than 40 works in its collection to Greece and Italy. In this case, however, the bronze was found in international — not Italian — waters, according to the Getty, and has no archaeological connection to Italy because it is most likely Greek in origin. Accidental discovery by Italian citizens does not make the statue an Italian object.
Of course, the Pesaro court disagrees, stating that the object was found in Italian territorial waters and that the fishermen should have sought to return the "sea wreck" to its owner.
Enter the Fray: First takes on the news of the minute from L.A. Times Opinion »
It's often difficult to trace the provenance of antiquities. This bronze has a particularly complicated back story. Believed to be Greek, dating from 300 to 100 B.C., it may have been taken out of Greece by Romans and lost at sea. Fast forward about 2000 years: Fishermen find it, hide it and then sell it to other Italians — who, at one point, were accused of and acquitted of purchasing stolen property.
The bronze was found in international — not Italian — waters, according to the Getty, and has no archaeological connection to Italy.
The Getty Museum Board of Trustees bought the bronze in 1977 in the United Kingdom for $3.95 million — and only, Getty officials contend, after extensive review of applicable laws, previous investigations of dealers and a statement by the senior Italian official in charge of export licenses for cultural property who said Italy had no claim on the statue. Today the bronze holds court in a humidity-controlled gallery at the Getty Villa.
However, the statue has been on the Italians' radar since 1989 when a professor in the Italian culture ministry requested that the Getty give it up. The court battles go back to 2007. The Getty has appealed twice to the Italian Court of Cassation. After this latest lower court ruling, the Getty will be appealing a third time.
The Getty Bronze is worth the fight.
Follow the Opinion section on Twitter @latimesopinion or Facebook
A cure for the common opinion
Get thought-provoking perspectives with our weekly newsletter.
You may occasionally receive promotional content from the Los Angeles Times.