Editorial: Stop using California's environmental laws to block homeless housing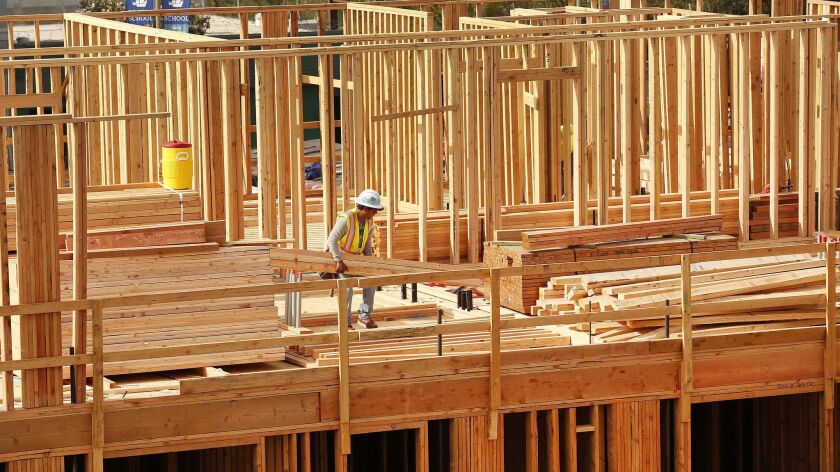 Superior Court judges handed down welcome rulings last week in favor of two worthy but embattled housing projects for homeless people in Los Angeles. We hope the rulings send this message: Stop using the California Environmental Quality Act to thwart homeless housing projects simply because you don't want homeless people housed in your neighborhood.
CEQA is a landmark state law requiring developers to identify and mitigate the potential environmental impact of their projects. But it has also been misused to advance less noble purposes — for example, to stall competition or keep affordable housing out of a community.
The two cases at issue last week were examples of that sort of CEQA abuse. The first pits the owners of the venerable El Mercado shopping and restaurant complex against developers of the proposed Lorena Plaza homeless housing development on the empty property next door. The owners want to require the developers to do a time-consuming full environmental impact study of the hazards of an abandoned oil well underneath the property. But on May 7, Judge Richard L. Fruin tentatively ruled that the developer had sufficiently studied the oil well and proposed a mitigation plan for it — and the city had properly signed off on the developer's analysis.
Enter the Fray: First takes on the news of the minute »
In the second case, the unabashedly NIMBY Venice Stakeholders Assn. is trying to force the city of Los Angeles to reverse its decision and do a full environmental impact review of a 154-bed bridge shelter for homeless people the city wants to build on a bus yard in Venice. Judge Mitchell Beckloff did not decide the case — it goes to trial in October — but he denied the association the injunction it sought, allowing construction to move forward while the case continues. Beckloff rightly determined that the city would suffer more harm if work on the project were halted than the Venice group would suffer if the project moved forward.
Wrote the judge: "The city has clearly demonstrated the emergency nature of the project to its citizens." Amen to that.
It's become an extraordinarily arduous process to get housing projects for homeless people completed — just look at the time invested in both of these projects. And it's troubling that even as some of these projects come on line, homelessness does not seem to abate.
But there's no question that a substantial portion of the solution to homelessness lies in housing people. And here's another thing that's obvious: Going into court on flimsy pretexts to stop housing from being built only stops the nagging problem of homelessness from being solved.
Follow the Opinion section on Twitter @latimesopinion or Facebook
---
A cure for the common opinion
Get thought-provoking perspectives with our weekly newsletter.
You may occasionally receive promotional content from the Los Angeles Times.