Editorial: Will Jamal Khashoggi's disappearance finally be the end of America's blank check to Saudi Arabia?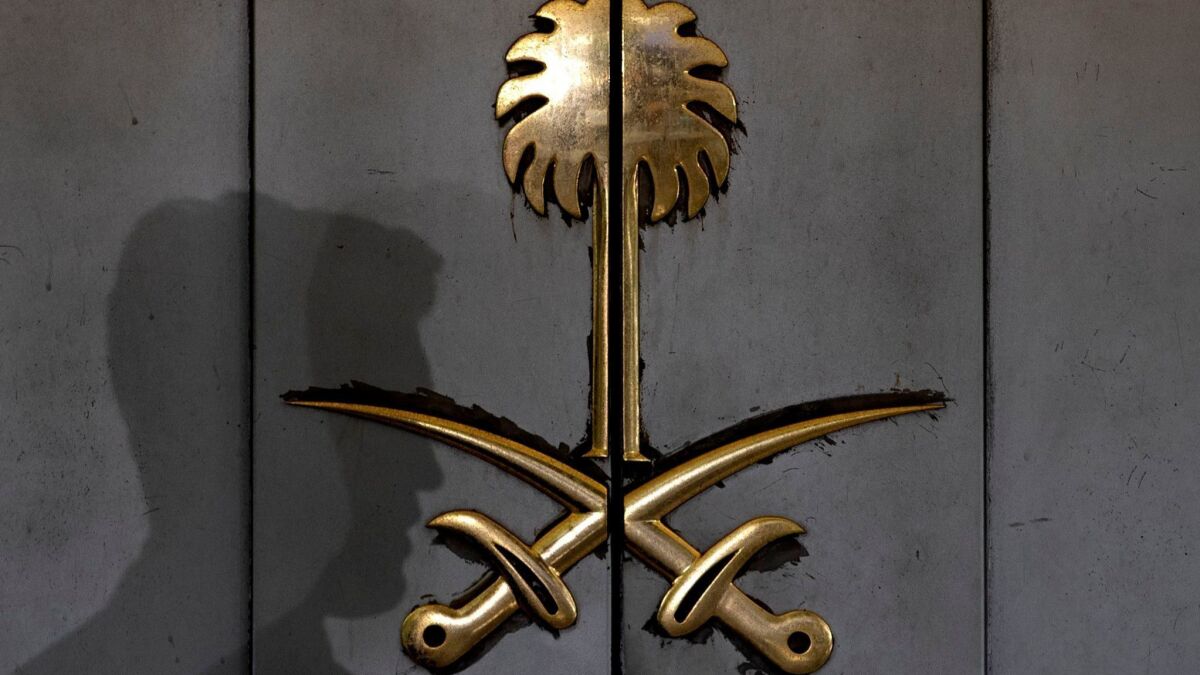 The allegations that a Saudi Arabian journalist was killed and dismembered by agents of his own government earlier this month are both grotesque and chilling. They obviously require a thorough investigation and, if true, must be followed by punishment or sanctions for those responsible. But the mystery surrounding the disappearance of Jamal Khashoggi could also lead to an overdue shift in U.S. policy toward Saudi Arabia, which under the Trump administration has been irresponsibly indulgent.
Khashoggi, a U.S. resident and columnist for the Washington Post, has been critical of Crown Prince Mohammed bin Salman, the 33-year-old de facto leader of the kingdom, comparing him in one column to Vladimir Putin. On Oct. 2, Khashoggi went to the Saudi consulate in Istanbul to obtain paperwork necessary for his upcoming marriage. He hasn't been seen since. The Saudi government insisted that Khashoggi left the consulate shortly after he arrived.
Turkish security officials, however, have told news organizations that Khashoggi was killed and his body cut into pieces. According to a report in the Washington Post, the Turkish government has told U.S. officials that it has audio and video recordings that prove Khashoggi was killed. Speculation has raged about what exactly may have happened, with scenarios ranging from premeditated assassination to a bungled kidnapping.
The mystery surrounding the disappearance of Jamal Khashoggi could also lead to an overdue shift in U.S. policy toward Saudi Arabia.
President Trump, who presumably has been briefed on what U.S. intelligence has learned about this incident, said that "to reporters, to anybody, we cannot let this happen." But he also, disappointingly, tried to distance himself from the situation, noting that Khashoggi wasn't a U.S. citizen and that he disappeared in Turkey rather than in the United States.
Members of Congress have taken a firmer stand. Last week, Sens. Bob Corker (R-Tenn.), the chairman of the Senate Foreign Relations Committee, and Bob Menendez (D-N.J.), the ranking Democrat, wrote a letter to Trump triggering an investigation of Khashoggi's disappearance under the Global Magnitsky Human Rights Accountability Act. That law requires the president to conduct an investigation to determine if a "foreign person" has committed human-rights violations against individuals "who seek to obtain, exercise, defend or promote human rights and freedoms, including freedom of expression." Those found responsible can be subjected to sanctions.
A finding that the Saudi government violated Khashoggi's rights — by kidnapping him or killing him — could have another effect: It could lead to even greater skepticism in Congress about the Trump administration's embrace of the crown prince, who has been viewed by the administration as a bulwark against Iranian influence (as well as a steady customer for U.S. arms sales) but is regarded by others in the region as a disruptive force.
A particular concern in Congress has been the humanitarian cost of Saudi Arabia's aggressive air campaign in support of the internationally recognized government of Yemen in its war against Houthi rebels backed by Iran. The U.S. has provided the Saudi-led coalition with intelligence and reconnaissance support and refueling while urging the coalition to try to minimize civilian casualties. Nevertheless, civilians continue to die. In August, a coalition airstrike attacked a school bus that military officials thought was carrying Houthi fighters. Dozens of children were killed.
Enter the Fray: First takes on the news of the minute from L.A. Times Opinion »
The Yemen war has been designated the world's worst humanitarian crisis by the U.N. and the European Union. More than 22 million people are desperately in need of aid and protection, said the U.N. Secretary General earlier this year.
On Wednesday, a bipartisan group of senators wrote to Secretary of State Mike Pompeo contesting his certification that Saudi Arabia and the United Arab Emirates had undertaken "demonstrable actions to reduce the risk of harm to civilians and civilian infrastructure resulting from military operations of these governments." The senators countered that "civilian deaths and casualties due to coalition airstrikes have increased dramatically in recent months."
Whatever the truth behind Khashoggi's disappearance, the U.S. needs to stop writing Saudi Arabia a blank check.
Follow the Opinion section on Twitter @latimesopinionand Facebook
---
Life is stressful. Our weekly mental wellness newsletter can help.
You may occasionally receive promotional content from the Los Angeles Times.