Editorial: Why shouldn't the L.A. school system look for places to house homeless families?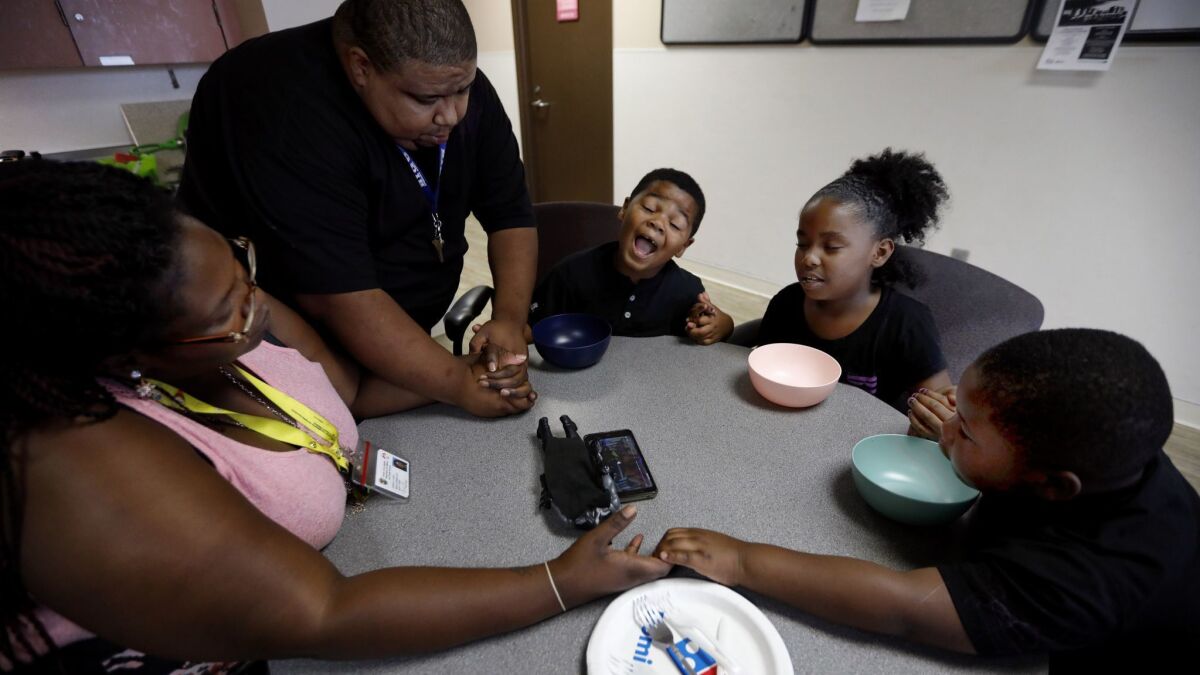 It's to be expected when you think about it, but it's shocking too: About 16,500 students in the Los Angeles Unified School District are homeless or semi-homeless, school officials say. Some live on the streets, but the vast majority live in cars or in shelters, in abandoned buildings, or motels or doubled up in the homes of relatives or friends.
The school district provides meals as well as counseling, supplies, clothes and transportation to its homeless students. Hoping to help in a more fundamental way, however, the school board two weeks ago directed Supt. Austin Beutner to undertake a sweeping study on steps the district could take to house homeless families, either temporarily or permanently, on its own properties.
The resolution, proposed by school board member Kelly Gonez, asks the superintendent to report back within six months on, among other things, the possibility of converting district-owned buildings into housing or even constructing new housing units on district property for homeless families with students in L.A. Unified schools; offering overnight parking (and supportive social services) to homeless families in vehicles; and providing overnight shelter, meals and wraparound services for homeless families throughout the year, or at least during winter and summer breaks.
About 16,500 students in the Los Angeles Unified School District are homeless or semi-homeless.
The study sounds intriguing. Who doesn't share the sense of urgency in the board's assessment that "we cannot wait for the city, county and state to solve this problem on their own"?
And it is certainly true that vacant or surplus property could solve a pressing need. The state has a desperate housing shortage and Los Angeles is having difficulty of finding sites for homeless housing projects.
But the notion of L.A. Unified undertaking an ambitious program to house homeless families raises numerous questions and presents potential pitfalls. How much vacant property does the school district actually have available? And though L.A. Unified has long been in the business of building schools — 131 over the last two decades — does that mean that it can easily or successfully be in the business of building housing?
The board wants to tap into Proposition HHH money — the $1.2-billion bond fund in the city of Los Angeles to support the construction of permanent supportive housing for homeless people and affordable housing for the poor. But a project reserved exclusively for homeless families with students in L.A. Unified schools might get rejected for HHH funding; that eligibility restriction might even violate Fair Housing Laws.
And if the school district concluded that it wanted to build temporary housing — such as shelters for families awaiting permanent housing — it wouldn't qualify for HHH money. Currently, HHH funds are being allocated only to permanent housing.
It's also important to remember that the school district has its own serious financial problems, including the burgeoning costs of its pensions and health benefits for retired employees. That's the district's first responsibility — to take care of the financial obligations it already has. It should not be diverting any money from its budget into housing projects.
If it does decide to use its property for housing, finding the financing should be left to the developer overseeing the project. This should not be a school district construction project.
Gonez readily admits that these issues will all have to be examined. She does not envision closing even underused schools to make room for housing. Nor would the school board transform an already closed school into housing without first having a clear understanding of the district's future classroom needs and consulting the community. Instead, she sees the possibility of putting housing in vacant buildings and parking lots on school campuses without disrupting classroom buildings.
Enter the Fray: First takes on the news of the minute from L.A. Times Opinion »
Other school districts are also trying to figure out how to do more for homeless students. Officials of the L.A. Community College District have informally consulted the city's Housing and Community Investment Department about how the district might use its land to house its homeless students. A public school in San Francisco just started a seven-month pilot program to house a modest number of students and their families overnight in one of its gyms.
Perhaps the best thing about the L.A. Unified study is that it means the district is joining the search for vacant properties that might be turned into homeless housing. The HHH Citizens Oversight Committee, which advises Mayor Eric Garcetti and the City Council, has already recommended that the city look for property owned by L.A. Unified. Who can better find suitable property owned by the school district than the district itself?
Granted, Gonez' idea faces plenty of obstacles. But the situation of homeless families and their children is so desperate that the more agencies looking for ways to house them, the better.
L.A. Times columnist Steve Lopez wrote a four-part series on the children who attend Pacoima's Telfair Elementary, where nearly a quarter of the students were homeless. Here are the columns:
Part 1: Hidden in L.A. suburbia, wrenching poverty preys on children and destroys dreams
Part 2: For the principal with the most homeless students in L.A., the reality of poverty is personal
Part 3: Whether home is a van, a motel or a garage, L.A.'s suburban poor children learn to survive
Part 4: For children trapped in poverty, breaking free is getting harder
We invite you to join us for a conversation moderated by Lopez with L.A. Unified School District Supt. Austin Beutner and school board member Kelly Gonez, whose district includes Telfair, by following the Los Angeles Times on Facebook. The live-video conversation will begin at 12:30 p.m. Monday. Lopez will answer questions submitted by the audience, time permitting.
Follow the Opinion section on Twitter @latimesopinion or Facebook.
---
Life is stressful. Our weekly mental wellness newsletter can help.
You may occasionally receive promotional content from the Los Angeles Times.