Editorial: Want a transit system that actually works? Then L.A. needs bus-only lanes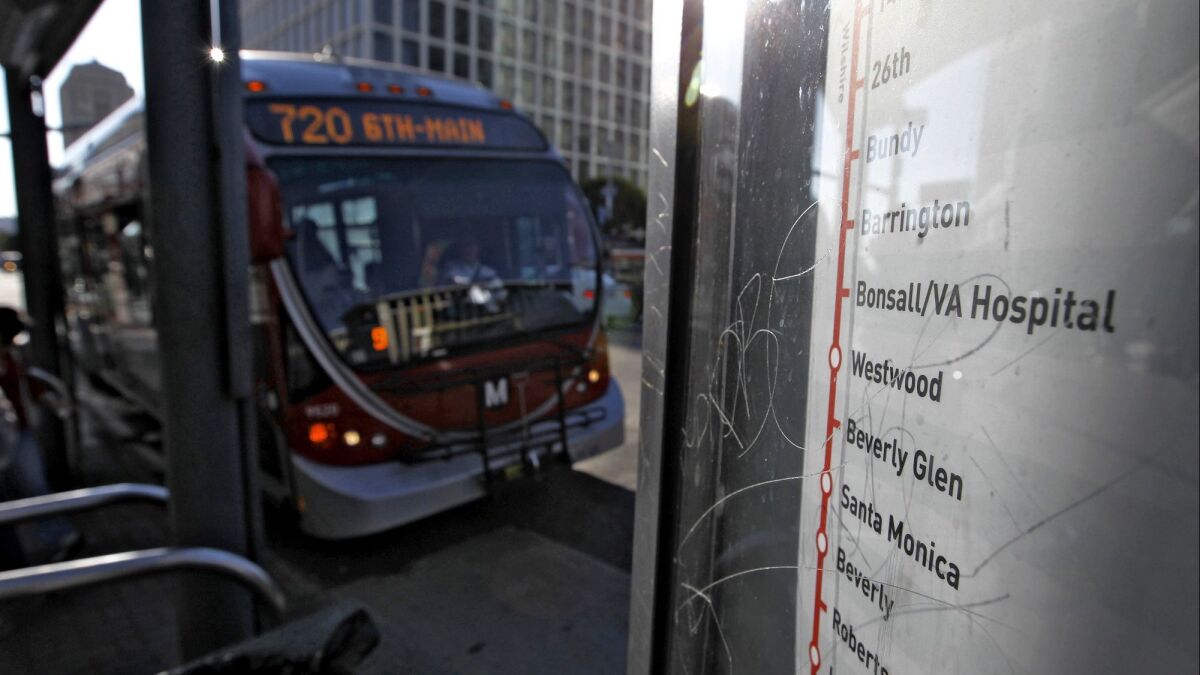 It's time — again — to test whether Los Angeles' political leaders have the mettle to build a transit-friendly, environmentally sustainable city.
Elected officials across the region, but particularly in the city of Los Angeles, love to tout their environmental credentials, their steadfast commitment to fighting climate change and their work to make their communities the greenest in America. That is, until they get pushback from voters unwilling to accept change.
And change is necessary, particularly when it comes to transportation, if California is going to have any success slowing the devastating impacts of climate change. Transportation is the single largest source of greenhouse gases in the state. Slashing emissions enough to meet the state's 2030 goals will require persuading people to drive less. For the region, that means building a mass transit system that is fast, convenient and comfortable — a description that would not fit much of today's Metro.
A bus that comes every 10 minutes and then speeds past cars stuck in traffic? Now that's a much more appealing choice.
But improvements could be coming, if city officials have the political will. Thanks to voter approval of the Measure M sales tax increase in 2016, the Metropolitan Transportation Authority has plans to add new bus rapid transit lines throughout the region, among other projects. Like the successful Orange Line in the San Fernando Valley, bus rapid transit is designed to operate like a light-rail line. The buses typically have their own lanes, with synchronized traffic signals, and they board and discharge passengers at rail-like platforms. Because the buses don't get bogged down in traffic, the service is more frequent and reliable.
Bus rapid transit is one antidote to a problem plaguing the Metro system (as well as local transit systems across the region): Bus ridership is way down. At a moment when Los Angeles needs mass transit ridership to increase, trips on the bus system dropped 25% over the last decade, The Times' Laura Nelson reported.
There are many reasons why ridership has declined, including the facts that Southern Californians are buying cars in record numbers, immigrants in the country illegally can now get drivers' licenses, and low-income families have been priced out of the urban core. But another obvious reason is that buses have gotten slower because they're stuck in the same worsening traffic as cars. The average speed of a Metro bus has dropped 12.5% over the last 25 years.
A slow bus is less convenient and reliable, and it certainly won't entice people out of their cars. But a bus that comes every 10 minutes and then speeds past cars stuck in traffic? Now that's a much more appealing choice, not to mention a far better service for the people who rely on public transit to get to school and work. That's why bus rapid transit and bus-only lanes are so important.
Metro is in the early stages of developing three bus rapid transit lines — one from North Hollywood to Pasadena, one from North Hollywood to Chatsworth that would pass Cal State Northridge and one from South Los Angeles to Hollywood along Vermont Avenue. Transforming those lines from concepts into functioning services, however, will not be easy.
The agency is already facing significant opposition from local elected officials, who ultimately decide whether buses get a dedicated lane on their city-managed streets. In fact, the city of Pasadena has already vetoed the idea of even studying a bus-only lane to Pasadena Community College.
Officials are concerned about dedicated lanes because their constituents are concerned. Businesses worry about losing street parking or landscaped medians, which are not idle concerns but certainly can be addressed by adding parking or landscaping elsewhere. Homeowners are anxious about their property values, but proximity to high-quality transit tends to increase home values.
Enter the Fray: First takes on the news of the minute »
Motorists fear that they would face more traffic, which they probably would, at least some of the time. There is only so much room on the road, and giving priority to buses that move more people more efficiently and with fewer emissions is the smarter way to divvy up public space.
Making travel faster and easier for non-drivers often means removing traffic lanes and, yes, slowing travel for cars. The question is whether political leaders are willing to make the tradeoffs necessary to vastly improve the bus system so that public transit can become a real option for Angelenos.
This is also a test for Mayor Eric Garcetti and the Los Angeles City Council, as the majority of the planned bus rapid transit lanes are within the city of L.A. These officials have proposed all kinds of climate emergency plans and Green New Deals. When the rubber hits the road — and takes out a lane previously used for traffic or parking — are they going to stand up for a sustainable transportation system?
Follow the Opinion section on Twitter @latimesopinion and Facebook
---
Life is stressful. Our weekly mental wellness newsletter can help.
You may occasionally receive promotional content from the Los Angeles Times.