Why help just L.A.'s hotel workers earn more?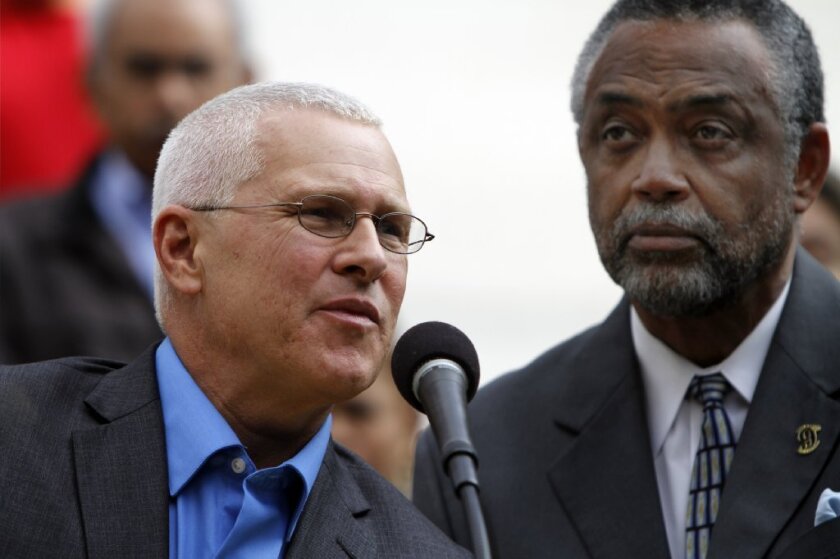 Income inequality, persistent poverty and the lack of economic mobility are not only some of the most salient political issues of 2014 but are fundamental challenges that affect the prosperity of the country and the stability of our communities. About 25% of families with children in the city of Los Angeles live in poverty, according to the Census Bureau. And even many people whose earnings exceed the federal poverty line struggle to make ends meet. Nearly half of all workers in Los Angeles earn less than $15 an hour, which some advocates for the poor believe is the minimum necessary to afford basic housing, food and transportation.
The fact that so many Angelenos live on so little has profound impacts. Many parents work two jobs, leaving them less time to be involved in their children's lives and education. Many live in substandard housing or have no savings, meaning they are just one setback from bankruptcy or homelessness. Bad schools, substandard healthcare, teenage pregnancies and other factors leave many stuck in a cycle of poverty that persists from one generation to the next.
Creating policies that help lift people out of poverty should be one of government's top priorities. Nevertheless, the proposal taking shape in City Hall to raise hotel workers' wages to $15.37 an hour in Los Angeles is not the right way to go about it.
PHOTOS: A peek inside 5 doomed dictators' opulent lifestyles
City Council members Mike Bonin, Curren Price and Nury Martinez have called for a hotel worker living wage as a way to "raise all boats" and address income inequality on a local level. However, their proposal unjustifiably singles out one industry, benefiting several thousand hotel employees while ignoring more than 1 million other low-wage workers. It would impose the second-highest minimum wage in the country for, say, a waiter in a Hilton hotel, while leaving a waiter at the restaurant next door — one that doesn't happen to be part of a hotel — with a guarantee of only $8 an hour (or $9 after July 1). The justification? Los Angeles hotels have low vacancy rates and are profitable.
That's not sound economic policy. It's simply a response — and a troubling one — to pressure from the hotel workers and their union, Unite Here. This time around, the
hotel workers have waged the most effective lobbying campaign. Next time it might be fast-food workers. Sorry, mall cashiers, you won't get a raise because the retailers threatened to leave and city leaders don't want to lose their sales tax revenue.
PHOTOS: From the Fed to GM, 5 top-tier women trying to fix man-made messes
Frankly, if the city's minimum wage is going to be raised, it makes sense to raise it for all city workers across the board.
In the past, L.A.'s political leaders have occasionally mandated a higher-than-minimum wage for certain workers whose employers, they argue, have received direct benefits from the city. The city decreed in 2007, for instance, that hotels near LAX must pay workers a living wage, now set at $12.16 an hour, because those hotels supposedly benefit from the city's investment in the airport. (This page strongly disagreed with that argument.) And the JW Marriott hotel downtown has to pay that same rate as part of an incentive package that gives it a $270-million break on city taxes through 2035.
But the 64 hotels that would be affected by the new proposal have sought nothing nor received anything special from the city. Unless you consider a public street or park or a mediocre Convention Center a unique benefit bestowed on the hotel industry.
PHOTOS: How the Democrats can win back the House and keep the Senate
There are other concerns. Would the higher wage for hotel workers lead to a loss of jobs or deter investment in new hotels in the city? Would it harm L.A. by offering a competitive advantage to hotels located just outside the city? These questions are to be addressed in a forthcoming study.
Generally, it is wiser to set minimum wages at a higher level of government, in order to have the broadest, fairest impact and to minimize the risk that businesses will move to cheaper locations. At the moment, President Obama is seeking to raise the federal minimum wage from $7.25 an hour to $10.10 — a proposal this page has supported — and California's leaders have rightly voted to raise the state wage to $10 an hour in 2016. Multimillionaire conservative Ron Unz is gathering signatures for a ballot initiative to boost the state's baseline pay to $12. If the City Council and Mayor Eric Garcetti are serious about raising all boats, they should dedicate their energy to policies that help the many instead of the few.
---
A cure for the common opinion
Get thought-provoking perspectives with our weekly newsletter.
You may occasionally receive promotional content from the Los Angeles Times.