Editorial: End the O.C. DA's DNA database PDQ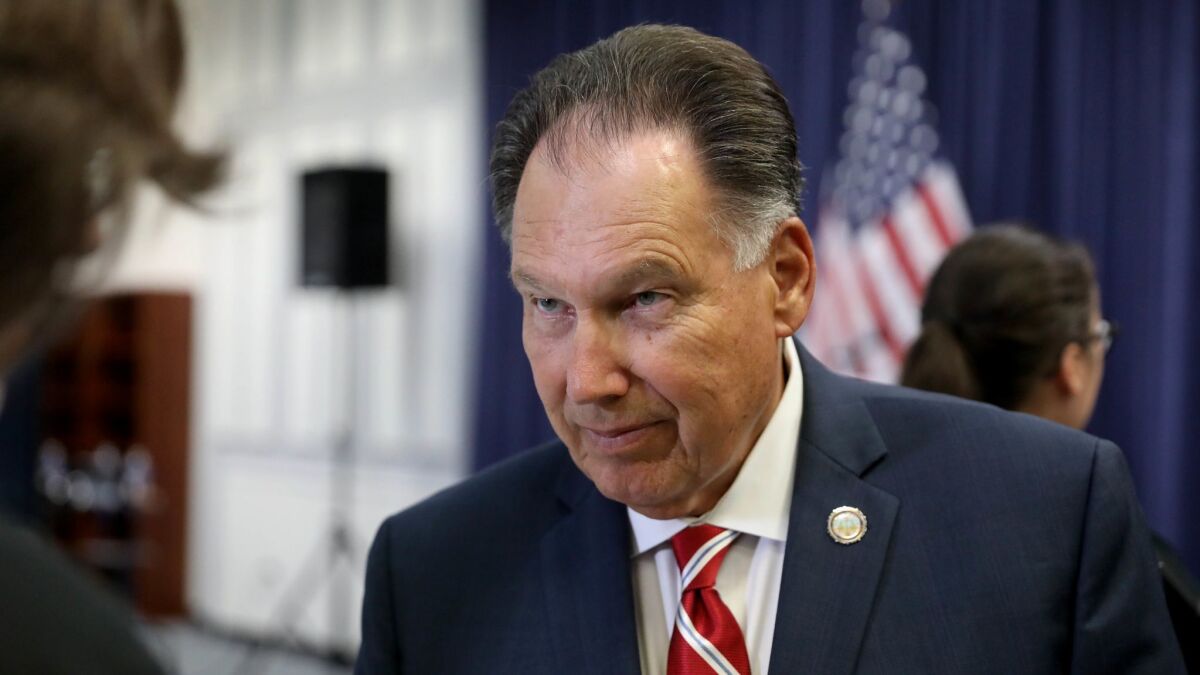 Now that Orange County voters have ended the 20-year tenure of controversial Dist. Atty. Tony Rackauckas, what is to become of the DNA database he built up by pressuring jailed suspects to give up saliva samples? Should Supervisor Todd Spitzer, who defeated the incumbent district attorney last month and replaces him in January, keep it?
For heaven's sake, no. No other district attorney in the nation keeps an essentially private database of this sort, and for good reason. Everywhere else, DNA samples are collected by law enforcement and analyzed by labs that operate independently of the prosecutor's office, to avoid conflicts of interest. The prosecutor who is trying to convict a defendant shouldn't also run the lab and employ the experts who study the evidence and testify in court that one sample matches another. A prosecutor shouldn't put himself (or people who work for him) on the witness stand.
Orange County in fact has an official crime lab to analyze evidence collected by law enforcement. But Rackauckas wanted his own operation, and 11 years ago he began a collection that now includes 176,000 samples.
Rackauckus' DNA project is out of step not only with those more forward-looking district attorneys, but with California's program for collecting DNA evidence.
How he gathered them, as reported in the Orange County Register, is an even greater problem than the potential conflict of interest.
He used DNA as ransom. A person arrested for a minor crime might avoid a night in jail if he or she "voluntarily" offered up a cheek swab or some spit.
There are proper ways to collect DNA. California law requires swabs or samples from anyone arrested for a felony. But to build his collection, Rackauckas went after samples from people arrested for even misdemeanors and used the possibility of criminal charges or jail as leverage. Even people never convicted of crimes were squeezed to give up samples and, with them, substantial privacy rights. Expungement is difficult to impossible.
The intrusion is not merely that a person is pressured into giving a cheek swab. It is that in doing so, that person gives up to the government permanent access to his or her genetic code, which is the most personal and private sort of information. A person cornered into surrendering that material becomes part of a permanent database of suspects — a sort of biological dragnet — to be examined at will by prosecutors. It's like being on parole or probation forever, but without necessarily having been found guilty of anything.
It should perhaps go without saying that Rackauckas' practice affects Orange County residents unevenly. African Americans and Latinos are disproportionately arrested in that county, as they are throughout California, so the district attorney's database presumably is similarly disproportionate.
The project keeps a large swath of the population in the criminal justice system. In a growing number of counties around the nation, a new generation of elected prosecutors is working to do just the opposite — to keep as many people out of the system as possible, consistent with public safety and crime-solving. These prosecutors recognize that they are not cops but officers of the court, vested with the responsibility to ensure justice rather than merely to rack up a large prison-bound body count.
Rackauckus' DNA project is out of step not only with those more forward-looking district attorneys, but with California's program for collecting DNA evidence.
Enter the Fray: First takes on the news of the minute from L.A. Times Opinion »
And that's saying something, because California law is already too intrusive. The requirement that DNA be collected from any person arrested for a felony comes from Proposition 69, a measure approved by voters in 2004, at the tail end of the overblown crime panic. Because the requirement covers even people who are ultimately acquitted, the law is unwise and unjust, and should be repealed.
The argument that DNA collection is no more intrusive or prejudicial than fingerprinting is nonsense. Fingerprints are on file for members of the military, applicants for professional licenses, and many more categories of people never arrested or accused of crimes. Nor does it change things by noting that thousands of people voluntarily give up their DNA to genetic researchers or online ancestry services. Those groups are not part of the government and are not trying to convict anyone.
In his campaign, Spitzer did not sound particularly like one of those new, more enlightened prosecutors, but who knows? He has long questioned Rackauckus' DNA project. He ought to go one step further and, when he takes office in January, scuttle it.
Follow the Opinion section on Twitter @latimesopinion and Facebook
Our six-week newsletter will help you make the right decision for you and your property.
You may occasionally receive promotional content from the Los Angeles Times.