Editorial: Don't expect any diplomatic breakthroughs at the 'Peace Olympics'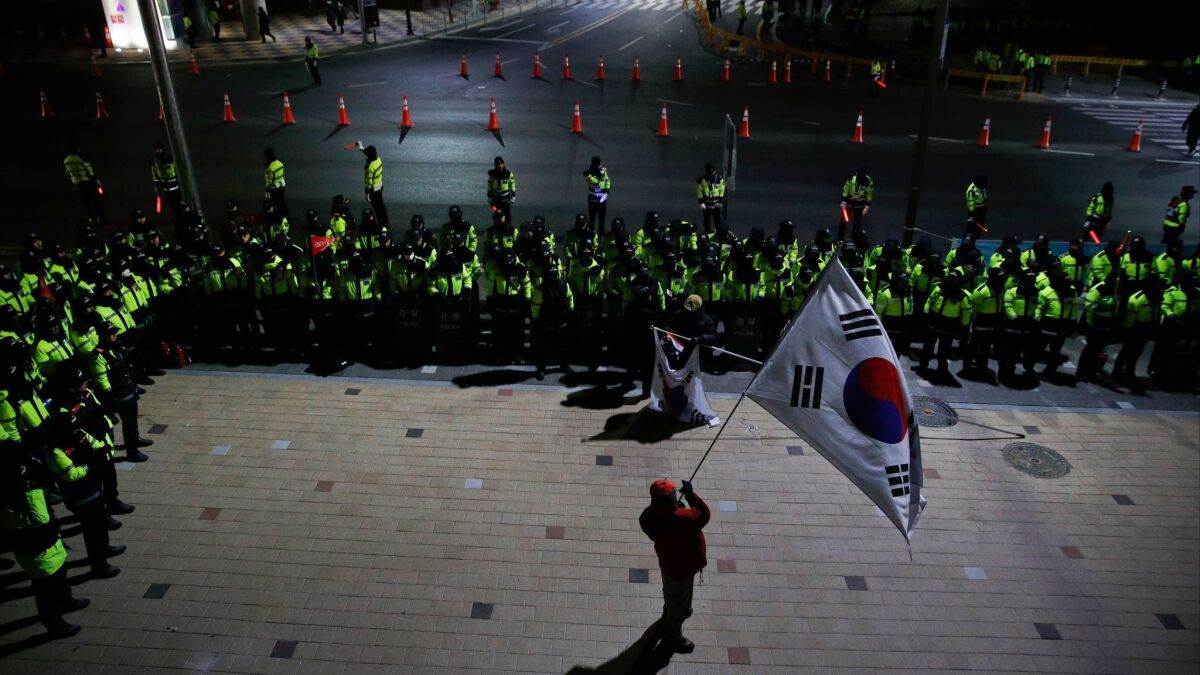 Some are calling the Winter Games that open Friday in South Korea the "Peace Olympics." They point to several hopeful signs, including the presence at the Games of Kim Jong Un's sister and the fact that North and South Korean athletes will be marching at the opening ceremonies under a common "unification flag." (Their women's hockey teams will join forces for the Games as well.) There is even speculation that Vice President Mike Pence might strike up a conversation with a representative of the leader President Trump has called "Little Rocket Man."
Let's keep expectations under control. This won't be the first time that athletes from the two Koreas march together at the opening festivities of an Olympics; they also did so in 2000, 2004 and 2006. And although it's significant that South Korean President Moon Jae-in will greet Kim's younger sister, Kim Yo Jong, the meeting is unlikely to involve substantive negotiations.
As for Pence, the vice president said Thursday that if he did have any contact with North Koreans during the Games, "my message will be the same as it was here today: North Korea needs to once and for all abandon its nuclear and ballistic missile ambitions." That is a message that no North Korean representative will want to hear.
But if the "Peace Olympics" are unlikely to lead to diplomatic breakthroughs, they still dramatize the yearning among South Koreans for peace and a de-escalation of tensions. Moon, who took office last May, hasn't distanced himself from the U.S. as some in Washington had feared. Yet it's clear that he is focused on dialogue with the North in a way that the Trump administration isn't. Welcoming Pence on Thursday, the South Korean leader expressed the hope that the Games would be "a venue that leads to dialogue" that could bring about "the denuclearization of the Korean peninsula."
For its part, the Trump administration has created confusion in South Korea with mixed signals about whether, and under what circumstances, the U.S. would engage in negotiations with the North.
At one point Secretary of State Rex Tillerson said the U.S. would meet "without preconditions"; later he reverted to an earlier pronouncement that North Korea would have to earn the right to talks by ceasing nuclear and missile tests. Trump has insisted that the U.S. would discuss a "brighter path for North Korea" only "if its leaders cease their threats and dismantle their nuclear program," and Pence echoed that line Thursday. The administration needs to settle on a single message.
The administration has been similarly unclear about whether it might launch a preventive attack on North Korea to try to destroy its nuclear weapons, a scenario that is arguably consistent with Trump's famous threat to rain "fire and fury" on North Korea if it continued to menace the United States. Most recently, speculation has focused on a limited "bloody nose" strike that would convince North Korea of Americans seriousness — a dangerous, or even reckless, notion.
The U.S. should settle on a coherent strategy: continued economic pressure on North Korea, deterrence (including enhanced missile defense in South Korea and Japan) and a willingness to engage in negotiations with the North if it stops or freezes its testing of nuclear devices and ballistic missiles. Such a policy would be not only wise in itself, but also more likely to win support from the South Koreans who are placing their hopes in the "Peace Olympics."
Follow the Opinion section on Twitter @latimesopinionand Facebook
---
Life is stressful. Our weekly mental wellness newsletter can help.
You may occasionally receive promotional content from the Los Angeles Times.