Editorial: Paris attacks: What is the sensible response to this horrific act?
Sylvain Perriot stops to take a picture of the flag at half mast above the Presidential Palace in Paris. France's Sate of Emergency will continue, with flags at half mast.
(Carolyn Cole / Los Angeles Times)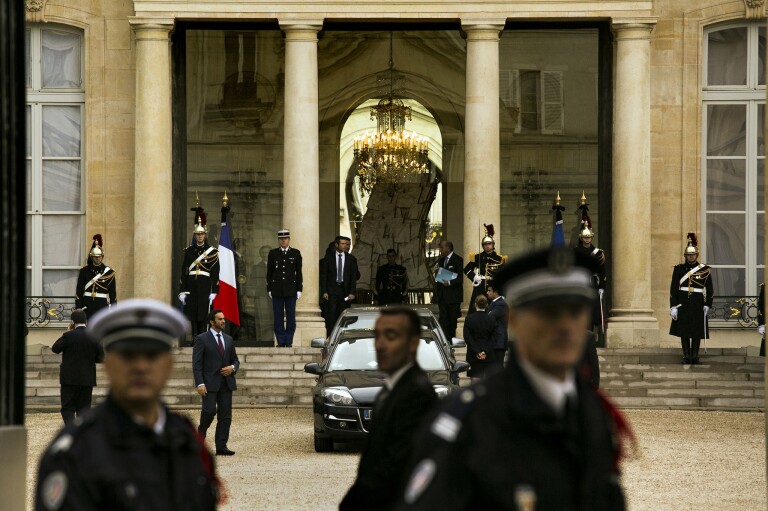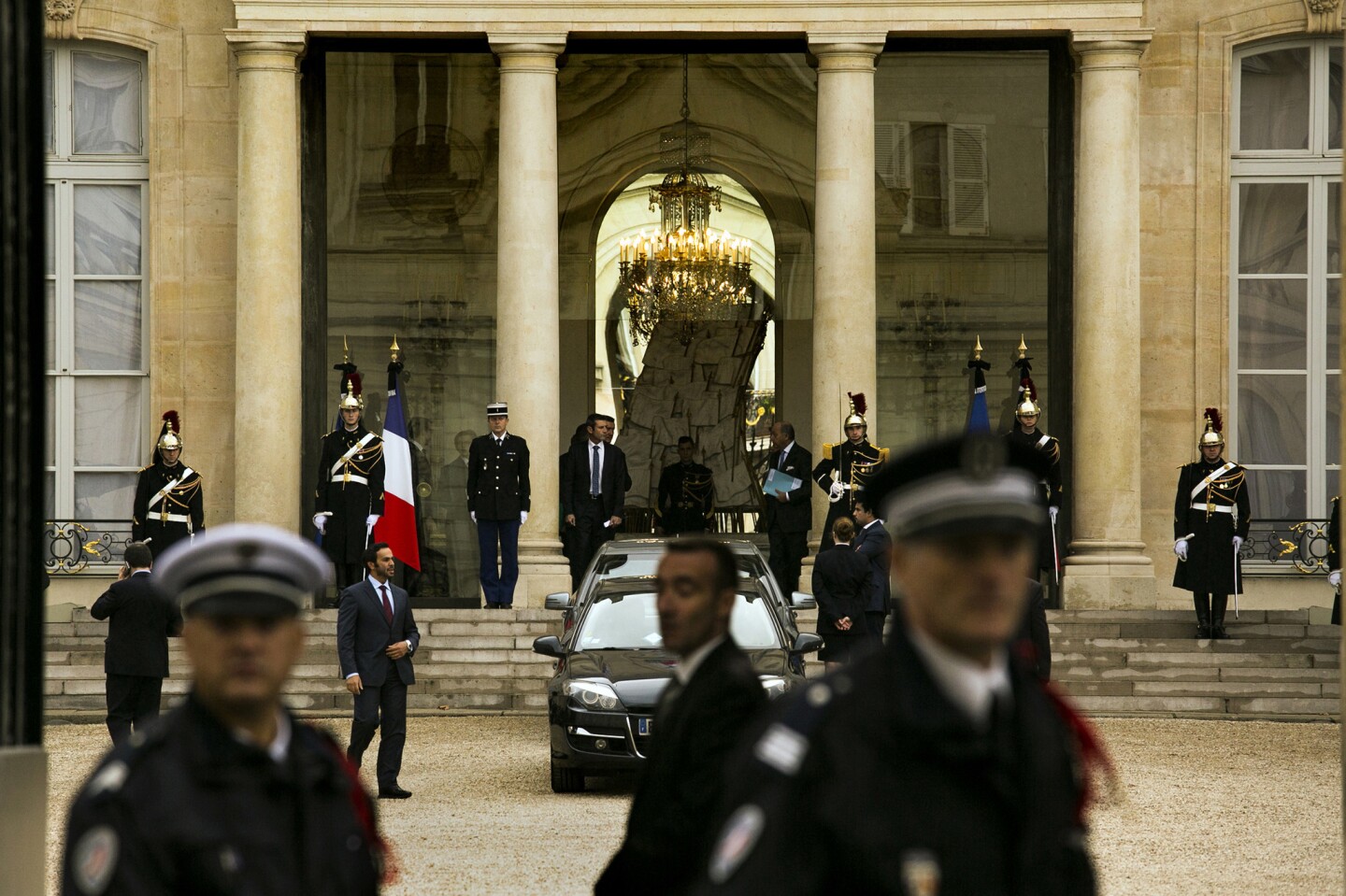 Looking inside the courtyard of the Presidential Palace, guards stand at attention for the departure of Secretary of State John Kerry after his meeting with French President Francois Hollande.
(Carolyn Cole / Los Angeles Times)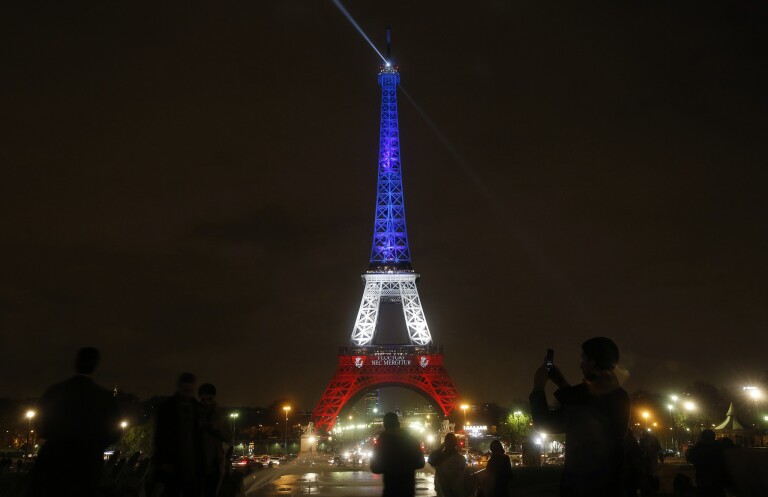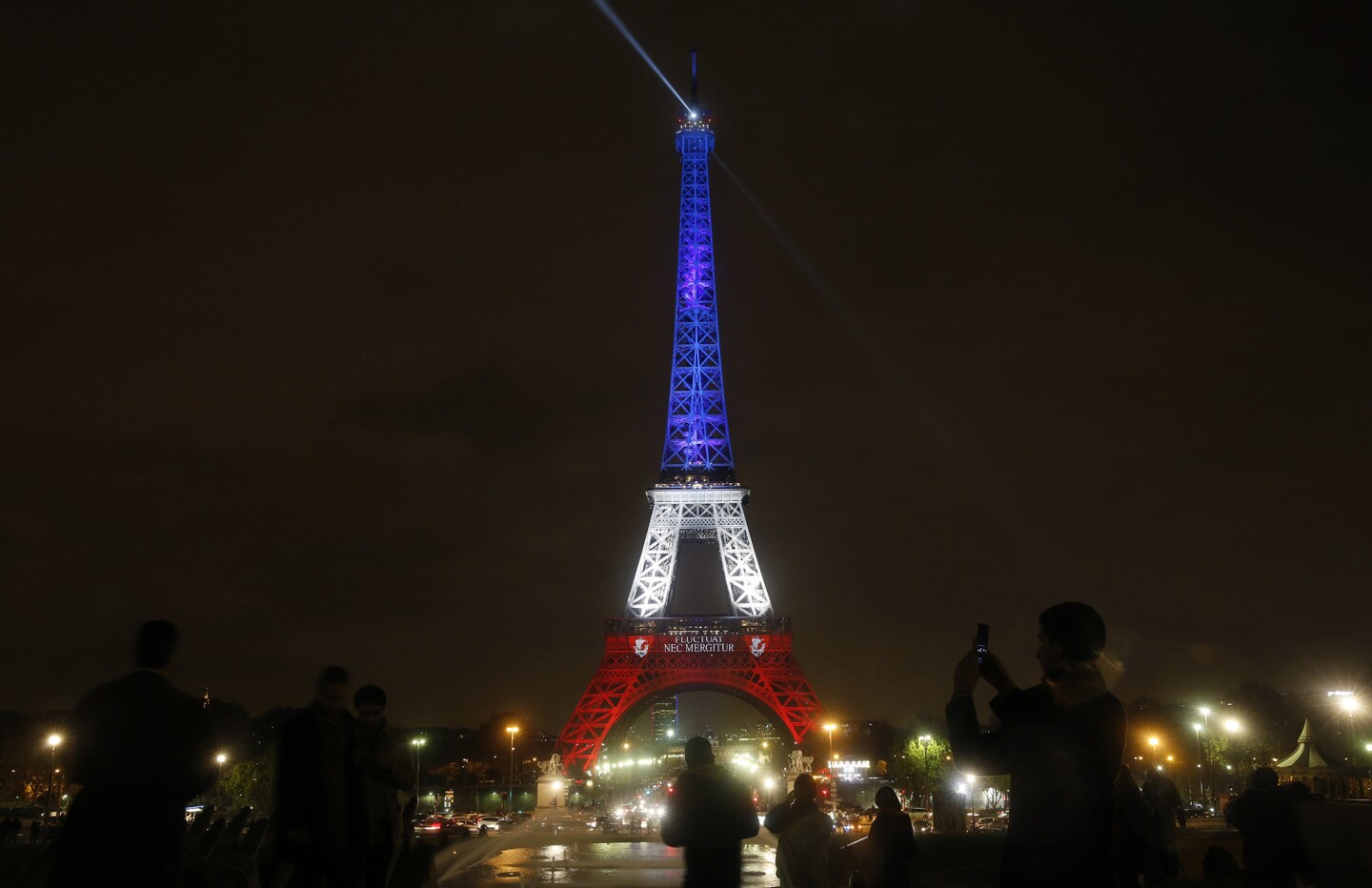 On the third day of national mourning, the Eiffel Tower was illuminated in the colors of the French flag after going dark.
(Carolyn Cole / Los Angeles Times)
On the third day of national mourning, people continue to gather in public places like the Place de la Republique, including Tao Cisse, age 5, and Maya Sutej.
(Carolyn Cole / Los Angeles Times)
People observe a minute of silence in front of the Le Carillon cafe in Paris on Nov. 16, paying tribute to victims of the terror attacks.
(Lionel Bonaventure / AFP/Getty Images)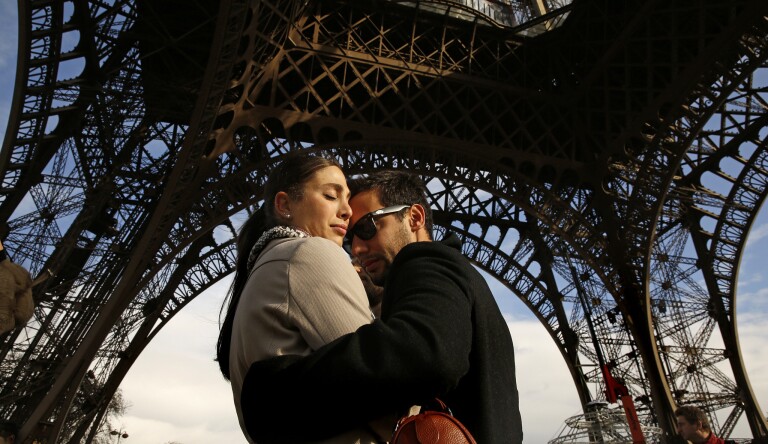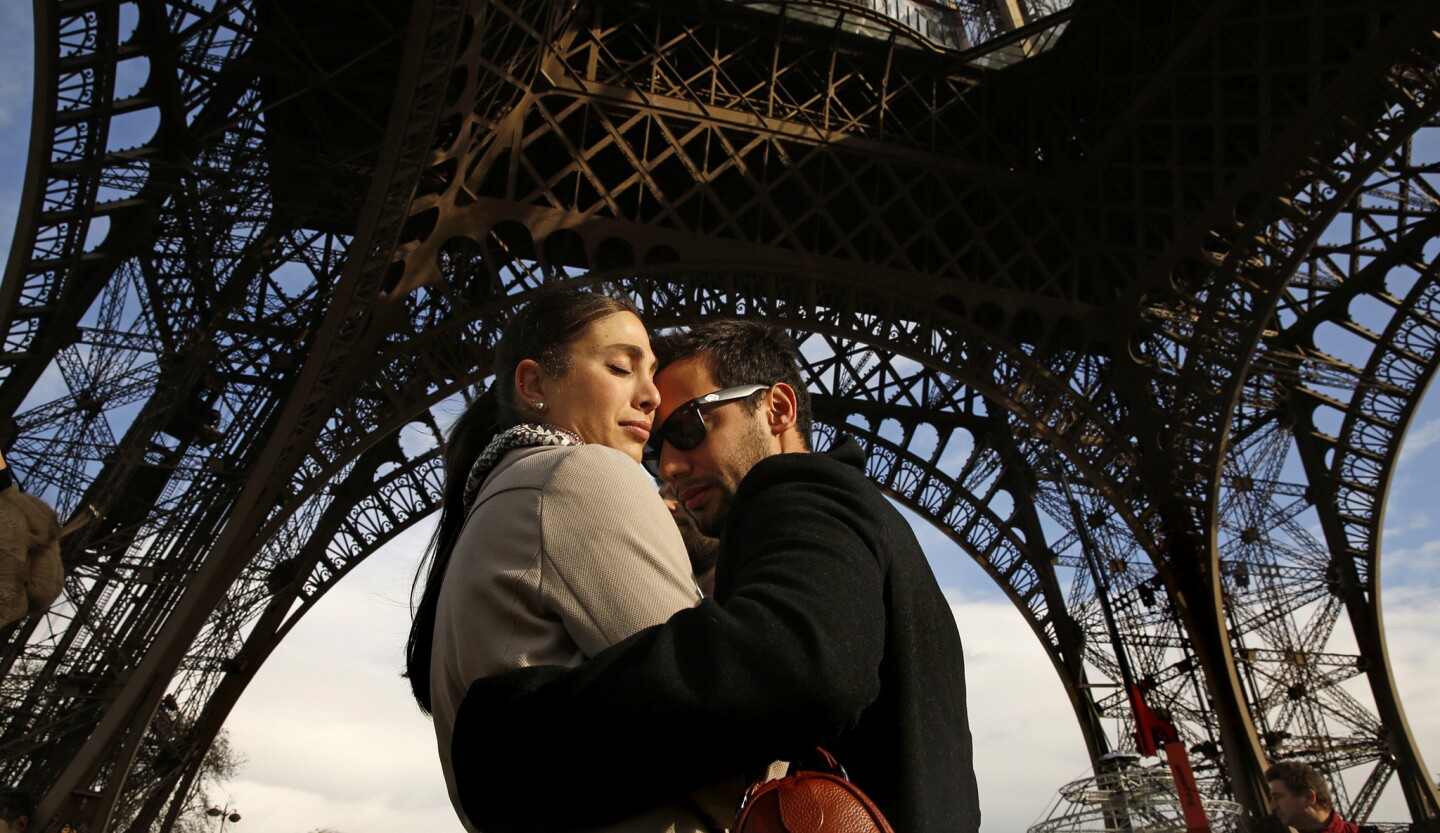 Paris residents take part in a Nov. 16 moment of silence under the Eiffel Tower in observance of those who died during the terrorist attacks three days earlier.
(Carolyn Cole / Los Angeles Times)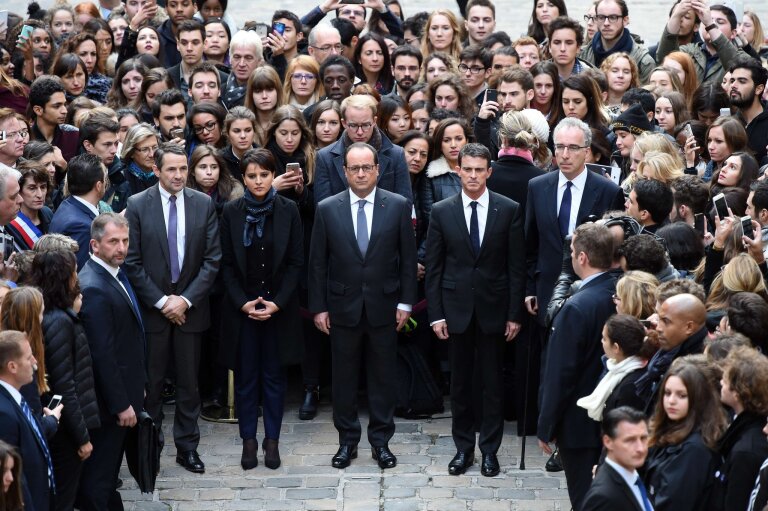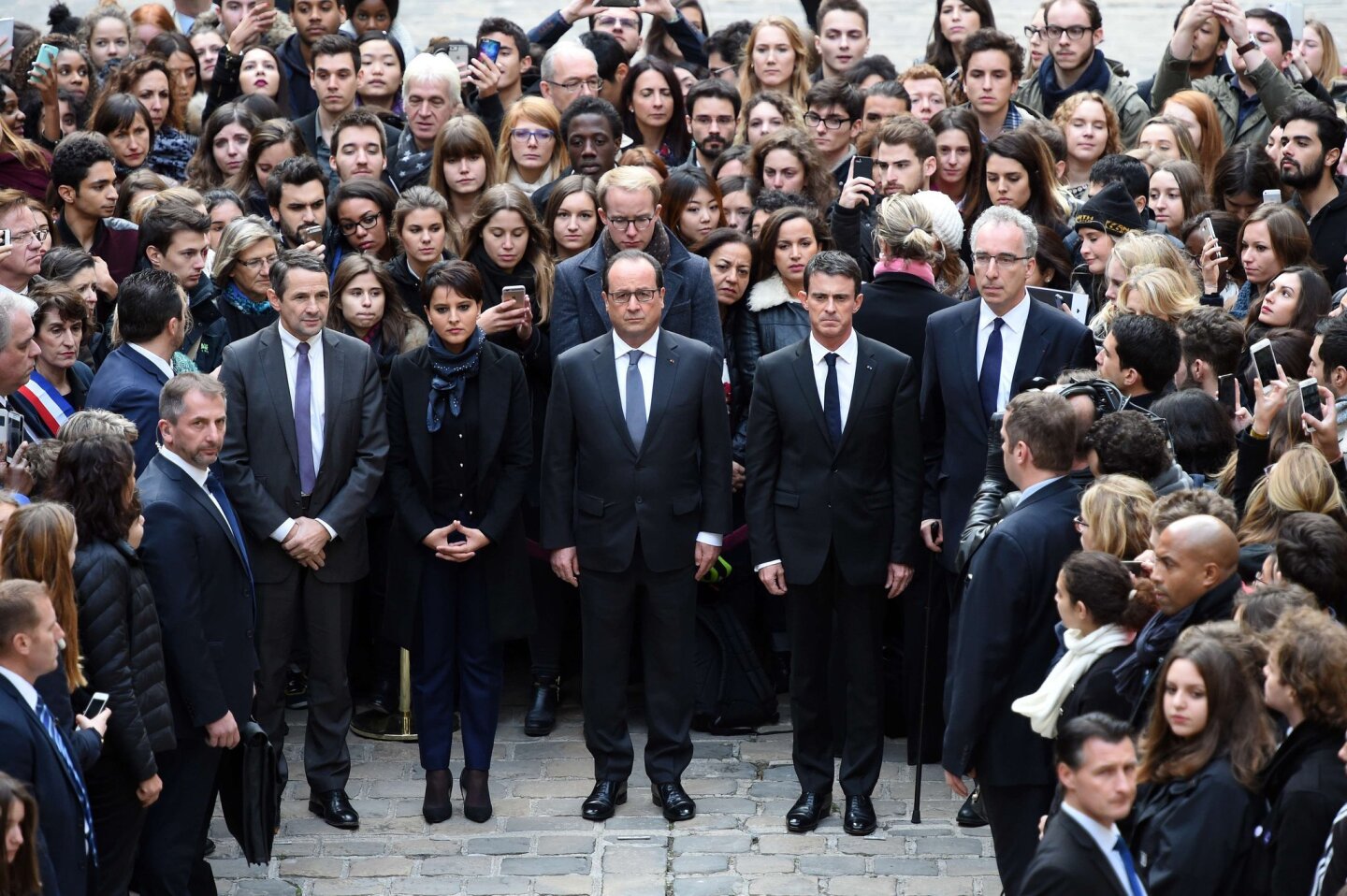 French President Francois Hollande, center, stands with government officials to observe a minute of silence Nov. 16 at the Sorbonne University in Paris.
(Stephane De Sakutin / AFP/Getty Images)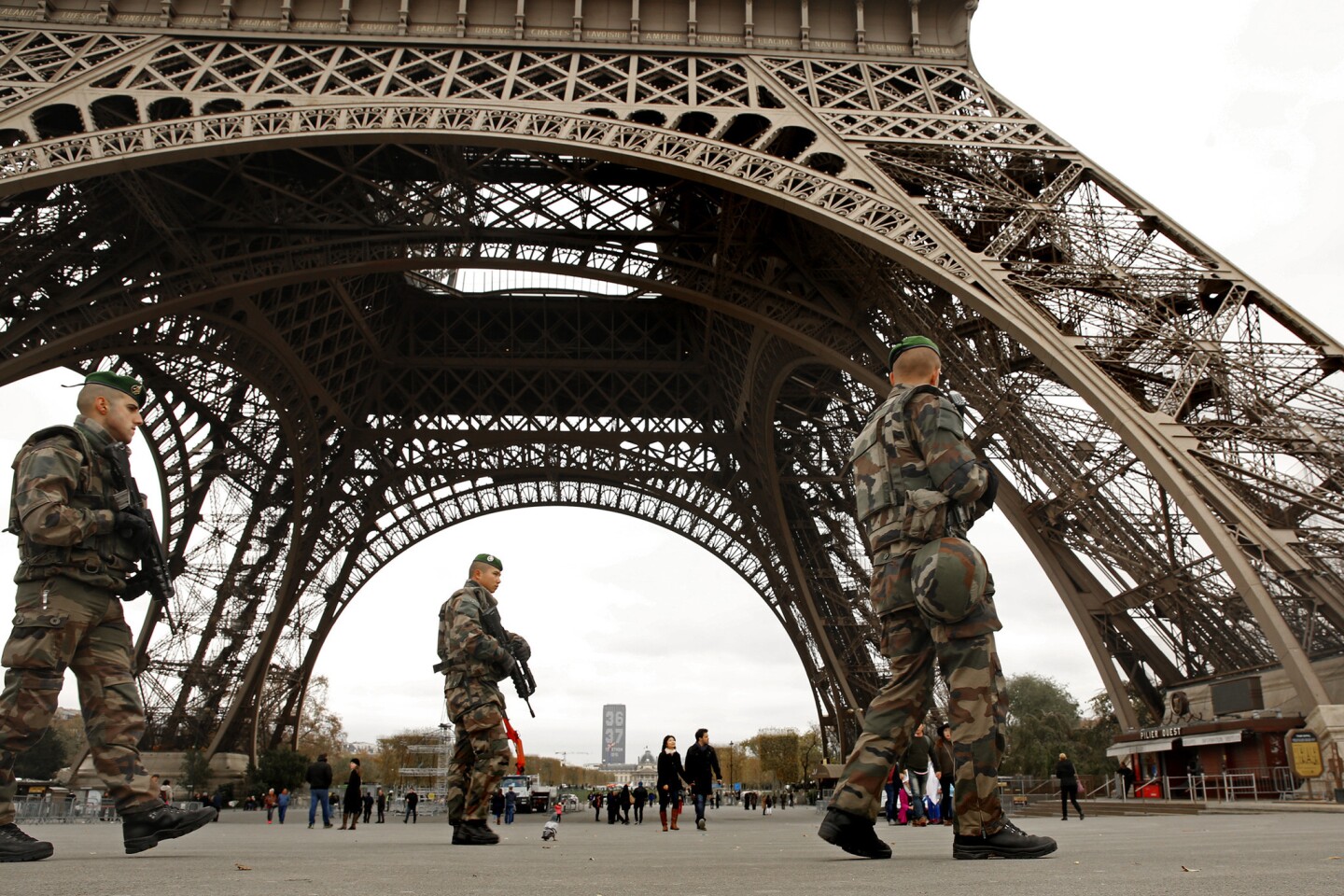 Members of the French Foreign Legion stand guard near the Eiffel Tower on Nov. 16.
(Carolyn Cole / Los Angeles Times)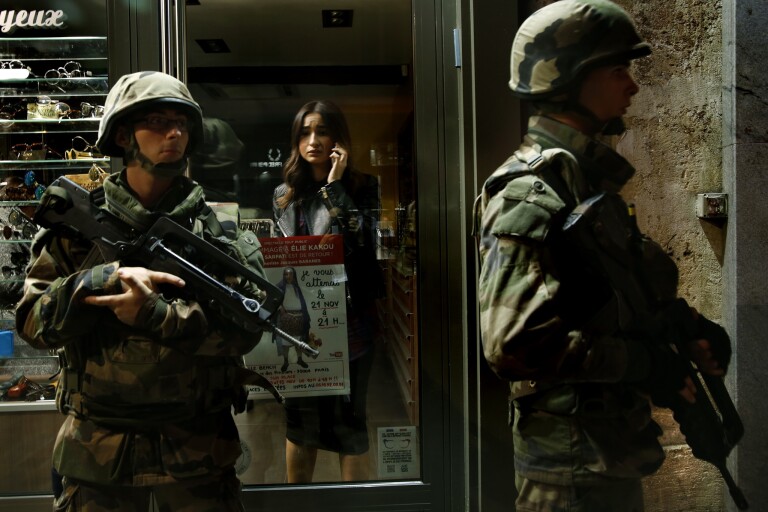 A Paris shopkeeper stays inside Sunday as soldiers guard the street where she works.
(Carolyn Cole / Los Angeles Times)
A sign that reads 'Not even afraid' is draped on the statue on Republique plaza in Paris.
(Ian Langsdon / European Pressphoto Agency)
Women run past French soldiers as panic spread through the streets of Paris when rumors spread of another possible terrorist attack, which turned out to be a car left running in the street.
(Carolyn Cole / Los Angeles Times)
French police have released a photo of Abdeslam Salah, a 26-year-old sought in connection with the Paris attacks.
(National Police)
Prelates arrive to celebrate a Mass in memory of the attack victims at the Notre Dame cathedral.
(LIONEL BONAVENTURE / AFP/Getty Images)
An emotional crowd gathers in front of Le Carillon restaurant.
(Carolyn Cole / Los Angeles Times)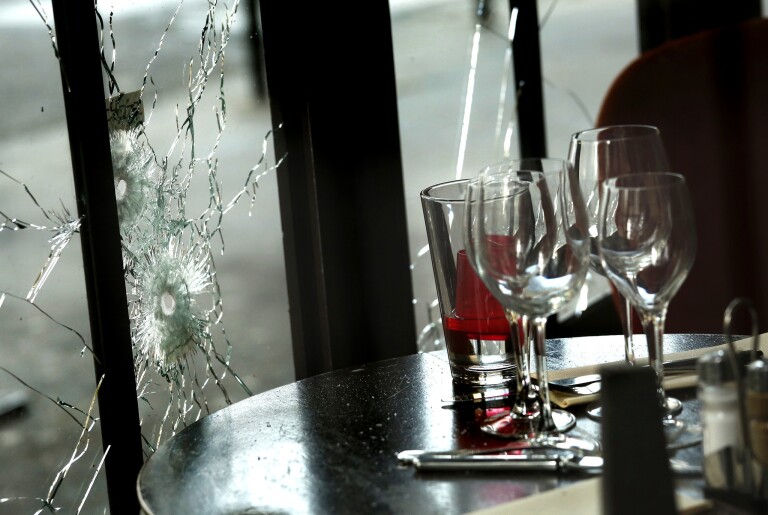 The glasses and silverware remain on the table where bullets were fired at Cafe Bonne Biere.
(Carolyn Cole / Los Angeles Times)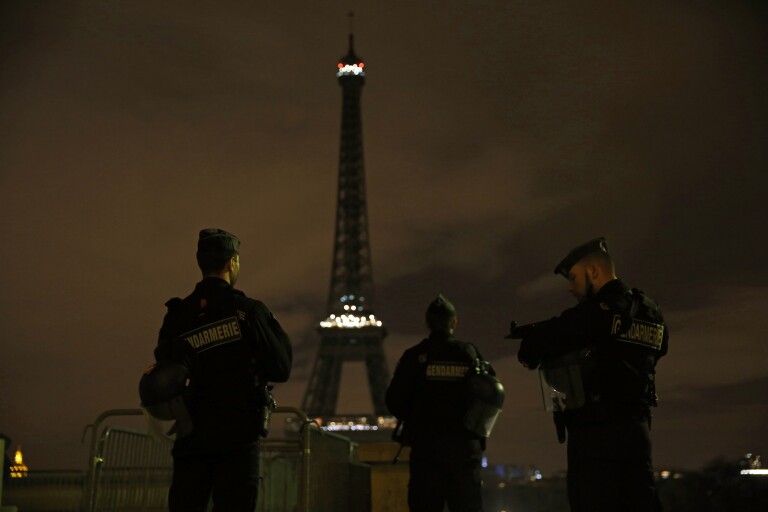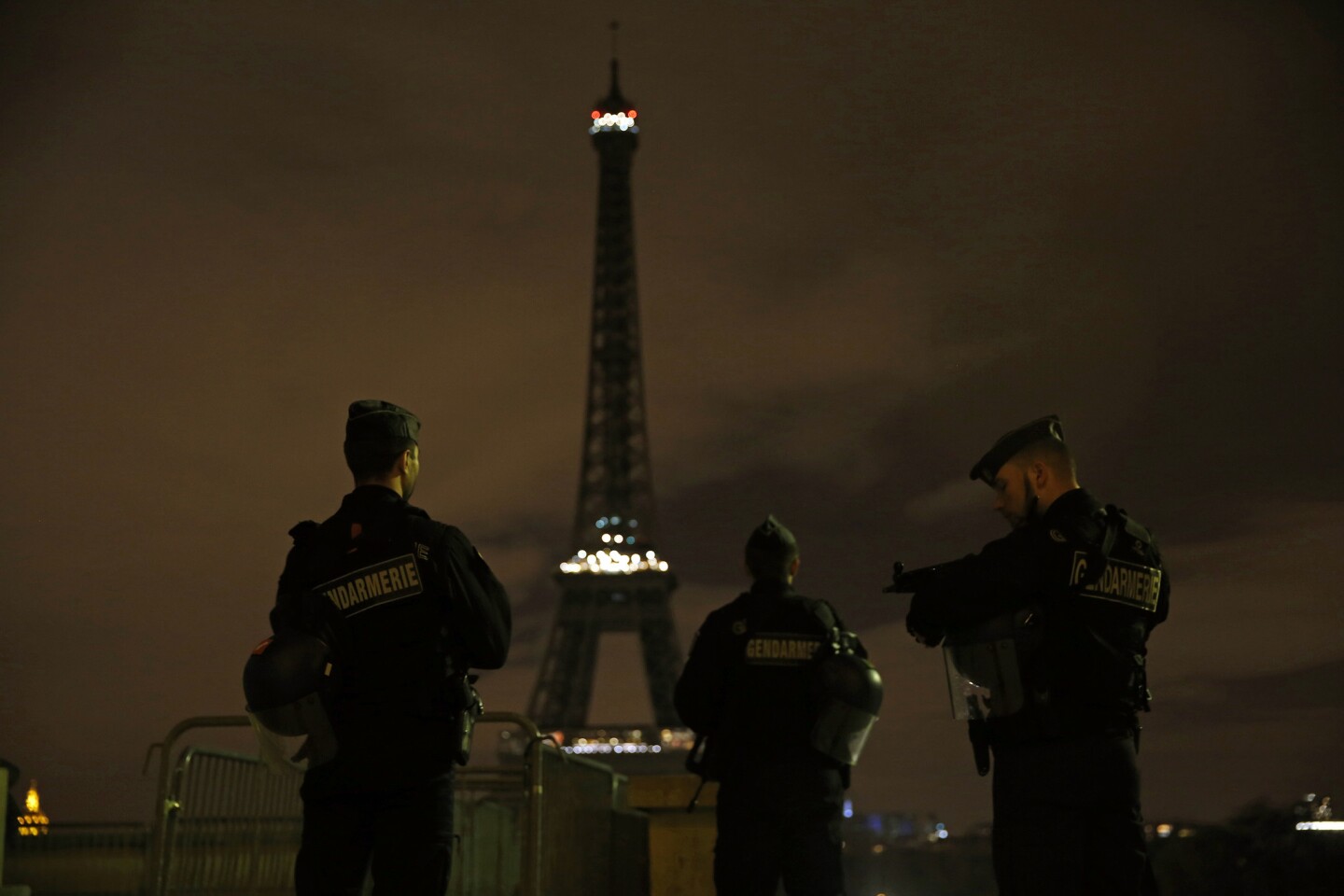 Armed police stand guard Nov. 14 near the Eiffel Tower, which was kept dark in honor of those who died in the terrorist attacks.
(Carolyn Cole / Los Angeles Times)
Mourners place flowers and candles outside the Bataclan theater in Paris.
(Carolyn Cole / Los Angeles Times)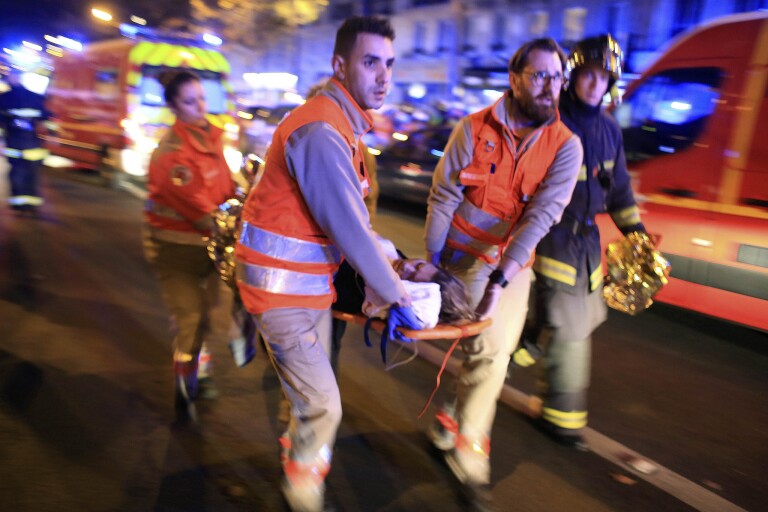 A woman is evacuated from the Bataclan theater after the shootings in Paris.
(Thibault Camus / Associated Press)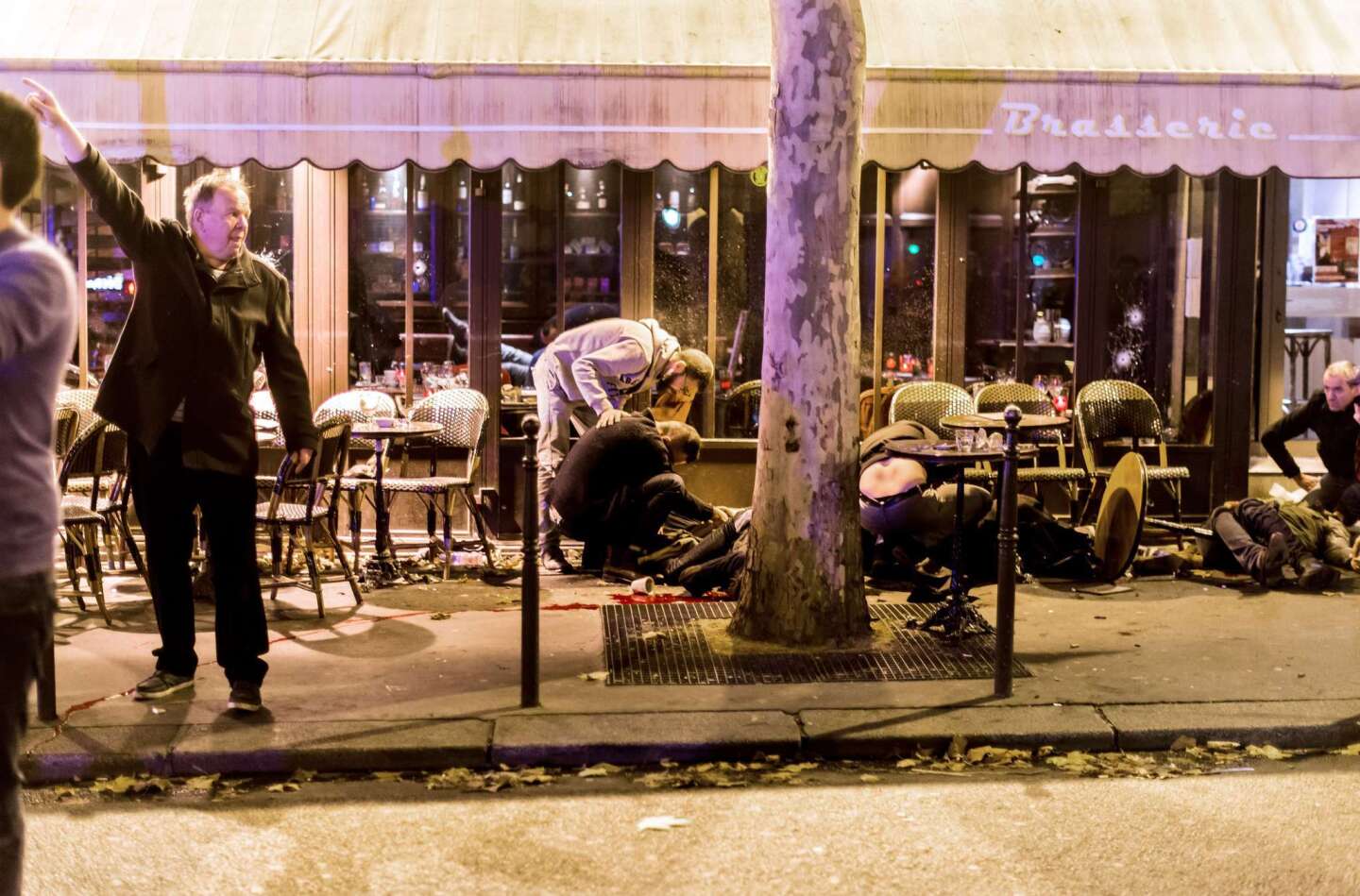 People lie on the pavement near the Cafe Bonne Biere in Paris following a series of attacks.
(ANTHONY DORFMANN / AFP/Getty Images)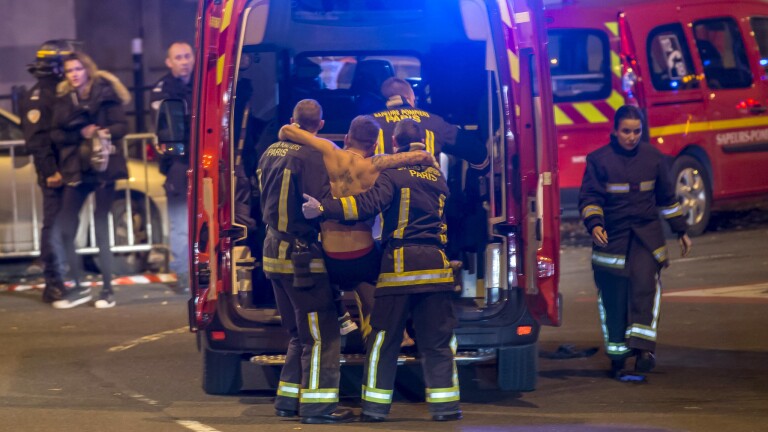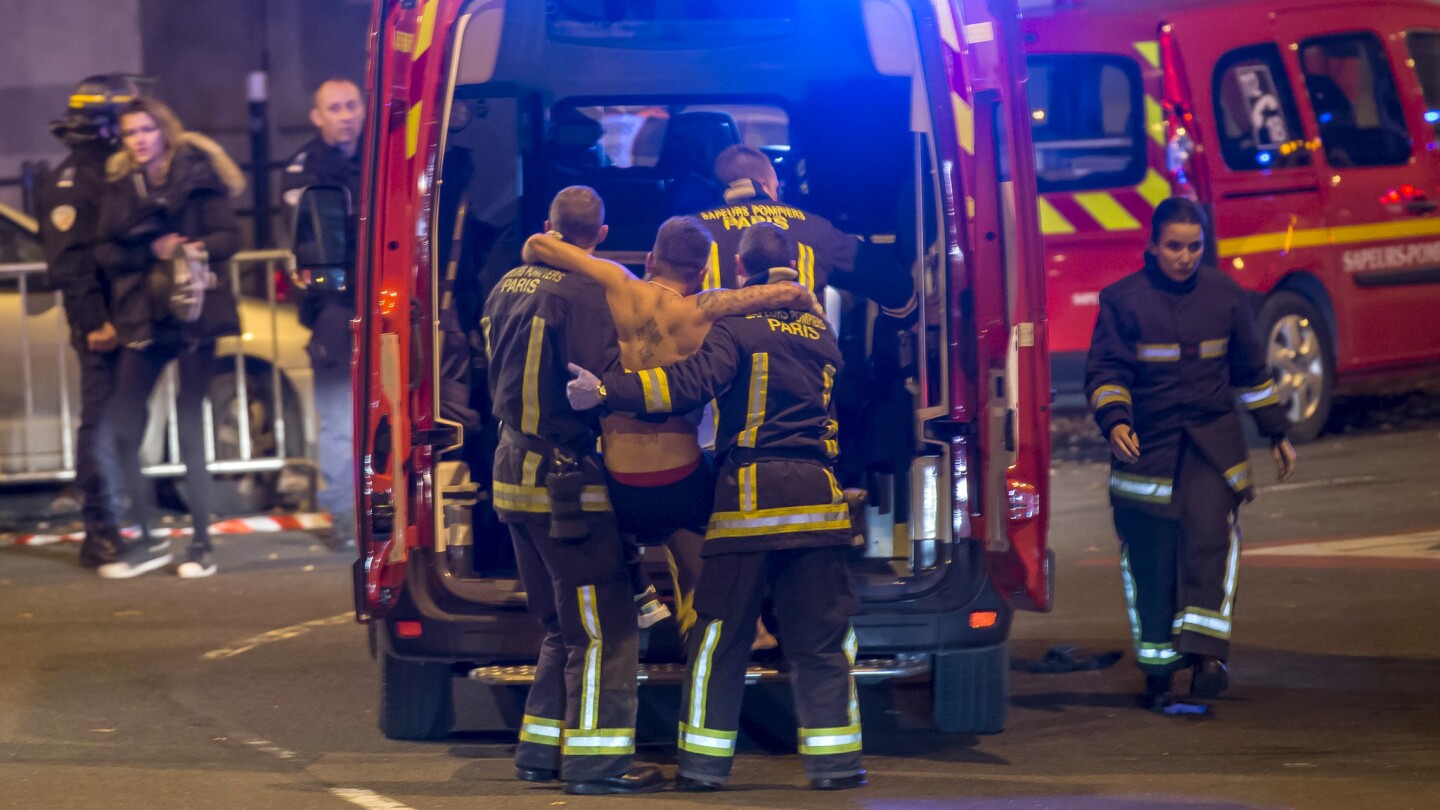 A man wounded in the shootings is treated near the Stade de France.
(Ian Langsdon / European Pressphoto Agency)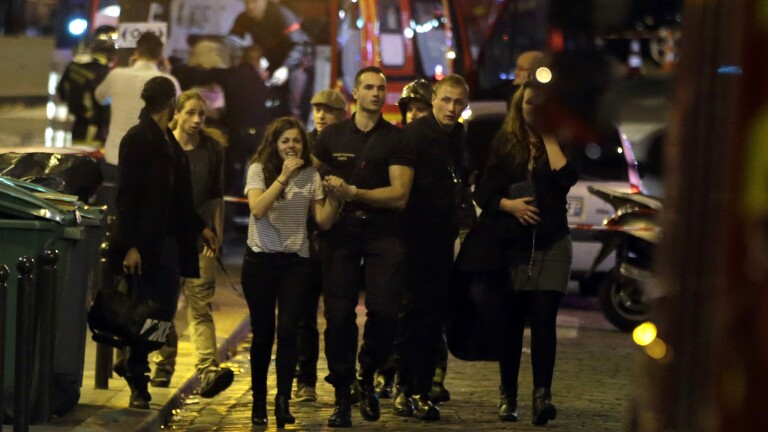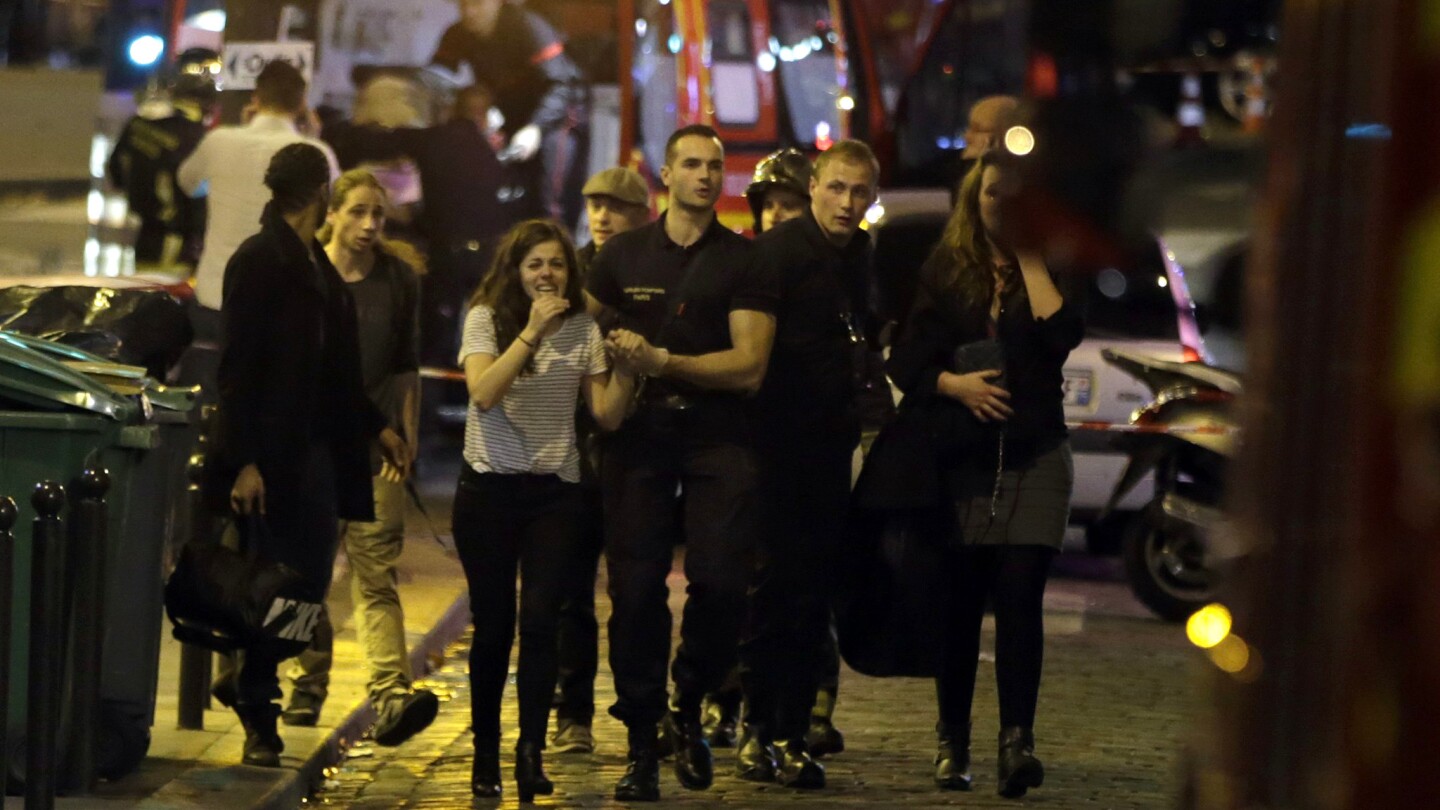 Rescuers evacuate people following an attack in Paris, where there were also reports of an ongoing hostage crisis at a concert venue.
(Kenzo Tribouillard / AFP/Getty Images)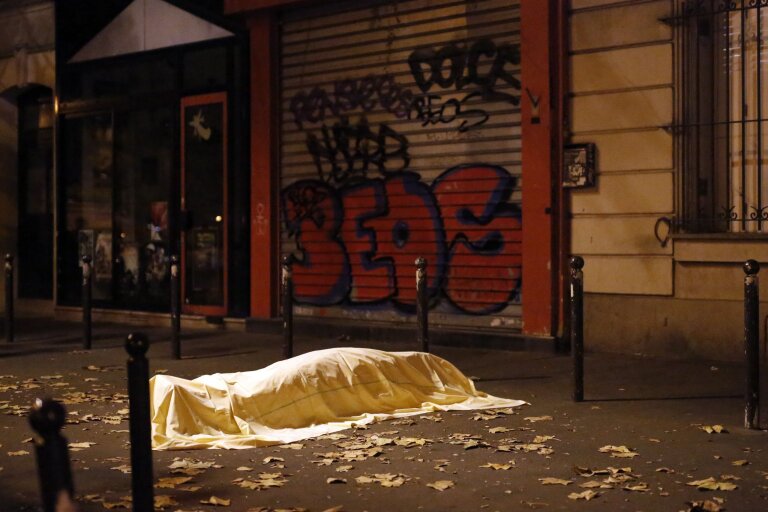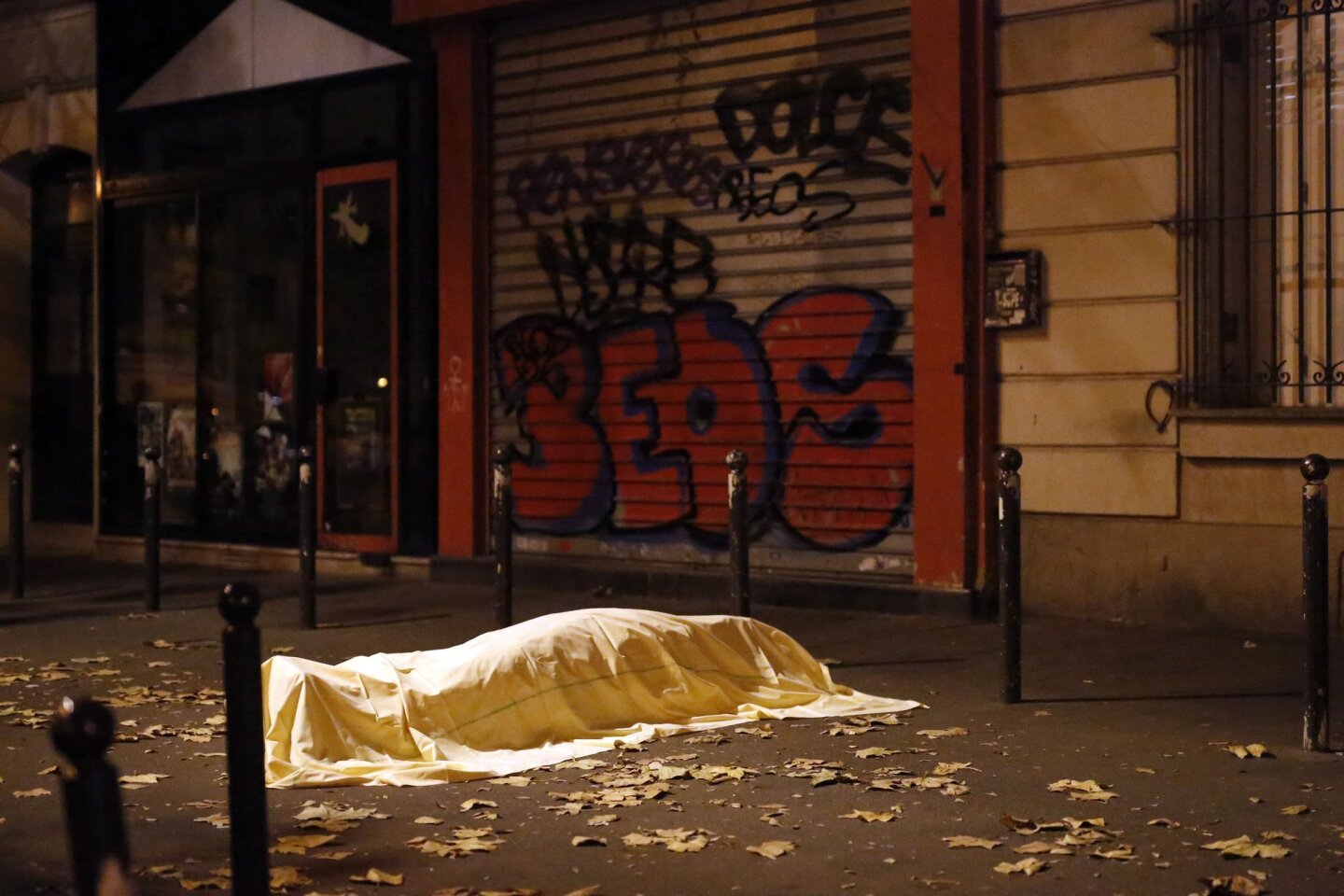 A victim lays dead under a blanket outside the Bataclan theater in Paris.
(Jerome Delay / AP)
Hundreds of people spilled onto the field of the Stade de France stadium after explosions were heard nearby during a match between the French and German national soccer teams.
(Christophe Ena / Associated Press)
After the terrorist attacks on Charlie Hebdo in Paris in January, it was clear that France wasn't immune to acts of violence motivated by a warped interpretation of Islam. It was also foreseeable that that risk would increase with France's participation in the launching of airstrikes against Islamic State in Syria as well as Iraq. Still, Friday's orchestrated carnage in Paris — for which Islamic State has claimed responsibility — came as a shock.
As with 9/11 and other acts of terrorism, the multiple attacks that killed more than 120 people in the French capital will (and should) lead to an inquest into whether internal security and intelligence collection were adequate. In his comments, French President Francois Hollande went farther, describing the attacks as an "act of war" and promising that France would use "all means anywhere, inside or outside the country" to defeat Islamic State.
For Americans, those words were reminiscent of President George W. Bush's declaration after 9/11 that the U.S. would act if the Taliban government in Afghanistan didn't end its support for Al Qaeda and other terrorists. Soon afterward, with support from Congress, the U.S. invaded Afghanistan, and American troops remain in that country to this day, albeit not in a combat role.
Hollande's words also recall President Obama's pledge more than a year ago that the U.S. and its allies "will degrade, and ultimately destroy" Islamic State. So far that effort has consisted of airstrikes, a failed attempt to organize and train "moderate" forces opposed to Islamic State and, most recently, the announcement that up to 50 U.S. special operations personnel would be deployed in Syria.
Even before Friday's outrage, some of Obama's critics were calling for an escalation in U.S. military activity against Islamic State. Sen. Lindsey Graham (R-S.C.), a presidential candidate, has proposed sending 10,000 troops to the region to fortify the fight against Islamic State. We expect to hear more calls for escalation after the horror in Paris.
Such calls are understandable. It is of course frustrating and troubling that the U.S. and its allies have had such difficulty combating Islamic State, Al Qaeda and other radical Muslim groups despite our clear military superiority. Yet the reality is that Americans and Europeans are reluctant to be drawn back into full-scale war in the Middle East, wars to which they are not fully committed, which often require years of sacrifice and which they often do not win.
This page has supported Obama's call for "a steady, relentless effort" against Islamic State using air power and relying on actions of local forces — but not U.S. "boots on the ground." Horrific as Friday's attacks were, they shouldn't lead to a sudden, reactive lurch in U.S. policy.
That doesn't mean that the U.S. and its allies shouldn't continue to search for ways to recalibrate the current campaign against Islamic State to make it more effective. A new strategy may also require increased vigilance about the infiltration of potential terrorists. But that mustn't lead to the scapegoating of refugees who in many cases are fleeing Islamic State.
Not for the first time, a small but determined group of terrorists has been able to exploit the openness of Western society to commit murder and mayhem on a monstrous scale. Nations such as France and the United States need to find a way to respond to that asymmetric threat without curtailing civil liberties or closing their borders.
ALSO:
FULL COVERAGE: Paris Terror Attacks
Opinion: Paris carnage extends the range of Islamic State's vicious lunacy
---
A cure for the common opinion
Get thought-provoking perspectives with our weekly newsletter.
You may occasionally receive promotional content from the Los Angeles Times.