Endorsement: Pragmatic and focused on consumers, Steve Poizner is the right choice for insurance commissioner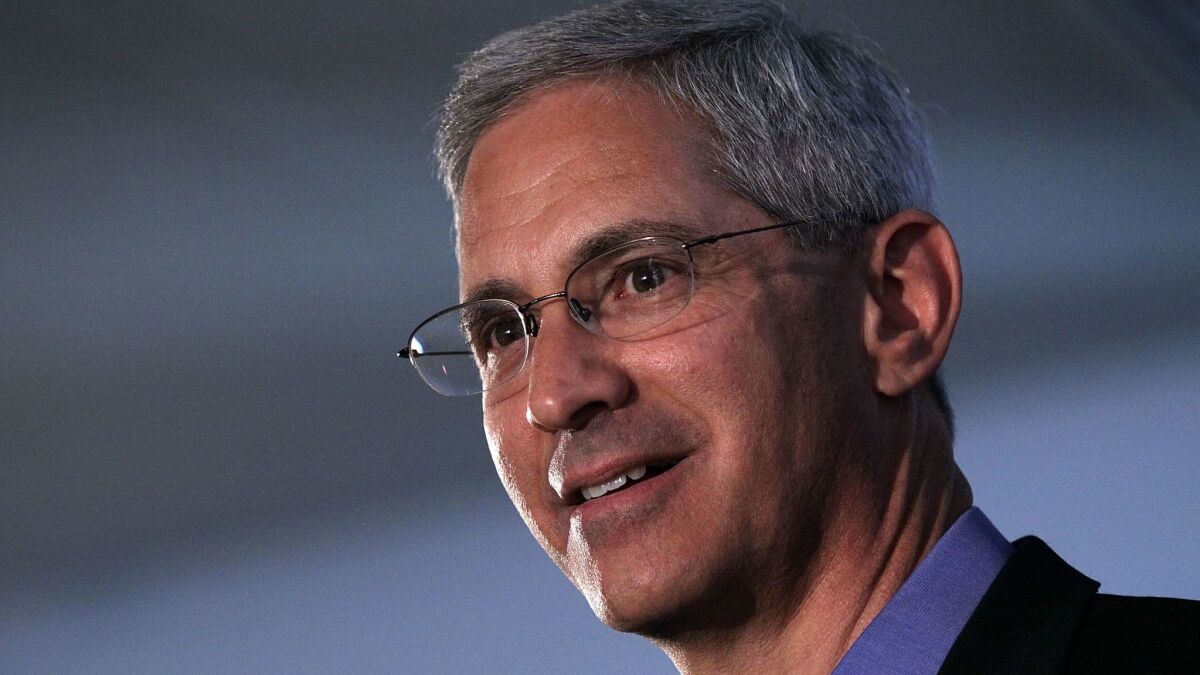 Lots of state elected officials run for higher office, and most of them lose. Steve Poizner is one example; he served one term as the state insurance commissioner before running for governor in 2010, getting trounced by Meg Whitman in the Republican primary.
But now Poizner is back, looking for another shot — not at the governor's office, but at his old job, insurance commissioner. And in a twist, Poizner has severed his ties with the GOP and is running as an independent. Poizner says his motive isn't to create a new party in the gaps between the Republican and Democratic machines; it's to show would-be public servants who are turned off by the political climate in this state that there is a nonpartisan path to office.
That's a fine objective, and insurance commissioner — a relatively technocratic, nonpartisan sort of job — is a good place to plant that flag. But Poizner's no-party-preference designation is not a reason, in and of itself, to give him a second stint in office. Instead, voters should support him because he is the better choice to fill an important job that has a steep learning curve for newcomers.
Poizner's opponent is state Sen. Ricardo Lara (D-Bell Gardens), a youthful, bright and prolific legislator who's been most active promoting immigrants' rights, aiding labor unions and extending health insurance coverage to more Californians. What Lara lacks is one of the main things Poizner brings to the table: years of experience dealing with the often complex issues that arise in the roughly $300-billion insurance market that the commissioner oversees. (California is one of the five largest insurance markets in the world.) In fact, Lara didn't join the Senate committee that handles insurance issues until a year after he announced his plan to run for commissioner in March 2017.
Voters should support him because he is the better choice to fill an important job that has a steep learning curve for newcomers.
Granted, experience isn't much of an asset for veteran officeholders who showed no aptitude for their jobs. Poizner, however, was an able and innovative insurance commissioner. And unlike the previous Republican to win election as insurance commissioner, Chuck Quackenbush, Poizner earned a reputation as an advocate for consumers, not insurance companies. One example is the rules he pursued over fierce industry opposition to govern how insurers calculated "replacement cost," or the amount paid to customers whose homes were destroyed.
Considering how much Californians spend on insurance, the commissioner may be the most consequential consumer advocate in the state. In fact, public anger about rising auto insurance premiums in the 1980s led to Proposition 103, the ballot measure in 1988 that gave the commissioner's office much of its power.
Proposition 103 turned the insurance commissioner's job into an elected position and empowered the office to review and approve or reject premium increases for many types of policies before they go into effect. The commissioner has to walk a careful line in doing so, guarding consumers against excessive premiums while still assuring that insurers are on sound financial footing. A commissioner who takes too aggressive a line can drive insurers out of the state or deter them from offering new types of coverage.
The office's jurisdiction is broad, overseeing property and casualty, life, title and workers' compensation insurance. Its purview over health policies, though, is limited and shrinking — the Department of Managed Health Care oversees many of the state's more popular health plans, including all HMOs.
Enter the Fray: First takes on the news of the minute from L.A. Times Opinion »
Both Poizner and Lara have made health insurance one of their key issues in the campaign, alongside the need for better approaches to wildfires and cybersecurity coverage. But Poizner is more focused on what the insurance commissioner can do on health insurance today — attacking the fraud that drives up costs and premiums — while Lara's emphasis has been on big-picture issues largely beyond the insurance commissioner's reach, such as his push for a single-payer system, his efforts to extend coverage to immigrants in the country illegally and his opposition to the Trump administration's health initiatives.
Lara's record also shows an alarming eagerness to carry legislation for organized labor even when its interests aren't aligned with the general public's, as well as a willingness to put big ideas in play before they are fully realized. His proposal to convert California to a single-payer health system — an appealing proposal in the abstract that included no means for covering its cost — is the most egregious example.
The biggest rap against Poizner is his run for governor, which critics say led him to cut the insurance department's budget too deeply as he sought to burnish his credentials as a penny-pinching conservative. His sharp right turn during the campaign also led to distasteful comments on immigration, including his call to "turn the magnets off" by curtailing support for those here illegally. He says that stance was a mistake, and that he now favors a path to legalization for all undocumented immigrants in California.
Such issues aren't on the insurance commissioner's plate, and Poizner makes a persuasive argument that he no longer has his eyes set on higher office. His record at the department was solid, and he should have the chance to build on it.
Follow the Opinion section on Twitter @latimesopinionand Facebook
Our six-week newsletter will help you make the right decision for you and your property.
You may occasionally receive promotional content from the Los Angeles Times.