Editorial: The unconscionable backlog of unprocessed rape kits in California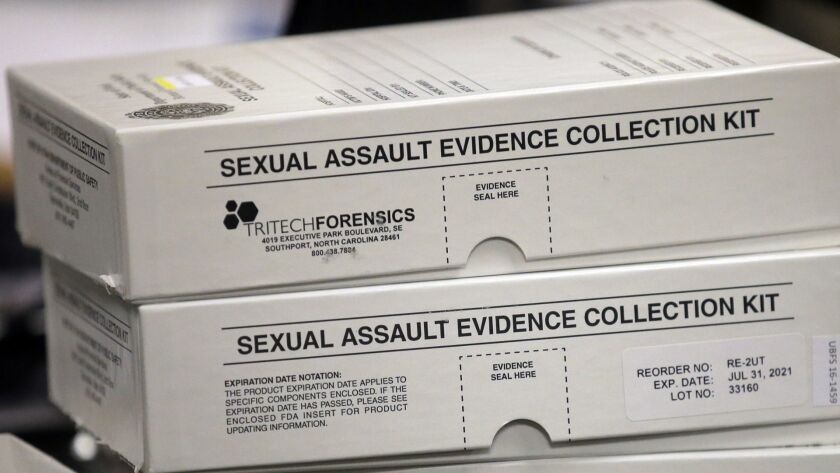 Women reporting a rape are often encouraged to undergo a grueling and invasive examination to collect DNA and other physical evidence. The process can take several hours, and involves poking and prodding and swabbing and questioning as medical professionals take samples from the parts of the victim's body that the rapist touched during the assault.
Often, there is good reason to go through this difficult procedure; the evidence gathered can be important to the building of a criminal case. If the attacker's identity is unknown, DNA can be matched to databases to search for possible suspects. Investigators can also use the evidence to link attacks on different women to the same perpetrator, discovering serial rapists who might otherwise go undetected.

For the record:
11:00 a.m. May 21, 2018An earlier version of this editorial said state Sen. Connie Leyva is from Chino Hills. She's from Chino.
Yet for years many law enforcement agencies have struggled with enormous backlogs in the processing of those rape kits due to lack of funding or follow-through, or, in many cases, because the identity of the accused isn't in question. Two proposed laws in Sacramento would help create a better understanding of the scope of the backlog in California — no reliable estimate exists — and require local law enforcement and crime labs to process the kits and submit valid DNA samples to a state database. Both bills deserve support.
The rape kit backlog is, unfortunately, not a new problem, though some jurisdictions have worked hard to address the issue. The Los Angeles Police Department responded to pressure from Human Rights Watch and other advocacy groups a decade ago and worked its way through a backlog of more than 6,000 kits.
Statewide, the Joyful Heart Foundation, which advocates for timely and full processing of rape kits, conservatively estimates that more than 13,000 kits remain unprocessed today. But no one really knows because that data isn't collected.
One way to determine for sure would be to enact AB 3118, introduced by Assemblyman David Chiu (D-San Francisco), which "would require all law enforcement agencies, medical facilities, crime laboratories, and any other facilities that receive, maintain, store, or preserve sexual assault evidence kits" to count all the kits in their possession and report the audit results to the California Department of Justice by July 1, 2019, and for that agency to submit a comprehensive report to the Legislature a year later. Getting an accurate count is a prudent step — it's difficult to resolve a problem without knowing its scope. And yes, this would mean extra work for local agencies and the state Justice Department; the state would cover the cost.
But what to do with the rape kits? Not all agencies process all kits. Sometimes that's because the identity of the alleged perpetrator is known but the question is whether an encounter was consensual (which can't be proved with DNA); in other cases, the accused has confessed. Yet the rape kit information still has value. In the first instance, processing the kit establishes proof that the encounter occurred and, much like fingerprints, can be matched against databases for links to other reported crimes. In the second instance, confessions are not always what they seem, and DNA can be both incriminating and exculpatory.
SB 1449, by Sen. Connie Leyva (D-Chino), would change existing law that says local agencies and crime labs "should" process all kits to say they "shall" process the kits, and also submit confirmed DNA profiles to the state Combined DNA Index System. Using the DNA database to help identify the perpetrator or to link seemingly unconnected rapes is a good idea. (It would be better, though, if the DNA of accused people who ultimately are not charged or who are found not guilty were automatically expunged from the database rather than stored forever. Unfortunately, neither the law nor the courts have agreed with that position.)
On a more humane level, people reporting a sexual assault to police, and who voluntarily undergo the discomfort and indignity of an exam to collect the physical evidence, should be assured that the procedure will further the investigation, not just add to a collection of samples in an evidence room. Enacting these two laws will help lead to the collection of data necessary to understand the scope of the backlog of unprocessed rape kits, and potentially connect more criminals with their crimes.
Follow the Opinion section on Twitter @latimesopinion or Facebook
---
A cure for the common opinion
Get thought-provoking perspectives with our weekly newsletter.
You may occasionally receive promotional content from the Los Angeles Times.