Editorial: It's time for Xavier Becerra to show some courage on police misconduct disclosure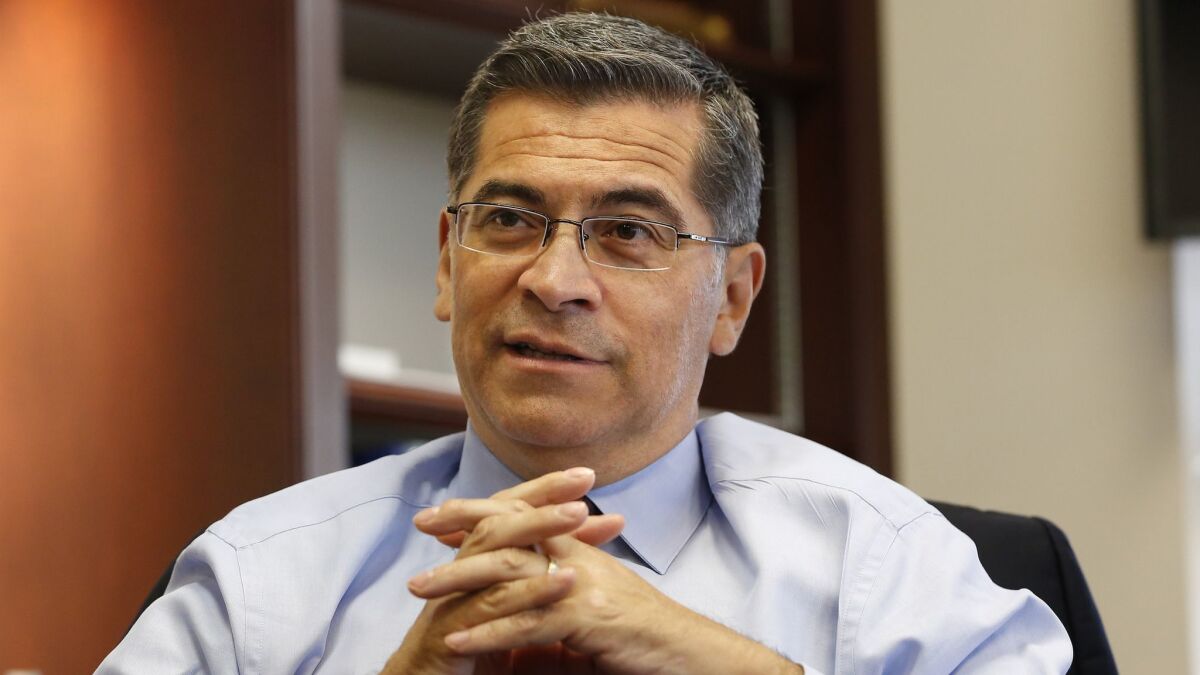 California Atty. Gen. Xavier Becerra is setting a bad example for this state's guardians of public safety. He's got some 500 law enforcement officers working for him in several state Department of Justice agencies, and they are covered by a new law that lifts the veil of secrecy on police behavior by requiring the release of certain personnel records. He ought to quickly comply with requests for those documents, and he ought to make it clear that he believes the hundreds of police and sheriff's departments around the state ought to be doing the same thing.
Instead, he has failed to respond to records requests. He explains that he's waiting for courts to decide whether the new law — SB 1421 — really means what it says, or if it instead applies only to records of police misconduct or shootings that occurred after the law took effect this year.
Of course the law means what it says. There is nothing in the language that limits its application. When police secrecy laws were adopted in the 1970s, they covered up records past and present. Likewise, the bill to once again grant public access to records related to officer use of force, sexual assault or dishonesty applies to all law enforcement files.
Los Angeles officials have been hot and cold on police disclosure.
After losing in the Legislature last year, police unions are making a last-ditch attempt to thwart the law by arguing that it somehow doesn't apply to records of previous years' incidents. They have gotten a few judges in Los Angeles and other places around the state to halt disclosure while they consider the question. Meanwhile, other judges in other parts of the state have properly rejected the argument. That means the law applies or doesn't apply depending on where in the state the records are being held. That's an untenable situation that requires some leadership from the state's top lawyer.
Keep in mind that none of those lawsuits seeking to block release apply directly to Becerra's department. But he isn't releasing anything anyway, until the other lawsuits are resolved.
That's absurd. Lawsuits are filed all the time over the proper interpretation of the Public Records Act and other disclosure laws. If state and local agencies didn't comply with any request while litigation was pending, police unions and others who want to block disclosure would have an easy time of it. They wouldn't have to win their lawsuits; they would just have to file them over and over again.
In addition to conducting its own law enforcement operations, Becerra's office also investigates local police agencies, and in so doing it obtains records from city police officers and county sheriff's deputies that are subject to the disclosure law. Becerra isn't releasing those either. He is being challenged in court on that point by the First Amendment Coalition, just as The Times and other news organizations are pressing for disclosure from other law enforcement agencies.
Californians should expect better from their attorney general. He is the state's lawyer and the public's advocate, and should put his position and his office's legal acumen to work on behalf of transparency, as required by the law, and not secrecy, as preferred by police unions.
It's the unions, of course, that make things complicated. They are big players in state and local politics, and they expect elected officials to toe their line on issues of importance to them.
Los Angeles officials have been hot and cold on police disclosure. More than a decade ago, when a more expansive bill came before the Legislature, then-Mayor Antonio Villaraigosa and Police Chief William Bratton spoke out in favor of it.
Enter the Fray: First takes on the news of the minute »
This time around, LAPD Chief Michel Moore argued that the law ought to apply only to new incidents and new records because doing otherwise would create a bureaucratic headache. It may or may not, but inconvenience is no excuse for noncompliance.
Now, however, Moore finds himself a defendant in a suit by the Los Angeles Police Protective League to block disclosure. City Atty. Mike Feuer has filed papers on behalf of the city arguing for disclosure.
The Assn. of Los Angeles Deputy Sheriffs filed a suit blocking release of sheriff's records from before Jan. 1. It's time for the Board of Supervisors to weigh in on behalf of the public, and of disclosure.
And it's time for Becerra, the state's preeminent law officer, to show some leadership on the issue.
Follow the Opinion section on Twitter @latimesopinion and Facebook
---
Life is stressful. Our weekly mental wellness newsletter can help.
You may occasionally receive promotional content from the Los Angeles Times.