Editorial: Is a tattoo just a tattoo? Or are the bad old days returning to the L.A. Sheriff's Department?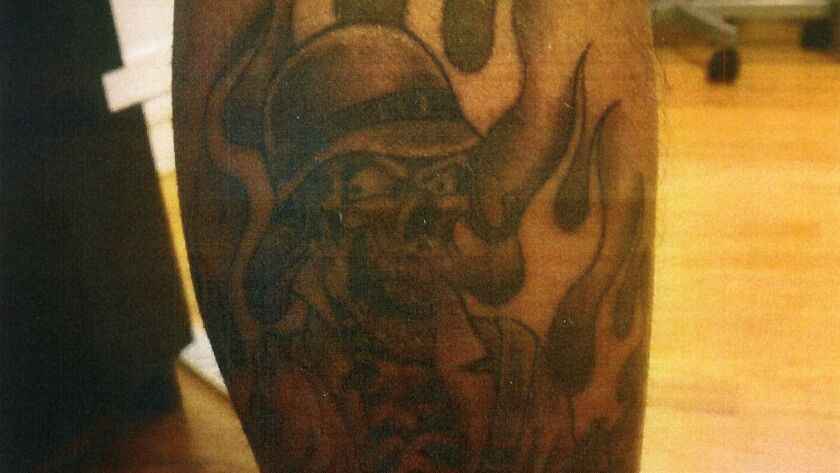 It may be just a tattoo. More to the point, it may be just 10 to 20 tattoos on 10 to 20 sheriff's deputies at the Compton station of the L.A. County Sheriff's Department, as described in a deputy's deposition statement and reported Tuesday in The Times.
Or it may be something far more serious: a sign that a renegade subculture of gang-like cliques — secret groups of deputies within sheriff's stations that make their own rules and reward violent behavior — has returned, or perhaps never left.
Cliques, tattoos, racism and violence were attributes woven into the department as far back as the 1970s and up to at least a few years ago, when a series of inmate beatings in the jails led to corruption investigations, criminal convictions and changes in civilian oversight. Disgraced Sheriff Lee Baca resigned, and voters in a subsequent election rejected former Undersheriff (and tattooed Vikings clique member) Paul Tanaka. Jim McDonnell, who spent his law enforcement career outside the department, was elected.
Baca, Tanaka and several deputies were convicted on a variety of charges. McDonnell's task, meanwhile, has been to eradicate destructive elements of the department's culture while giving deputies a chance to prove themselves up to the honorable task of constitutional policing.
Enter the Fray: First takes on the news of the minute from L.A. Times Opinion »
Now facing a tough reelection runoff, McDonnell must grapple with the allegations at the center of The Times story, and what they may say about the state of reform. It is important not just for him but for the public to know whether racism and a clique-based subculture played a role in the fatal shooting of Donta Taylor in 2016 (as alleged by an attorney for Taylor's family) — and whether they continue to play a role throughout the department.
It is also important to know whether recent changes in the way the Sheriff's Department is overseen are vigorous and meaningful, or merely window dressing designed to mollify impatient critics.
Unlike in the Baca era, there is now an inspector general. There is now a Civilian Oversight Commission. The Board of Supervisors itself has purported to assert more authority over the Sheriff's Department.
But will they investigate something as amorphous as department culture, and the degree to which that culture affects the quality of law enforcement and justice?What can they do about tattoos, cliques, violence and racism? It's time to find out.
In any other arena, a tattoo may be just a tattoo, but in the Sheriff's Department it is a reminder of the bad old days and warning that those days may not be behind us. The prospect is disturbing, to say the least.
Follow the Opinion section on Twitter @latimesopinion and Facebook
---
A cure for the common opinion
Get thought-provoking perspectives with our weekly newsletter.
You may occasionally receive promotional content from the Los Angeles Times.