Editorial: California Democrats should stop squabbling and get ready for the real fight – the mid-term elections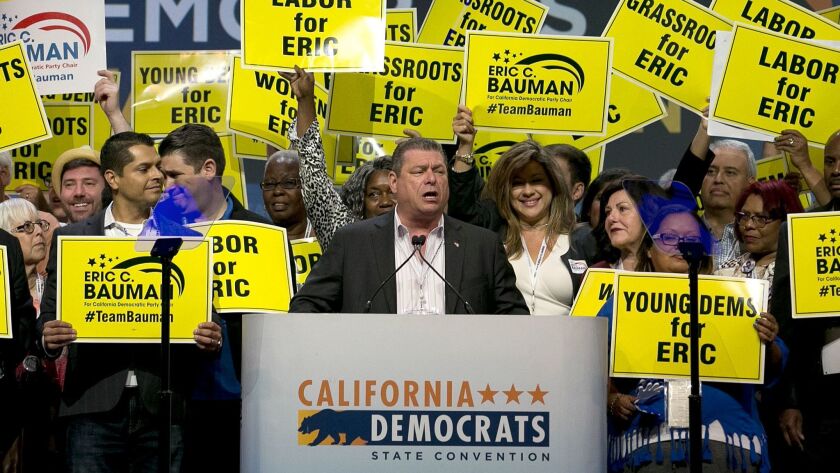 We have a message for Eric Bauman, the new chairman of the California Democratic Party and thus one of the most powerful people in state politics: Extraordinary times call for extraordinary leadership.
That's not meant to sound vapid or inspirational, but to be frank advice about how to proceed in the face of a deep — and getting deeper — rift in the party over allegations of fraud in the party's internal elections last month. It's tearing the party in two at a time when unity is more important than ever.
What makes this such bad timing is that California and the nation need the state Democratic Party in shape to offer a strong challenge to the Trump administration over the next few years, and especially in the mid-term congressional elections in 2018. The state Democratic Party can't focus on ousting Rep. Kevin McCarthy, Rep. Devin Nunes and other Republican members of Congress — or on offering credible alternatives who will challenge the Trump administration here and in Washington — if it is expending its political energy squabbling internally.
The state's ruling party has tremendous influence in who wins elective office in the state.
Party leaders should agree to submit the election results to an outside auditor for an independent review, and get this dispute settled before another month goes by. It's not doing Bauman any favors to allow people to question whether he's legitimately the chairman of the party.
Bauman, who served for many years as chairman of the Los Angeles County Democratic Party, took over for outgoing state party chairman John Burton last month after a blistering campaign that pitted so-called progressives who want to fundamentally change the party's agenda against members of the party's more mainstream wing, who want to protect it. He barely won the seat, earning only 62 votes more than his chief rival Kimberly Ellis, the former executive director of Emerge California, which trains and encourages women to seek public office.
The outcome was so close that Ellis and her supporters asked for a recount and a review of the nearly 3,000 ballots. They were allowed to examine the ballots and they flagged about 300 questionable ones, but, as the party notes, they found no evidence of fraud. Ellis says looking at the ballots isn't enough to prove malfeasance, only to raise red flags; irregularities couldn't be confirmed, she says, because her team was denied supporting documentation. That challenge is currently before the party's Compliance Review Commission, but any decision made by party officials will likely be viewed with suspicion.
Why should anyone other than a few thousand party operatives care about what seems to be inside baseball? Because the state's ruling party has tremendous influence in who wins elective office in the state. Democratic leaders set the political agenda for rank and file elected officials and punish those who are not loyal to the party. It's important that the people with so much power to affect state and local democracy don't reach that position through chicanery but because they actually represent the people who elected them.
This is so much bigger than just one political party leader in a single state. There's been a divergence within the Democratic Party nationally over tactics and direction. Sen. Bernie Sanders tapped into growing disaffection during the presidential primary, and when Democratic National Committee emails were leaked showing an apparent preference for Hillary Clinton over Sanders it validated concerns that the system was rigged.
Bauman and his leadership team would be wise to reassure their party's members that they are operating fairly. Instead, they are pressuring Ellis to back down and fall into line. This might have worked in the past, but it's less likely to work now. In fact, it may be sowing more bitterness among those on the losing side who are convinced that only someone with something to hide would resist an outside election review.
There's nothing to be gained by allowing this dispute to end up in court or in an unresolvable conflict. An independent audit is the most reasonable and, well, democratic, way forward.
Follow the Opinion section on Twitter @latimesopinion and Facebook
---
A cure for the common opinion
Get thought-provoking perspectives with our weekly newsletter.
You may occasionally receive promotional content from the Los Angeles Times.