Editorial: Who is Texas executing now? A man with no direct involvement in the murder for which he'll be put to death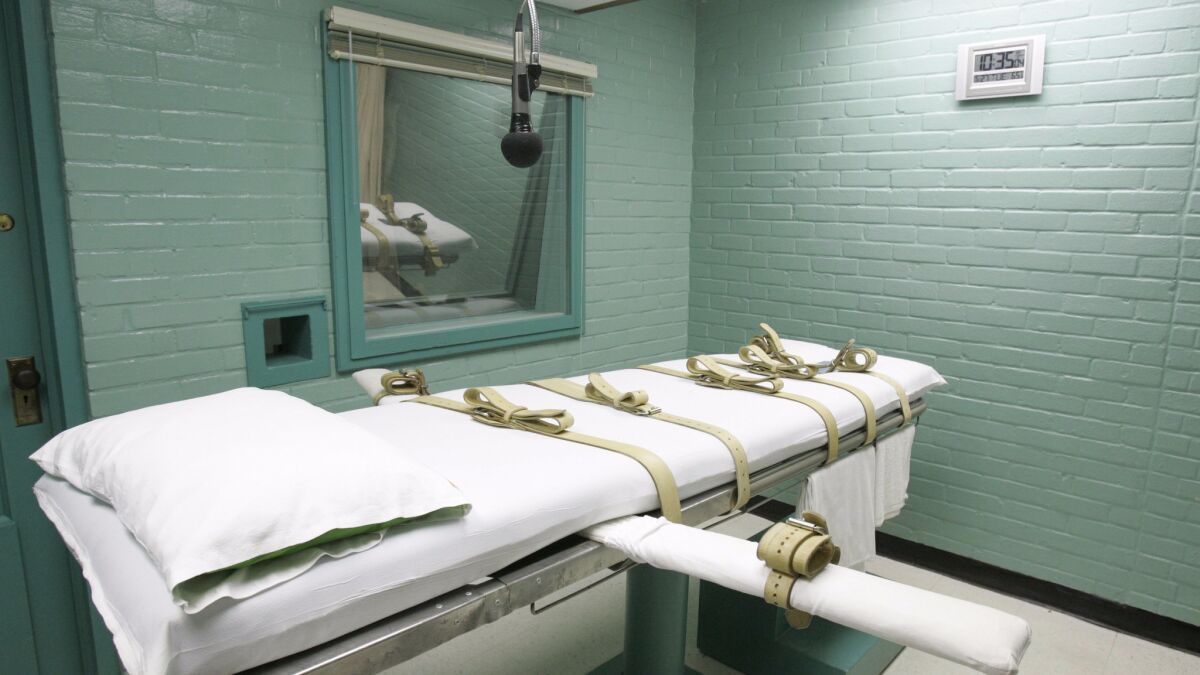 Early on a January morning in 1996, Jeff Wood sat in a borrowed pickup truck while his friend Daniel Reneau entered a convenience store in Kerrville, Texas, ostensibly to buy snacks. Instead, Reneau shot and killed the clerk. Six years later, Reneau was put to death for the killing, and now Texas wants to execute Wood under its "law of parties," which holds people criminally liable in some cases if they aid or encourage others in committing a crime — even though trial testimony showed that Wood did not know Reneau was carrying a gun or planning to rob the store.
Wood is by no means an innocent man. He and Reneau had previously discussed with two friends who worked at the store, including the future victim, how they could make off with cash kept in a small office safe. Their first feeble attempt failed when clerk Kris Keeran, who had backed away from the earlier theft planning, discovered and secured an office door that Reneau had surreptitiously pried open.
Wood and Reneau went home and a few hours later left again, planning to stop at the store for snacks en route to returning a borrowed pickup truck to Wood's brother. Wood told Reneau to leave his gun home because the plan to steal the safe was off, but Reneau sneaked a .22-caliber handgun into his pants anyway. At the store, Wood sat in the truck as Reneau entered, privately intending to scare Keeran into giving him the safe. Keeran balked; Reneau shot him once in the face, killing him. The gunshot drew Wood into the store where Reneau, still armed, ordered Wood to remove the store security tapes as Reneau took the safe.
There were a lot of problems with Wood's trial, including the fact that it occurred at all after an initial finding that he suffered from delusions and had an IQ of 80 — and was therefore incompetent to help in his own defense. What's more, he received ineffective counsel and he was convicted, in part, on the testimony of a disreputable psychiatrist who argued that Wood posed a future violent threat — prerequisite for the death penalty in Texas — even though the psychiatrist never interviewed him. Those are significant but separate issues from the effort to execute Wood under the rarely invoked law of parties. According to the Death Penalty Information Center, since 1985 only 10 people have been executed nationwide who did not themselves commit a murder or contract with another to commit it, and half of those cases were in Texas.
While Wood may have been involved with plotting a theft, and perhaps was an accessory after the fact to the robbery-murder, it would be unconscionable and likely unconstitutionally cruel and unusual to execute someone with such an attenuated connection to the capital crime itself.
Follow the Opinion section on Twitter @latimesopinion and Facebook
---
Life is stressful. Our weekly mental wellness newsletter can help.
You may occasionally receive promotional content from the Los Angeles Times.