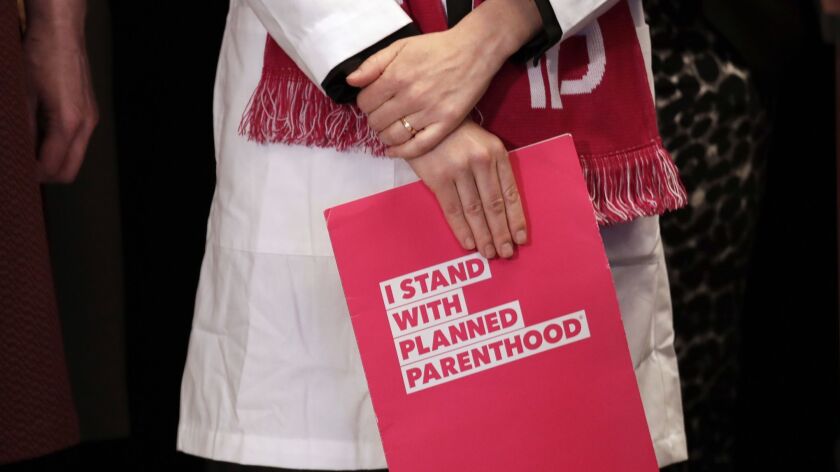 When the Trump administration announced a new policy denying federal funding to any family planning care providers that dared even to refer a pregnant patient to an abortion provider, three federal district courts correctly concluded that the rule could endanger healthcare for millions of people and issued temporary injunctions preventing it from going into effect around the country. So it was a depressing step backward when, last week, a panel of 9th Circuit judges reversed those courts and lifted the injunctions.
For half a century, the federal Title X family planning program has offered a lifeline to underserved urban and rural communities, funding clinics that provide contraception, breast exams, screening for sexually transmitted disease and a measure of basic healthcare to 4 million people a year. Some of those clinics also provide abortions — but never with Title X dollars. Congress has forbidden the spending of federal money on abortions.
Indeed, the law that includes Title X expressly states that none of its funds may be used to support programs that perform abortions.
But providing an abortion is entirely different from providing information to a pregnant woman about her options — including, if she wants it, a referral to an abortion clinic.
For nearly two decades, providers were required to counsel pregnant patients, when they asked, on all their options, including abortion, without steering them to one or another. If a patient did ask for an abortion referral, the provider had to give her one. More recently, under the Affordable Care Act, healthcare providers in general have been required to offer all relevant information to patients. That certainly seems like it would include providing information on all options to pregnant women.
Enter the Fray: First takes on the news of the minute »
But under the new Trump administration rule, healthcare providers no longer must provide pregnancy counseling (although they may, as long as the counseling is neutral). And even though they are permitted to discuss abortion as part of that counseling, they are prohibited from providing referrals to abortion providers. The most that Title X providers are allowed to do for someone who asks for a referral to an abortion clinic is offer the patient a list of comprehensive primary healthcare providers. Some of the facilities on the list — "but not the majority," according to the rule — can also provide abortions. Or none of them could. But the provider can't point out which facility on the list offers abortions.
The rule is ludicrously restrictive. For one thing, it violates the Affordable Care Act by no longer requiring providers to give patients the full range of their treatment options. Furthermore, it violates a rule (passed by Congress) that counseling must be "nondirective" — because it bans healthcare providers from providing abortion referrals while requiring them to give referrals to prenatal counseling, even to women who do not plan to continue their pregnancies.
It's also ludicrous to conclude, as the 9th Circuit did, that providing an abortion referral is tantamount to providing an abortion. It's not. Nor is a referral a way of encouraging abortion. Basic medical ethics require that providers fully inform patients of their options when asked.
The most surprising rationale the 9th Circuit panel gave for lifting the injunctions was that keeping them in place — while court cases slog on — harmed the government more than it harmed the clinics subjected to it. That's not true. The most dramatic element of the new rule requires recipients of Title X funding to completely separate any abortion services they provide from the other healthcare services they offer — both financially and physically. This is not something the government has required for the last two decades. Health and Human Services had allowed clinics to carry out their Title X services and abortion services in the same locations — with shared waiting rooms, staff, light bills, etc. — as long as the funds were properly pro-rated. Now, clinics will suddenly be forced to overhaul their entire infrastructures, find new space, change their administrative practices. That's unquestionably harmful.
In fact, that's the whole point of this new rule: to drive clinics that provide abortion out of business or force them out of the Title X program. It is an unsubtle effort by the Trump administration to defund Planned Parenthood (which provides services to 40% of the patients in the Title X program).
California Atty. Gen. Xavier Becerra as well as Planned Parenthood and other groups have asked the full 9th Circuit to reconsider the three-judge panel's decision. It should do so. It should put the injunctions in place, send the cases to trial — and then see to it that this harmful and unnecessary rule is struck down.
Follow the Opinion section on Twitter @latimesopinion or Facebook
---