Editorial: Trump is using children as political bargaining chips. It doesn't get more crassly cynical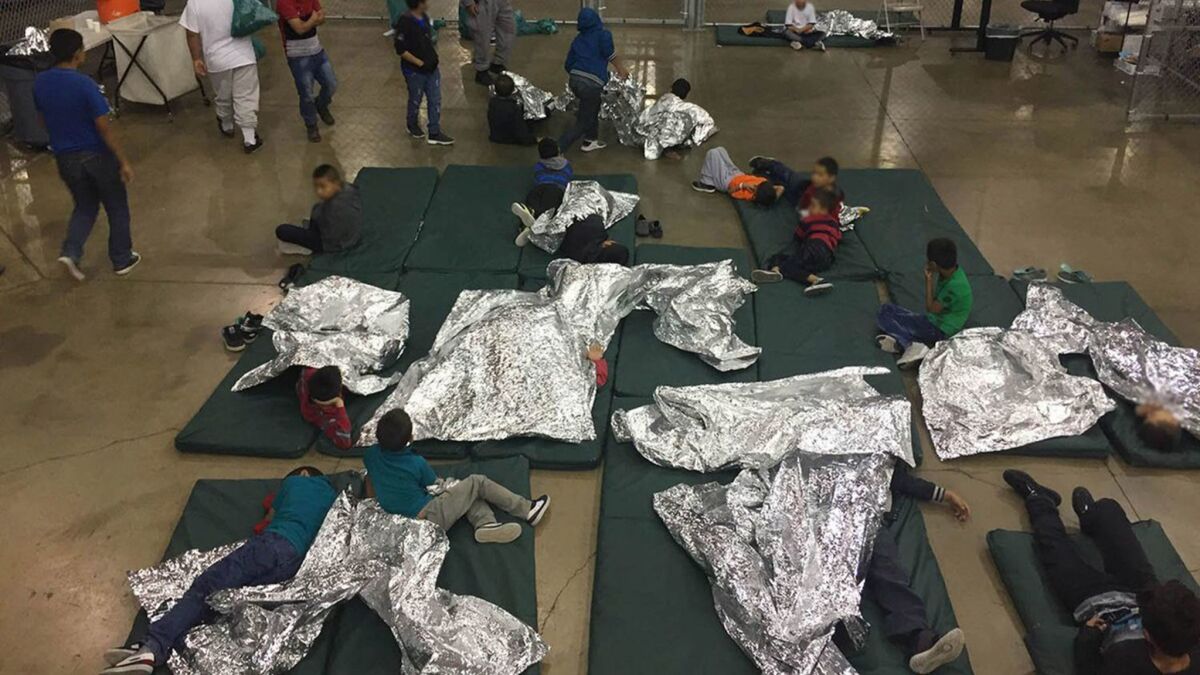 As condemnations grow over President Trump's "zero tolerance" policy toward illegal border crossings, under which 2,000 children have been separated from their parents, President Trump on Monday morning took aim at … Germany.
"The people of Germany are turning against their leadership as migration is rocking the already tenuous Berlin coalition," the president tweeted. "Crime in Germany is way up. Big mistake made all over Europe in allowing millions of people in who have so strongly and violently changed their culture!" He followed that with: "We don't want what is happening with immigration in Europe to happen with us!"
Somebody get that man an atlas. The migration problems confronting Germany and its neighbors arose directly from war in the Middle East (a war in which the U.S. is an active participant) and instability in sub-Saharan Africa, which together have sent more than a million refugees to the nearest stable destination: Europe.
It is crassly cynical to use the well-being of children as a political bargaining chip.
Yet that reality doesn't enter into the president's thinking — all he wants is another bogeyman to stir the fears of his xenophobic supporters. Also, crime in Germany (as in the U.S.) is at its lowest level in a quarter-century. This is a classic Trump dodge: blather, hyperbole and bluster in an effort to change the focus of the moment, with a few lies thrown in along the way.
Nor does the administration's family-separation policy have anything to do with a Democratic-sponsored immigration law, contrary to what the president keeps saying (he also said on Monday that undocumented immigrants are bringing "death and destruction" — and that they and other immigrants could be "thieves and murderers and so much else"). The practice of separating kids from their parents arose directly from Trump administration decisions and policies aimed at deterring future migrants and creating a bargaining chip (much as he did in ending protections for "Dreamers") to try to wrest concessions from congressional Democrats. (In particular, funding for his "beautiful wall.")
The separations policy is inhumane to the children and their parents. It is a grotesque use of governmental power to abuse and traumatize families as a lesson to others. And it is crassly cynical to use the well-being of children as a political bargaining chip. What's next, holding a gun to their heads and saying, "Don't make me shoot"?
Years from now, tearing these families apart will likely be looked upon as a dark moment in American history, reminiscent of the internment of Japanese Americans during World War II and the persecution of leftists during the Cold War. It could well mark the lowest point in this low administration, although with more than two years to go in the first term, Trump has plenty of time to come up with even more idiotic and inhumane decisions.
Follow the Opinion section on Twitter @latimesopinion or Facebook
Life is stressful. Our weekly mental wellness newsletter can help.
You may occasionally receive promotional content from the Los Angeles Times.