Editorial: Trump keeps implementing incompetent zero-tolerance immigration policies. He also keeps losing in court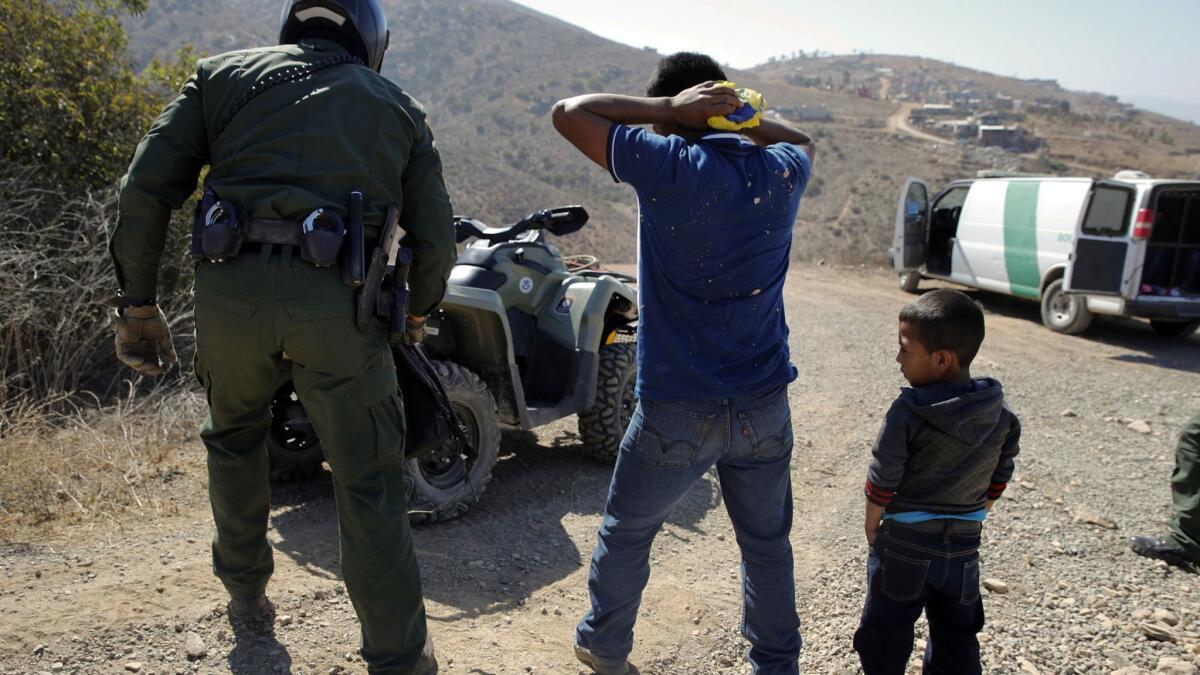 In yet another sign of how recklessly President Trump has plowed forward on immigration, a federal judge ruled Monday that, no, the president cannot scrap a 20-year-old legal settlement designed to prevent children from being locked up indefinitely in immigration jails.
The Trump administration had asked U.S. District Judge Dolly Gee to change the so-called Flores settlement, which bars the government from holding undocumented children in detention centers for more than 20 days, with or without their parents. The Flores settlement was wisely built on the premise that innocent children should not be in custody.
In her ruling, Gee said the administration's move to change the settlement was a "cynical attempt" to shift immigration policy-making to the courts after "over 20 years of Congressional inaction and ill-considered executive action that have led to the current stalemate."
Ill-considered, indeed.
Fueled by an obsession with illegal immigration from Mexico and Central America, the administration has enacted zero-tolerance policies that are not only inhumane, but shockingly impractical and poorly executed.
When will this administration recognize that the U.S. cannot fix its broken immigration system with punitive, cruel policies?
Earlier this year, the administration began criminally charging all adults entering the U.S. illegally from Mexico and separating them from their children under the inane assumption that such a policy would deter immigrants fleeing violence and corruption. When outrage erupted globally over the barbaric practice of tearing kids away from their parents, the administration hastily adopted a plan to lock up the families together — hence its need to alter the Flores settlement.
But Trump ignored the lessons his predecessor learned the hard way. During the surge of unaccompanied minors and families fleeing violence in Central America in 2014, the Obama administration detained families to try to deter others from making the trip and attempted to amend the Flores settlement. It ultimately abandoned the policy, however, in the face of political backlash and court orders. Instead, it released many migrant families while their immigration or asylum cases were pending and worked to ensure that they would return for their court dates.
Enter the Fray: First takes on the news of the minute from L.A. Times Opinion »
The Trump administration, by contrast, has sought to turn up the pressure, taking some 3,000 children from their parents at the border before Trump relented. A judge then ordered the administration to reunite the families. Amazingly — and tragically — the administration seems unprepared to comply. Among other issues, some parents have already been deported, while their children linger in shelters or foster care. The Justice Department said this week that it would fail to meet the court-ordered deadline to return children younger than 5 to their families.
When asked about his administration's failure to meet the deadline, Trump told reporters Tuesday, "Well, I have a solution. Tell people not to come to our country illegally. That's the solution. Don't come to our country illegally. Come like other people do. Come legally."
He neglected to mention his proposal to roll back legal immigration too.
How many court rulings will it take? When will this administration recognize that the U.S. cannot fix its broken immigration system with punitive, cruel policies?
Follow the Opinion section on Twitter @latimesopinion and Facebook
A cure for the common opinion
Get thought-provoking perspectives with our weekly newsletter.
You may occasionally receive promotional content from the Los Angeles Times.