Editorial: The Trump administration is back with a new plan to lock up migrant parents and children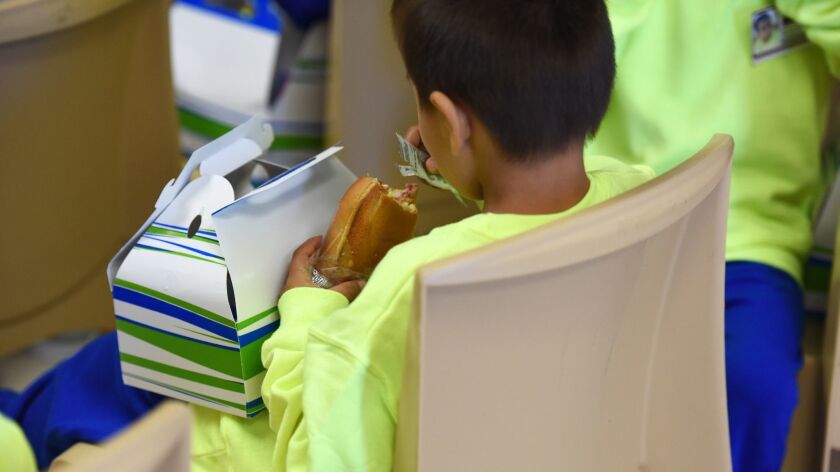 Of all the appalling things the Trump administration has done, the cruelest has to be arresting and detaining asylum seekers, and separating them from their children. Seeking to deter desperate families from entering the United States by detaining parents for weeks or months apart from their children is so hard-hearted it shocks the conscience. The cruelty has been compounded by ineptitude, as hundreds of migrant children have been stranded in the United States without their parents, who have been deported.
Thankfully, the administration's callousness has been held in check by a court order left over from President Clinton's second term. The 1997 settlement agreement in Flores vs. Reno requires, among other things, that children facing deportation be held in detention for no more than 20 days, and in the least restrictive environment possible. Courts later extended the agreement to include families with minors in detention centers. (The government has been sued at least five times for allegedly violating the order.)
Now the Trump administration wants to scrap the agreement entirely by instituting even more draconian regulations that would allow it to detain families with minors indefinitely until their deportation cases are resolved. That's beyond the pale.
Migrant children seeking permission to remain in the U.S. should not be detained regardless of whether they have a parent to accompany them in confinement. It's especially troubling that one of the administration's stated reasons for doing so is to send a threatening message to other families who might seek asylum in the U.S. from dangerous circumstances in their home countries.
Migrant children seeking permission to remain in the U.S. should not be detained regardless of whether they have a parent to accompany them in confinement.
Of course, the government has the right and duty to set immigration laws and enforce them. And we have a system for that, broken as it might be. Current U.S. law allows asylum to be granted to people facing persecution because of their race, religion, nationality, political opinion or "membership in a particular social group." If immigration courts rule that applicants don't meet those requirements, or reject appeals by people seeking permission to stay on humanitarian grounds, the government is entirely within its rights to send them to their home countries. But it should not (and may not, under international agreements) incarcerate them — especially when they are children — unless there is good cause to think the migrants are a flight risk or pose a threat to public safety.
Remember, most of these families arrive seeking official permission to stay, so they have a powerful incentive not to skip their court hearings or break the law: doing so only leads to deportation orders. Advocates argue that most of the aslyum seekers who do miss court dates never received an appearance notice, often because the process takes so long that addresses change and official records don't catch up. As for public safety, a raft of studies has found that immigrants, regardless of their status, commit crimes at lower rates than native-born Americans.
If no-shows truly are the administration's concern, it inherited a new Family Case Management Program from the Obama administration that matched eligible asylum-seeking families with housing, healthcare, schooling for the children and legal advice to help navigate the immigration court system. Families in that program had a 99% show-rate for court hearings. But Trump killed it last year.
Under the Flores agreement, the government can hold minors only in state-licensed facilities. But states tend not to license facilities for families, which, the government argues, means that it must release the families while the deportation cases continue.
Enter the Fray: First takes on the news of the minute from L.A. Times Opinion »
The new regulations would let the federal government do the licensing of facilities, paving the way for a massive expansion of the detention system. The government currently uses three family detention centers with a total of 3,500 beds. They are secured, dormitory-style facilities with shared bathrooms, common areas, play space and rooms for classes. Trump wants to add 15,000 more beds, but that may just be the start; border agents caught 77,674 people migrating as families in 2016 alone.
It is fundamentally inhumane to incarcerate children — with or without their parents — while immigration courts try to figure out what to do with them. Psychiatrists warn of the damage even from short-term detentions, and some of those who have been held for months have shown signs of severe emotional distress and post-traumatic stress disorder. So in its obsessive quest to stop migrants from seeking asylum, the Trump administration is willing to, in essence, commit child abuse. That's a stain not just on the presidency, but on the nation.
Follow the Opinion section on Twitter @latimesopinion or Facebook
---
A cure for the common opinion
Get thought-provoking perspectives with our weekly newsletter.
You may occasionally receive promotional content from the Los Angeles Times.