Editorial: Robert Mueller has questions for Trump, and he deserves answers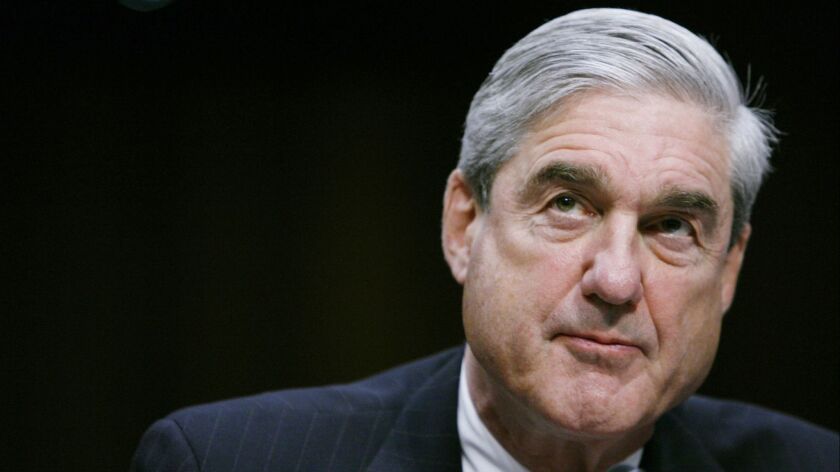 For much of his time in office, President Trump has been loudly asserting that there was no collusion between his presidential campaign and Russia, while also defending some of the controversial actions he's taken — such as firing former FBI Director James B. Comey — that understandably have attracted the interest of Special Counsel Robert S. Mueller III. In the past the president also has indicated his willingness to speak to the special counsel when the time was appropriate.
That time is drawing near. This week the New York Times published a leaked list of topics — apparently put into the form of questions by one of Trump's lawyers — that the special counsel hopes to explore in an interview with the president.
Many of the subjects would have been obvious to anyone who has followed the tumultuous events of the Trump presidency. They include what the president's motives were in firing Comey and whether he was aware of any efforts to dangle the possibility of a presidential pardon to former national security advisor Michael Flynn.
But there were also some surprises, notably this question: "What knowledge did you have of any outreach by your campaign, including by Paul Manafort, to Russia about potential assistance to the campaign?" This is the first indication that Mueller might suspect that Manafort, the former Trump campaign chairman who has been charged with tax evasion and bank fraud, may have sought Russia's help to elect Trump.
Clearly the Mueller investigation has matured to the point that investigators believe they can profitably question Trump. While Mueller may feel it necessary to negotiate the logistics of such an encounter with the White House, neither the president's high office nor his contempt for the investigation entitle him to refuse to cooperate or to insist on unreasonable conditions, such as being permitted to respond to questions in writing.
It's unclear whether Trump and his legal team understand that. Last month, when Mueller broached the possibility of subpoenaing Trump to appear before a grand jury, one of his lawyers protested: "You are screwing with the work of the president of the United States."
It's true that the president enjoys some protections by virtue of his office. Under a long-standing Justice Department interpretation, a sitting president may not be indicted. But he is not otherwise above the law.
Mueller has legitimate questions to pose to the president. It's time for Trump to stop trash-talking and answer them.
During the Watergate scandal, the Supreme Court ruled that President Nixon had to comply with a subpoena for White House tape recordings, despite an assertion of executive privilege. In 1998, independent counsel Kenneth Starr subpoenaed President Clinton to testify before a federal grand jury investigating Clinton's relationship with Monica Lewinsky, though the subpoena was withdrawn when Clinton agreed to testify voluntarily.
Trump conceivably could challenge a subpoena for his testimony. But no subpoena would be necessary if he honored his earlier assurance that he would speak to Mueller. A refusal to answer the special counsel's questions would shred the credibility of the president's protestations of innocence and "no collusion."
So, of course, would any move by the president to dismiss Mueller or Deputy Atty. Gen. Rod Rosenstein, who appointed Mueller and oversees his investigation. On Wednesday, Trump alluded to a complaint by House Republicans who threatened to impeach Rosenstein for not providing them with documents related to the Russia investigation and other matters. "At some point," Trump tweeted, "I will have no choice but to use the powers granted to the Presidency and get involved!"
Mueller has legitimate questions to pose to the president. It's time for Trump to stop trash-talking and answer them.
Follow the Opinion section on Twitter @latimesopinionand Facebook
---
A cure for the common opinion
Get thought-provoking perspectives with our weekly newsletter.
You may occasionally receive promotional content from the Los Angeles Times.