Editorial: Trump needs to reassure NATO that he's not looking for a divorce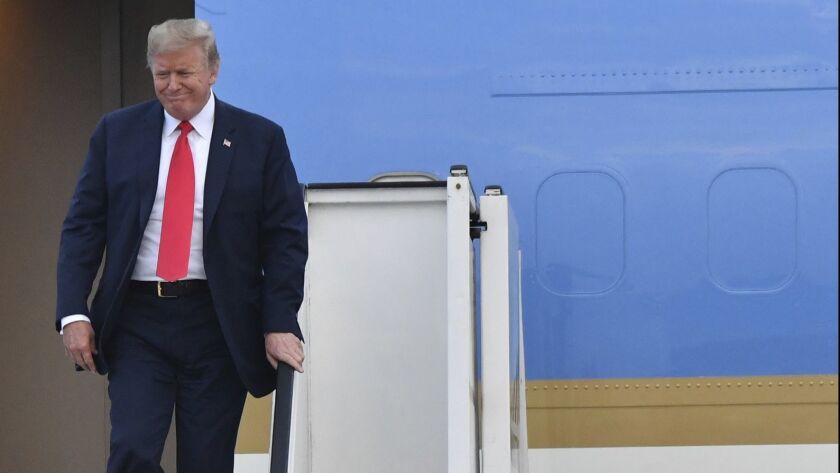 President Trump participates in his second NATO summit in Brussels on Wednesday, but as is so often the case, his tweets have preceded him. On Tuesday he took to Twitter to complain: "NATO countries must pay MORE, the United States must pay LESS. Very Unfair!"
Trump isn't the first president to urge North Atlantic Treaty Organization member states to spend more on defense, and it's a fact that only a few of the 29 countries in the alliance spend anything close to the 2% of gross domestic product established as a 10-year-goal in 2014. But several countries, including Germany, the principal target of Trump's criticism, are moving to increase their defense budgets.
Trump's constant carping about inadequate spending by NATO members would be less alarming to many European leaders if they could be certain that it was designed to shore up an alliance to which the president is committed. But a year and a half into his presidency, Trump hasn't dispelled — in fact, he has exacerbated — fears that in his mind "America first" means "America alone."
He also has made it distressingly clear that he sees Europe primarily as an economic competitor, not an ally. Repeatedly the president conflates the NATO alliance with what he sees as an unfair trade relationship between the U.S. and the European Union.
Enter the Fray: First takes on the news of the minute from L.A. Times Opinion »
Granted, Trump has revised his campaign-trail claim that NATO was "obsolete," and he belatedly endorsed Article 5 of the NATO treaty, which says that an attack on one member state is an attack on all. Yet the message of support has been muddled not only by Trump's tweets but by reports that the administration was mulling the withdrawal of some or all of the roughly 34,000 U.S. troops stationed in Germany. The current troop level isn't sacrosanct, and represents a steep decline from Cold War levels. But at a time of provocative Russian behavior, an abrupt withdrawal would send the wrong message. (Kay Bailey Hutchison, the U.S. ambassador to NATO, said this week that "I've heard nothing on that score.")
Finally, there is Trump's unsettling enthusiasm for better relations with Russian President Vladimir Putin. Trump will meet Putin in Helsinki next Monday in an encounter that he seems to view with more enthusiasm than the NATO summit. At a rally in Great Falls, Mont., last week, Trump said: "Putin's fine. He's fine. We're all fine. We're people."
What worries America's European allies is not that Trump will scold them at the summit or behave boorishly. It's that his seeming indifference to the alliance might have policy consequences, such as the U.S. recognizing the Russian annexation of Crimea, reducing its financial support for improved military readiness in Europe or threatening to withdraw American troops if other NATO members don't "pay up." It's up to the president to disabuse them of those concerns.
Follow the Opinion section on Twitter @latimesopinionand Facebook
---
Life is stressful. Our weekly mental wellness newsletter can help.
You may occasionally receive promotional content from the Los Angeles Times.