Editorial: Trump's vehicle emissions plan: Make California smoggy again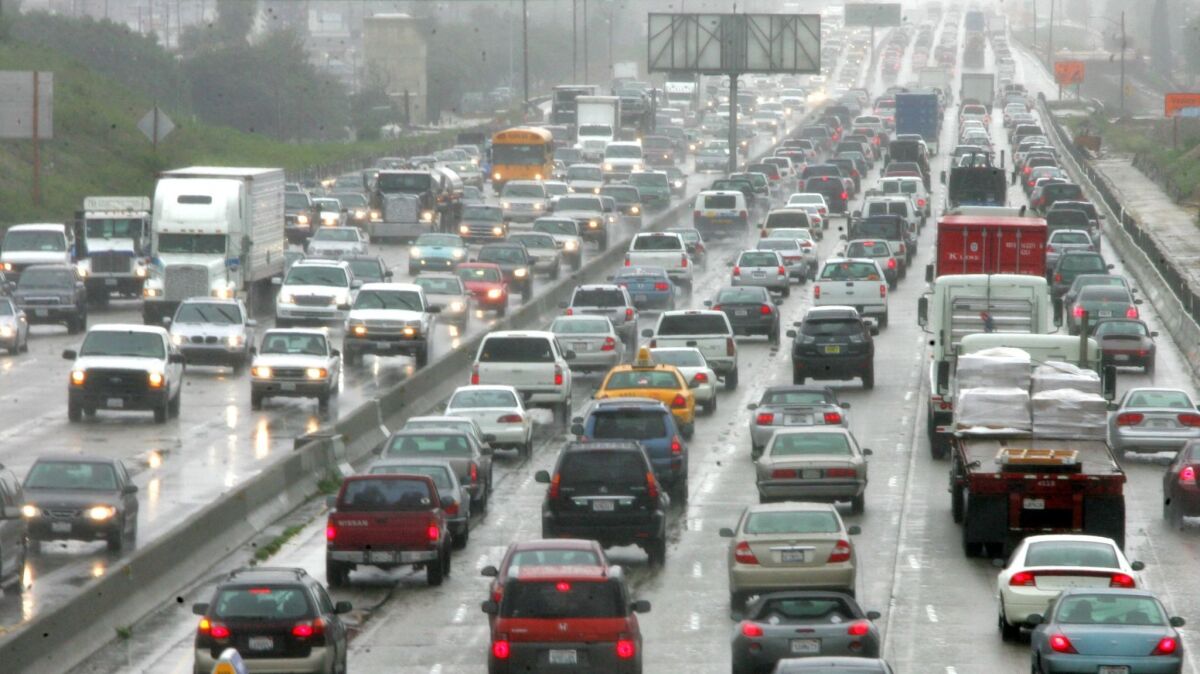 President Trump announced Wednesday that his administration would reconsider the aggressive vehicle fuel economy targets that were approved by the U.S. Environmental Protection Agency under President Obama — setting the stage, perhaps, for revoking the standards altogether. That would not only mean more greenhouse gas emissions and a less robust battle against global warming, but it would also slow the rollout of less polluting, more fuel efficient cars on American roads.
The fuel efficiency standards were adopted by the Obama administration and agreed to by automakers in 2009 as part of the taxpayer bailout of General Motors and Chrysler. The standards required cars and light trucks to become gradually more fuel efficient, so that by 2025, they would achieve an average of about 54 miles per gallon, compared to about 36 miles per gallon today. The first phase of the rules, affecting cars through 2021, is already in place. But the Obama administration finalized the second phase, dictating the standards through 2025, in the weeks before Trump's inauguration.
Automakers complained that the second phase review was rushed. They successfully petitioned Trump to revoke approval, and are continuing to lobby for the administration to further relax the rules. Trump's announcement Wednesday is one of the first concrete steps by his administration to dismantle Obama's policies to cut greenhouse gas emissions. This should surprise no one, given Trump's assertions on the campaign trail that climate change is a "hoax" and his decision to nominate a climate-change skeptic to head the EPA. But it's still a terrible decision.
The world is now seeing the effects of global warming in flooded coastal communities and more extreme weather patterns. On Wednesday, for instance, an article in the journal Nature revealed that enormous sections of the Great Barrier Reef in Australia had been found to be dead, killed by overly warm ocean water. Countries must move quickly to limit the looming damage of climate change. As the world's largest economy and one of the major sources of greenhouse emissions, the U.S. has an obligation to lead by example. Yet experts have warned that the repeal of the tailpipe emissions standards would make difficult for the U.S. to meet the commitments it made under the 2015 Paris agreement on climate change.
California has a long history of using its air pollution regulations to spur innovation within the auto industry.
The announcement Wednesday also sets the stage for a fight between California and the federal government. The state has adopted an ambitious program to fight climate change, including reducing greenhouse gas emissions by 40% from 1990 levels by 2030. To help meet those goals, Gov. Jerry Brown and legislators have already said they intend to hold automakers to the new tailpipe standards and will invoke the state's right under the Clean Air Act for a waiver to adopt even more stringent air pollution rules for cars. EPA Administrator Scott Pruitt refused to say during his confirmation hearings that he would respect California's authority and he has reportedly begun exploring legal avenues to deny the state such a waiver.
That would be a huge mistake. California has a long history of using its air pollution regulations to spur innovation within the auto industry. Over decades, the state's aggressive tailpipe standards have helped dramatically cut smog and other pollutants, which is why a dozen other states have adopted California's rules, as allowed by the Clean Air Act. Yet Southern California and other regions still suffer from high levels of pollution and there is a need to continue to cut tailpipe emissions even further. Any attempt by the Trump administration to block California's cleaner-car standards is an attack on public health.
It would also be incredibly shortsighted to roll back fuel efficiency standards. Just a few years ago, the national economy took a hit from high gas prices and there was bipartisan agreement on the need to reduce dependence on foreign oil. U.S. automakers were struggling financially because they were over-reliant on the sale of big gas guzzling vehicles, having failed to anticipate market demand for more fuel efficient models.
But now auto manufacturers complain that the 2025 standards are too onerous because, in part, consumers won't buy fuel efficient models. They say gas-powered vehicles still make up 95% of auto sales in the U.S. Fully electric vehicles and plug-in hybrids are just 1% of sales. Certainly the decline in gas prices has temporarily dulled the appeal of alternative fuel vehicles. (It also doesn't help that automakers and dealerships spend almost no money marketing their electric or hybrid models.) But this is short-term thinking that ignores the value of innovation and technological advancements.
Federal and California tailpipe standards have helped spur tremendous progress in electric and hybrid vehicles in recent years, with cars coming onto the market that can drive farther on a tank of gas or a single charge-up. This is the future. It must be, to clean the air today and to forestall the damage of climate change.
Follow the Opinion section on Twitter @latimesopinion and Facebook
---
Life is stressful. Our weekly mental wellness newsletter can help.
You may occasionally receive promotional content from the Los Angeles Times.