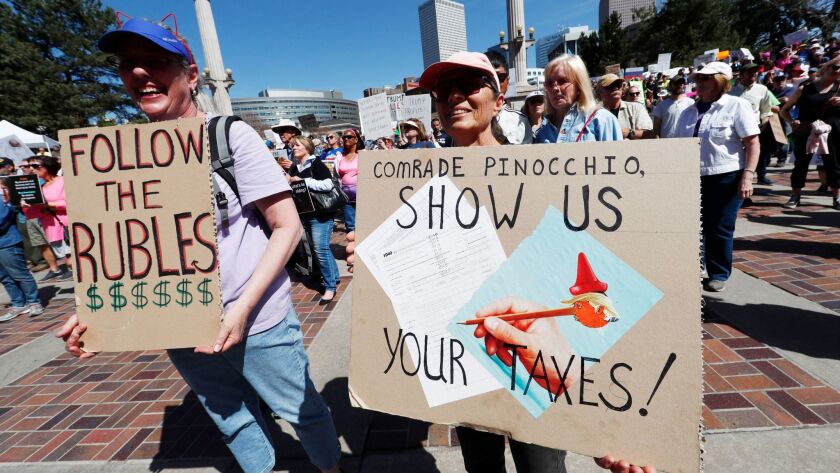 Tuesday is Tax Day, and millions of Americans are expected to file their 1040s as part of the complicated business of paying for government. Now is the time for President Trump to stop making excuses and release his own tax records to the public, as he should have done many months ago.
His current and complete tax returns, that is. And back taxes too, while he's at it. Two pages of Trump's 2005 forms that were leaked to the media last month showed he paid $38 million in taxes that year on more than $150 million in income. Because the documents were stamped "client copy," it raised speculation that Trump or his emissaries had leaked the document to show that, at least for one year, he did pay federal taxes. Another leak, reported in the New York Times last year, suggested that Trump had taken a huge $916-million loss in the 1990s that enabled him to pay no federal taxes at all for an undetermined number of years.
Neither of those leaks is sufficient. Neither answers the most basic questions that Americans have about their new president. For instance: Does he have business entanglements overseas that might affect his foreign policy decisions? Does he owe money to Russian lenders? How much does he give to charity? Does the nation's convoluted tax system mean Trump pays taxes at a lower rate than middle-class Americans? In what years did he pay no taxes at all, and why? What other conflicts of interest exist that we can't even guess at?
Trump would like us to believe that his election victory means people don't care about his tax returns. But they do. A poll conducted in January found that nearly three-quarters of Americans want him to release his returns. On Saturday, tens of thousands of people marched in Los Angeles, Denver, Chicago, Philadelphia, Washington, D.C. and dozens of other U.S. cities demanding that the president release his taxes.
Of course, he doesn't have to. Although it has become a tradition over the last four decades, there's no law requiring that presidents make public their tax forms. But Trump, whose finances are particularly complicated and whose potential conflicts of interests are far greater than most presidents — and who promised during the campaign that he would release his returns eventually — should do as other candidates and presidents have done. Especially with a major tax reform proposal on the way. How can the public trust the president's motives on a tax overhaul without knowing whether he will profit from it?
Follow the Opinion section on Twitter @latimesopinion and Facebook
---