One vote, in person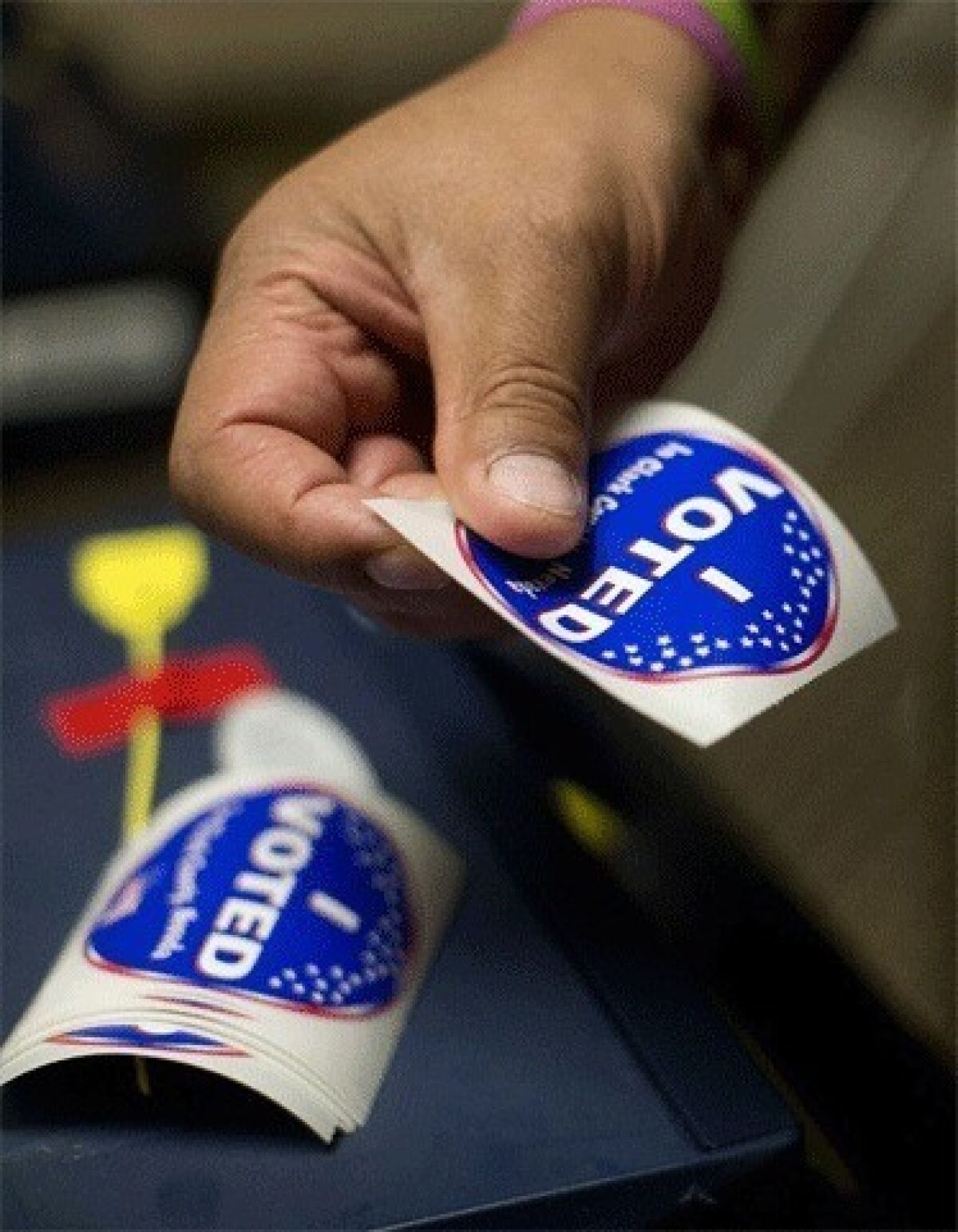 I could not have been more than 5 years old when my mother took me with her to vote in our Chicago neighborhood. I can still see the exotic array of curtains to draw and levers to pull towering over my head like the control panel operated by the Wizard of Oz. The image is enshrined in my memory. This was voting, and it was to be treated with reverence.
Over the years, I've voted in Illinois, Washington, D.C., and California. Rarely have I voted by absentee ballot. To me, voting is not only a profound right but a rare opportunity to physically exercise the most important duty of American citizenship.
In my two decades in Los Angeles, I've voted at a Presbyterian church hall, a recreation center and a Persian rug store — all in the same neighborhood. Sometimes I've walked to the polling place, a balmy fall breeze blowing, signed my name on the ledger, then rifled the pages to see if my neighbors had shown up yet. I savor inking in the ballot, fretting that maybe I've marked the wrong circle, then — convinced I've got it right — taking the ballot and sticking it into that big plastic tub. It's so low-tech, so quaint. Yet I trust it.
ENDORSEMENTS: The Times' recommendations for Nov. 6
In California, any registered voter can get a vote-by-mail ballot. A Gallup poll released last week showed that 15% of voters nationwide had already cast ballots and an additional 18% planned to vote before election day, either by mail or in states that have early voting at polling places. As of Monday morning, the L.A. County registrar was reporting that 630,000 vote-by-mail ballots had been returned. That's about 13% of registered voters in the county. All that is good. Not everyone can take a workday detour to their local polling place. But for me, there will always be a mystique to the act of voting in person on election day.
Clearly it held the same significance for my mother. Four years ago, at the age of 81, living in a housing complex for the elderly in the South Bay, she had signed up for a vote-by-mail ballot. But when she received it, she refused to fill it out, insisting on voting in person. Because she was confined to a wheelchair, I took her to the polling place, as she had once taken me. On election day, we lined up and exchanged her absentee ballot for a regular one. As she filled it out in the voting booth, I snapped her picture. It would be the only time in her life that my mother, a black woman, had an opportunity to vote for a black man for president, and, as it turned out, it would be the last time she voted in a presidential election. She died in March.
When I enter the voting booth Tuesday, I will be thinking of her as well as all the people who made voting accessible for me and for all Americans. Even when we vote against one another, it is an almost sacred experience to walk into a polling place, approach a rickety little stand, fill out a ballot and confidently watch it disappear into a tub full of them.
—Carla Hall
---
Life is stressful. Our weekly mental wellness newsletter can help.
You may occasionally receive promotional content from the Los Angeles Times.