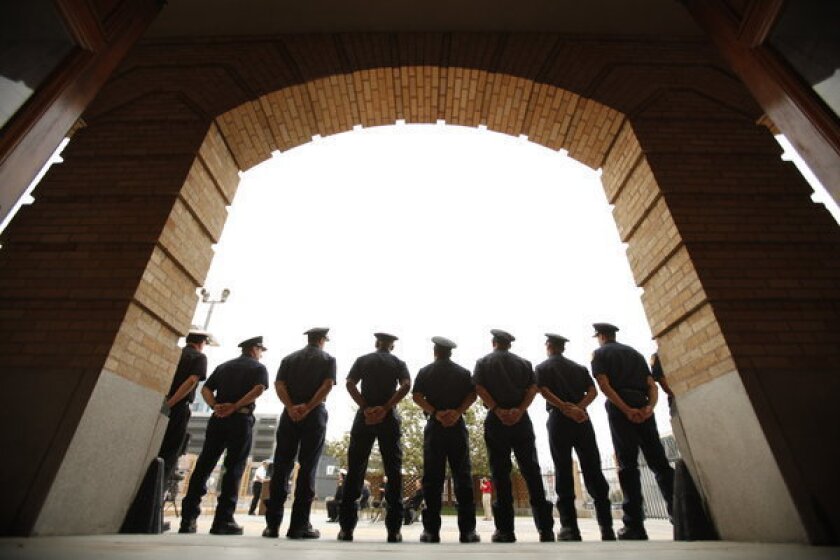 After a five-year hiring freeze, the Los Angeles Fire Department is beginning to select its next generation of firefighters, and it is finding that there is tremendous demand for the jobs. Last year, 70 open slots at the fire academy drew 13,000 applications. Some 6,500 candidates passed the written exam and were invited to submit paperwork showing they had passed the physical fitness test.
With such a huge pool of applicants, the LAFD should have picked the very best — those with the highest test scores and the most training, and experience in emergency medical response, which has become a significant part of a firefighter's job.
But that didn't happen. Instead, the city's Personnel Department chose to advance applicants on a first-come, first-served basis, disregarding anyone who submitted the physical fitness paperwork after the first 60 seconds of the filing period. There was no consideration of resumes or test scores at that stage, only how fast the applicant hit "send." Candidates were not told the process would work this way, so many didn't rush to submit their paperwork.
Now the department's independent assessor will be asked to investigate the process, including whether relatives of firefighters got an unfair advantage. Nearly 1 in 4 of those picked for the first academy class are relatives of an LAFD member.
This is a bad way to hire firefighters. Los Angeles should be advancing the best and the brightest candidates, not those who, by luck or by insider tip, submitted their paperwork the fastest. This system is also unfair to the thousands of men and women who spend years training in firefighter Explorer programs for young people and working as EMTs or paramedics to improve their chances of being hired at the LAFD.
The fire chief has the authority to change the hiring system, and interim Fire Chief James G. Featherstone should do so as soon as possible, before the city begins filling another academy class under a flawed system. To start, the chief could direct the Personnel Department to screen for education and prior experience earlier in the process. The chief should also step up recruitment of women and minorities; the first academy class in five years is 60% white, and out of the 70 people accepted, only one is a woman. While the city is barred from considering race or gender when hiring, it can reach out to underrepresented communities to encourage applications.
The current hiring process underscores the perception that the LAFD lacks professionalism, and that it fosters an insider culture that has been slow to evolve to changing demands and reluctant to innovate. The men and women selected now will probably serve the city for the next several decades; the chief and the city need to get it right.
---