Opinion: A proposed HUD policy targeting migrants could boot 55,000 kids from their homes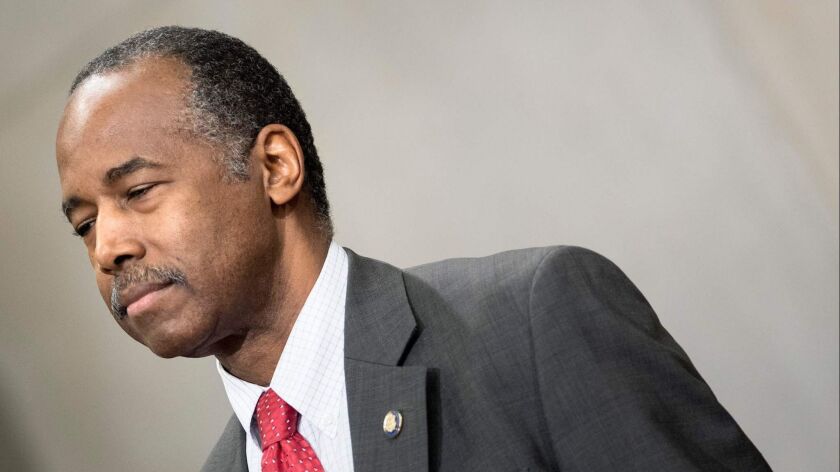 You have to wonder if there's some sort of internal Trump administration contest for who is the most heartless. And if there is, we have a new contender: whoever thought up the proposed regulation that could bounce 55,000 children, including U.S. citizens, from public housing.
The new proposed rule (could it have been Stephen Miller who came up with it?) would deny housing aid to households that include a person living in the country illegally even if other members are lawful residents or U.S. citizens.
Currently, a family of two parents and two children, with one of the parents an undocumented migrant, can get housing assistance on a pro-rated basis to omit the undocumented parent. Under the proposed regulation, the whole family would be ineligible, and, if currently in public housing, evicted.
The policy also dovetails with a broader effort by the administration to make life more difficult for undocumented migrants.
The government estimates that would affect 55,000 American children. If the undocumented person is the sole adult in the household, there would be no choice — out the family would go. Families with one documented parent and one undocumented parent would have the option of splitting up, although that seems like an awfully expensive alternative for a family that needs subsidized housing.
In all, HUD estimates that 25,000 households, totaling 108,000 people, in subsidized housing have at least one ineligible member. About 70% of the 108,000 people, including the children, qualify for benefits that they would lose under the new rule.
Remember, these are U.S. citizens and immigrants here legally who would suffer along with those who are not.
The Trump administration already is pushing a new rule that would make it more difficult for lawful immigrants to remain in the country if they tap into government services, including programs such as the Supplemental Nutrition Assistance Program or subsidized health services.
Enter the Fray: First takes on the news of the minute »
The new housing policy also dovetails with a broader effort by the administration to make life more difficult for undocumented migrants in hopes they will "self-deport," a plan that seems to be working.
The Marshall Project reports that applications for "voluntary departure" have doubled over the last year. Those are people in deportation proceedings who give up and ask to return to their home countries. Such departures are not registered as deportations; deported people face significant difficulties in trying to reenter the country legally in the future.
As detention centers and jails fill with ever more people targeted for deportation, and with cases taking sometimes years to resolve, leaving voluntarily can be a more attractive option for some.
---
UPDATES:
2:00 p.m.: This post was updated to clarify that the policy affects children who are U.S. citizens as well as non-citizens who are here legally.
---
A cure for the common opinion
Get thought-provoking perspectives with our weekly newsletter.
You may occasionally receive promotional content from the Los Angeles Times.