Opinion: Will Meghan Markle and Prince Harry raise their baby to be black?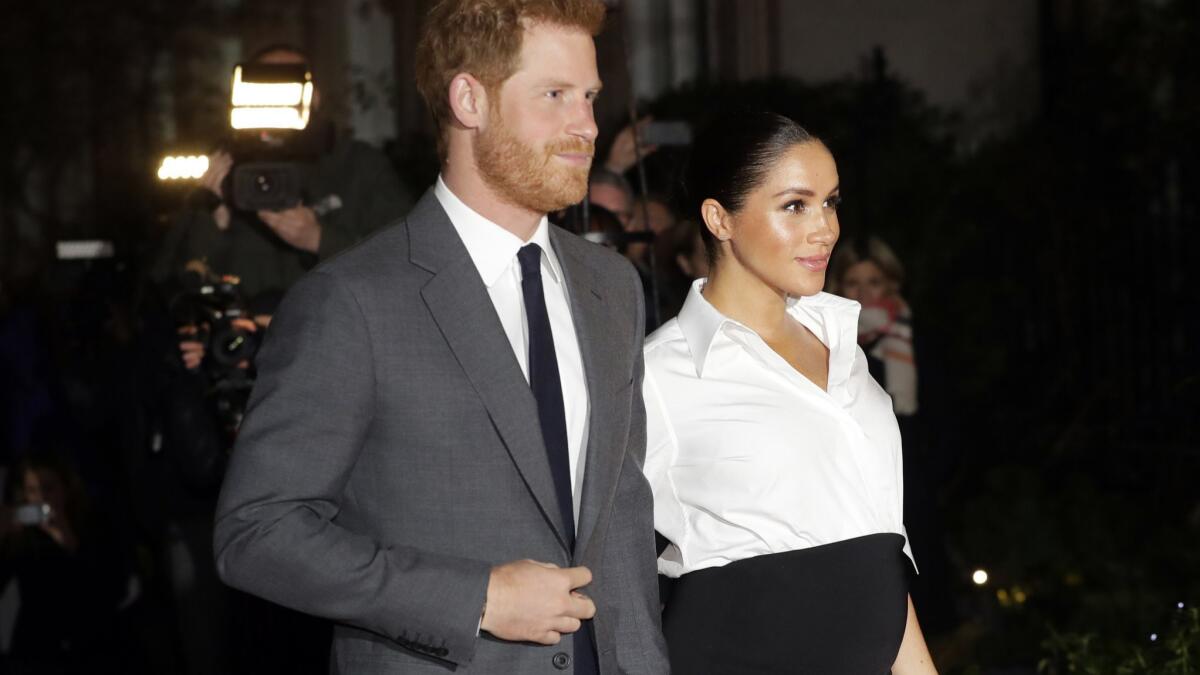 So, Meghan Markle, the American biracial wife of Prince Harry, did it. She managed to have their baby (a boy) on her own terms. Which is to say, at an undisclosed location — although we all know the young British royal couple has been holed up at their Windsor home with the fairy tale name of Frogmore Cottage, we don't know where she actually gave birth — and on an undisclosed timetable. We all found out about the birth when Harry and Meghan announced it on Instagram. (Buckingham Palace announced it too.)
Nor did Meghan submit to the postpartum photo call. There will be no pictures of her making a red carpet departure from a hospital, looking preternaturally polished in full makeup and hair while wearing a dress and high heels and carrying a newborn (as her sister-in-law Kate Middleton, the wife of Prince William, did with all three of her children's births), but who could blame her for nixing such a ridiculous ritual just hours after a grueling delivery? Instead, she dispatched her giddily happy husband to meet the press outside Windsor Castle — a stable with horses in the back — to gush, appropriately, about how incredible his son and wife are.
There is no one 'black experience' — except, perhaps, a cop stopping you because you look like a suspect.
But will the Duke and Duchess of Sussex, whose very marriage was a break from royal traditions, break with the tradition of British royal family life and raise their boy their way? He'll learn plenty about his royal background, being seventh in line to the throne. What will he know about his American family? He'll know he's royal when photographers incessantly snap his picture at events. But I'm guessing that one of his first questions to his parents will be: Am I black? The answer: Yes, you are. And if he didn't guess it from looking at his light-skinned mother, then he need only look at his maternal grandmother, Doria Ragland, who lives in Los Angeles.
Baby Sussex, as he's called for the moment, will have an extraordinarily privileged life. We can only hope that he will live, eventually, in a post-racial world. Still, he needs to know about what it means to be a black person in the world today. Of course, it means dozens of things. His life will largely be his to make. There is no one "black experience" — except, perhaps, a cop stopping you because you look like a suspect. I highly doubt that's going to happen to the young Sussex. Speaking of post-racial, the Obamas tweeted their congrats.
Wait — do I need to catch anyone up here? You all know that Harry and his older brother, William, are the sons of Prince Charles and the late Diana, Princess of Wales, who died tragically in the Paris car crash in 1997? OK, that's what I thought.
Let's face it, this baby's delivery, somewhere in the vicinity of his family's castle, may be the first and last moments of real private life he has. He can check with his royal cousins for the drill. Soon he will learn to wave at the press or do something else incredibly adorable or cheeky. (See Princess Charlotte, then 3 years old, walking in to the christening of her baby brother, Louis, staring down the assembled press outside and announcing tartly, "You're not coming.")
How public will his life be? If the Sussexes plan to spend substantial time in Africa (as has been rumored), that will give him a little bit of time away from the British stage, but there's no continent he can go to where he will be out of the spotlight.
But, first, there's the matter of his name. People are beside themselves trying to figure it out. No, they're not going to name him Runnymede (as an Anglophile colleague of mine has proposed). Nor are they going to name him something as American chic as Joshua.
I predict: Alexander. Harry says they'll announce it in a couple of days. Let's see.
A cure for the common opinion
Get thought-provoking perspectives with our weekly newsletter.
You may occasionally receive promotional content from the Los Angeles Times.