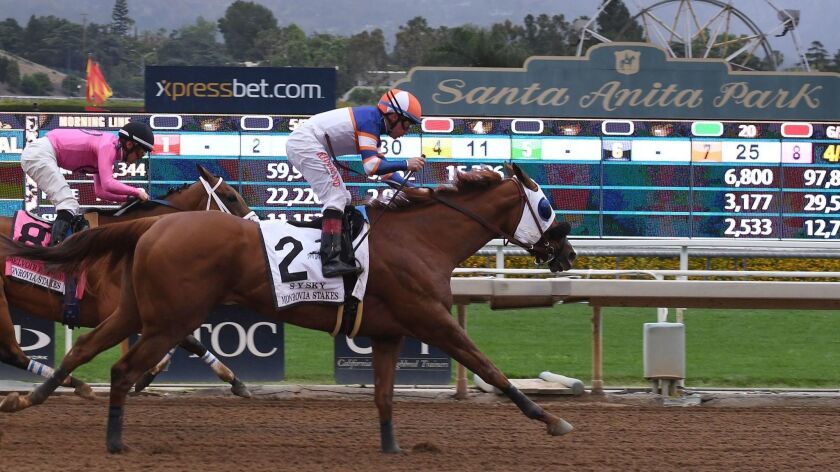 A 27th horse has died at Santa Anita Park. The grim numbers have continued to climb despite repeated calls from animal welfare organizations, Sen. Dianne Feinstein (D-Calif.), and the Los Angeles Times editorial board to suspend racing for the rest of this season. The editorial board called for a suspension in racing after the 26th horse died, arguing that the park should wait for the final results of the investigation into the deaths. With only 12 days left in the racing season, we argued, why risk a 27th death? That was May 29.
A week later, the park had its 27th catastrophic injury of the season (which began in late December) — an unraced 2-year old colt, Derby River, suffered a fractured shoulder Wednesday morning.
The horse was not euthanized at the park, but its death will still be considered a training-related death on the Santa Anita track, as a California Horse Racing Board spokesman told John Cherwa, the reporter who has meticulously covered the mounting deaths at Santa Anita for The Times.
When the 3-year old gelding Commander Coil suffered a shoulder injury while galloping on the track May 17 and had to be euthanized, park officials and other horse experts said it was a freak accident that could have happened to any horse on a farm out for a gallop. Now, Derby River appears to have suffered a similar injury less than a month later. So is this still just freakish bad luck for Santa Anita, or is it something else? (Commander Coil's trainer has been banned from the park for violating rules about the registration of trainers.)
Kathy Guillermo of People for the Ethical Treatment of Animals, who has followed the deaths at Santa Anita and has also worked with the park to institute reforms to protect horses, has released a statement calling for an investigation into the circumstances under which Derby River was sold at an auction in Florida. "PETA has exposed that very young horses are often whipped into running faster than they will ever again run at these auctions," the statement says.
That could mean that Derby River arrived at Santa Anita with a preexisting injury. Although Santa Anita has diagnostic tools at the track, it could put in place new scanning machines capable of detecting shoulder injuries.
The park has maintained that its recent reforms and its crackdown on trainers who don't follow the rules will help make the park safer for horses. Yet horses continue to die there. And with all the uncertainty about why more than two dozen horses have died at Santa Anita in less than six months, the park seems willing to risk more deaths to keep going for barely nine more days in the park's current racing season. That's mind-boggling. Although, sadly, it's also a common calculus among horse trainers and owners and track officials everywhere. That needs to change.
---