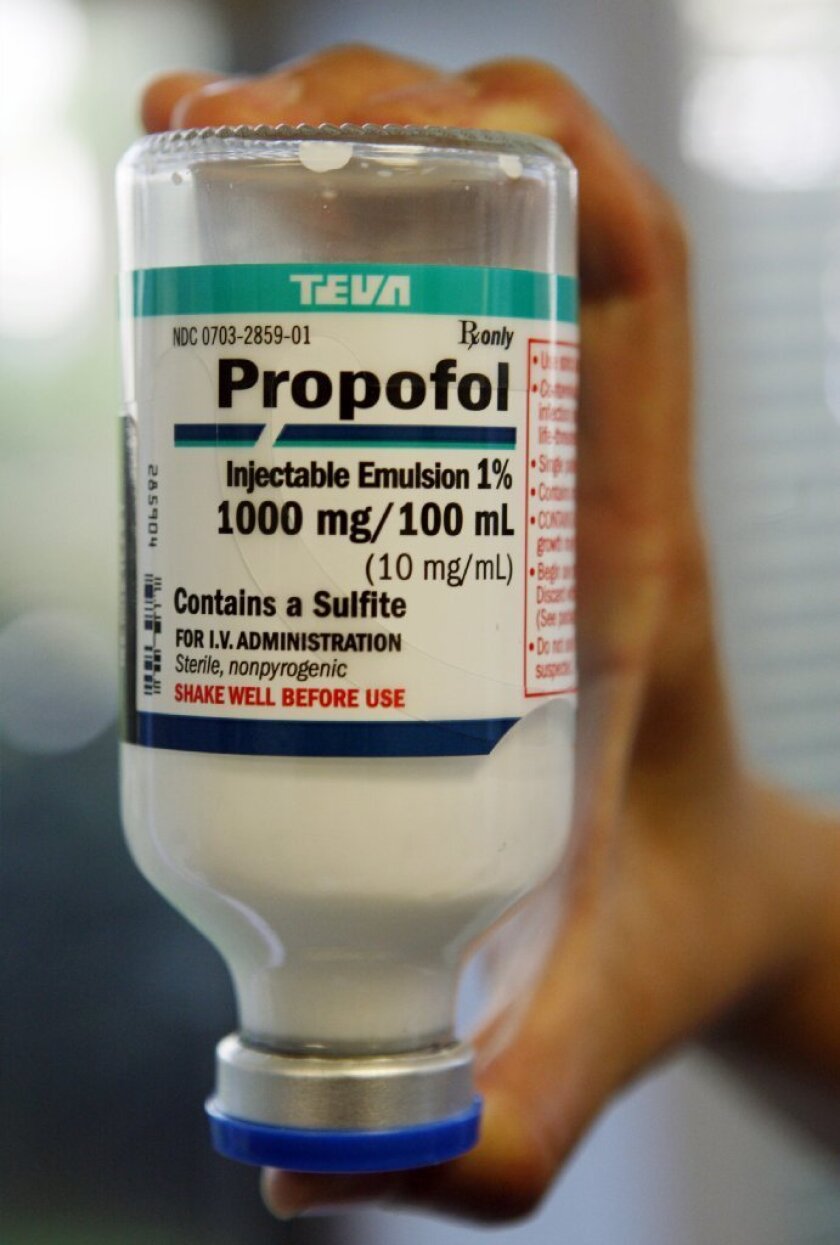 The thought of undergoing a colonoscopy while not completely unconscious might give you shivers.
And it shouldn't, say several doctors who perform the procedure.
Responding to business columnist David Lazarus' article last week calling out insurer Anthem Blue Cross for declaring that propofol-induced complete sedation isn't "medically necessary" during colonoscopies, several readers declared that the bean counters at Anthem should have to undergo this probing procedure under only moderate sedation before denying other patients access to propofol (one such letter was printed today).
Lazarus quoted several doctors to support his point -- that Anthem's decision to not pay for propofol during colonoscopies risks turning away more patients from this potentially life-saving procedure.
Judging by the letters we received, not all doctors agree.
Among the nearly two dozen letters written in response to Lazarus were a handful of doctors who agreed with Anthem. One such doctor had his letter printed Tuesday; several more whose submissions weren't published in the paper relayed their experiences performing colonoscopies using moderate sedation. Of the several physicians who wrote to us, only one agreed with Lazarus.
Here are their letters.
Jerome P. Helman of Venice, a physician and frequent letter writer on all things medicine, says propofol for colonoscopies is a relatively new expectation:
"Lazarus ignores past community standards. As an elder gastroenterologist, there was a time not too long ago when we performed endoscopies without the anesthesiologist at our side. We called it moderate sedation because the deeper sedation level of anesthesia was unnecessary for such procedures, and we administered the medication ourselves.
"Then along came propofol and the 'need' for anesthesia materialized. Reimbursements for endoscopies decreased substantially, so investments in endoscopy centers brought in considerably more income for the gastroenterologist."
Sajen Mathews of Fullerton, also a gastroenterologist, outlines the propofol-free protocol:
"Moderate sedation with medications like fentanyl and versed is universally used for colonoscopies. At my endoscopy center in Fullerton, we perform about 12,000 procedures a year, and 95% of them are done under moderate sedation. Patient satisfaction is high, and there have been no complaints of pain during these procedures. I do not know of a single patient who refused a colonoscopy because propofol would not be used.
"While the recovery time for propofol may be slightly shorter, this does not make any meaningful difference to the patients, who are told not to work or drive the day of the procedure with any type of anesthesia. All high-risk patients are treated with propofol administered by an anesthesiologist.
"There have been reports that complications including aspiration, perforation or splenic injury occurred more frequently in patients who received general anesthesia assistance than in those who did not."
"The cost savings for my center alone from not using propofol has been about $60 million. About 10 million people get colonoscopies each year in the U.S., adding up to more than $10 billion in annual costs. Making propofol administration routine for colonoscopies would greatly increase that amount without any significant benefit."
Physician Edward Evans of Thousand Oaks says bashing insurance companies is fine with him, but not for the reasons Lazarus gives:
"I usually wholeheartedly agree with Lazarus' consumer protection pieces, but I really felt this one was way off base. As a physician I generally love to vilify the insurance companies as much as the next person, [but] in this case I think they are in the right.
"Administering propofol during colonoscopies is an example of why medical costs continue to increase. We simply have an insatiable desire for more healthcare. The cost of colonoscopies has skyrocketed.
"Colonoscopies were initially office procedures with sedatives and analgesics safely given by the physician. This kind of conscious sedation is successfully used for many procedures, including chest tube insertion and central line placement.
"But recently, and thanks in part to advocacy by anesthesiologists, colonoscopies have been elevated to the level of outpatient surgery, with an anesthesiologist present and often done in a full surgical suite. Both add enormously to the cost, but without benefiting the patient much."
Santa Monica physician Jonathan D. Kaunitz speaks up in favor of propofol:
"Lazarus deftly highlighted controversies surrounding the economics and relative merits of endoscopic sedation.
"What could have been mentioned is that propofol has been widely adopted by practices not only due to its greater patient preference, but also due to its promoting increased efficiency, since with very short induction, procedure and recovery times, the endoscopic 'throughput' can be substantially increased. Since only one nurse anesthetist is required per endoscopy unit, the additional cost and procedure is more than compensated for by the increased number of procedures performed.
"Also, using propofol, the endoscopist is also able to conduct the examination more quickly, carefully and thoroughly. Thus, many practitioners have opted for propofol since it makes economic as well as medical sense.
"I certainly hope that the insurers can listen to reason and not penalize patients for insisting on an anesthetic that will ensure a complete, comfortable and safe procedure while increasing efficiency, which in turn will increase the population percentage who will undergo this helpful test."
ALSO:
Elephant bullhooks? Not in L.A.
---