Camels: 100 years and still killing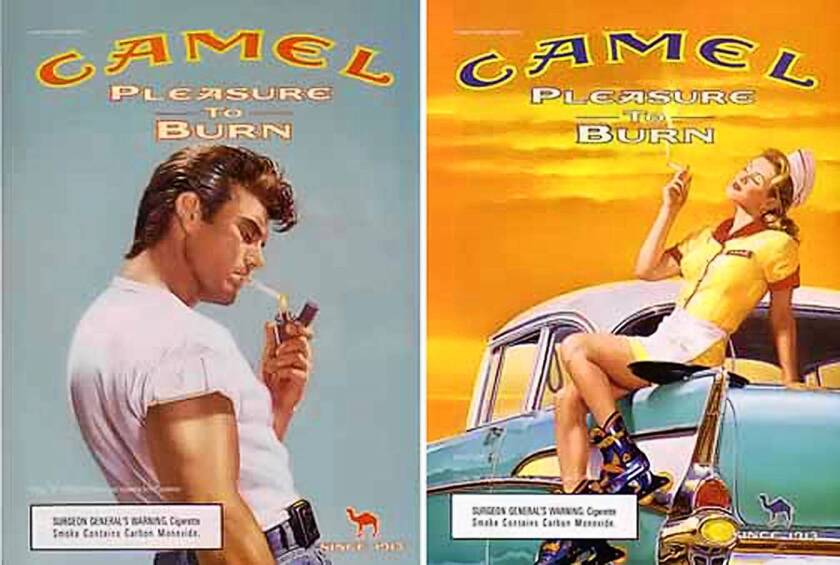 We're quietly approaching the 100th anniversary of the modern cigarette, but don't expect much in the way of fanfare. Cigarette sales have been falling since 1981, when 630 billion were smoked in the United States. Now we smoke only about 300 billion in any given year, mostly in the style of the "American blend" introduced by Camels.
Camels were first sold in October 1913. Only 1 million were sold that first year, but this quickly grew to 425 million in 1914 and to 6.5 billion two years later. Twenty-one billion were sold in 1919, and by the early 1920s, nearly half of all cigarettes sold in the U.S. were Camels.
And though other "standard brands" were soon introduced — Chesterfields, Lucky Strikes and Old Golds — Camels still had a 30% share of the cigarette market in the late 1940s. By its 65th anniversary in 1978, the brand had sold more than 3 trillion sticks. Camel still holds the record for the most cigarettes sold in a single year: 105 billion in 1952.
The success of the brand is traceable partly to marketing genius. N.W. Ayer & Son was the agency hired to handle the launch, which began with a teaser campaign. Newspapers nationwide announced "the Camels are coming," with no hint that the blitz was for a new brand of cigarettes. (Reynolds had not even sold cigarettes before 1912.) One ad crowed that "Tomorrow there'll be more CAMELS in this town than in all Asia and Africa combined!"
The cigarettes came in a new kind of packaging. Camels were the first cigarette sold in that boxy "cup" we now identify as a cigarette pack, with 20 cigarettes per. Camels were also the first smoke to be sold in cartons of 200, and the first sold coast to coast. And (crucially) the first to incorporate what came to be known as "the American blend," a juiced-up concoction of flue cured and burley tobacco leaf that was both mild enough to be inhaled and sweet from sugars added to the mix.
A lot has changed since then. The machines that produced those early Camels could manage only seven or eight per second; today's machines spit out 20,000 sticks per minute, or about 330 per second. And cigarettes today are far more affordable, even with all those taxes going to governments ("the second addiction"). Cigarettes used to be a luxury smoked by dandies and the effete; now they are more likely to be smoked by the mentally ill and destitute.
Some things, though, haven't changed. Cigarettes still kill about half their long-term users, despite industry bluster about filters, low tars and lights, none of which has made smoking safer. Cigarettes still contain arsenic and cyanide and radioactive polonium-210, the poison used to kill that Russian spy in London a few years back. Cigarettes cause one death for every million smoked, which means that the 4 trillion Camels consumed over the last 100 years have probably caused about 4 million deaths.
And it would be wrong to think of the cigarette business as moribund. Shareholders of the three largest makers in the U.S. all earn dividends in excess of 4%, and those holding stock in Altria (parent company of Philip Morris) earn closer to 6%.
Youth is still key to the business because most smokers start in their teens and stay fiercely brand loyal. Joe Camel was retired in 1997, but until 2009 (when Congress passed the Family Smoking Prevention and Tobacco Control Act), Camels came in candy-fruit-tropical flavors, including Camel Mandarin Mint and Camel Mandalay Lime. Camel No. 9s, advertised as "light and luscious" and sold in feminine black and pink packs, are still allowed on the market, despite fears that this "Barbie cigarette" targets girls. And Camel Crush offers a hit of mint to those who like menthol "refreshment." Advertising for such products has increased in recent months, and on my last trip to the dentist, I found four different ads for cigarettes in magazines in the waiting room.
Camel's anniversary is really only being celebrated overseas, where cigarettes sales remain robust. Worldwide, 6 trillion cigarettes (of all brands) were sold in 2012, which explains why smoking remains the leading preventable cause of death. JTI, the company that owns rights to the Camel brand abroad, is celebrating with a giant "iPad controlled video jukebox" in the shape of a camel, with slogans such as "Discover more" and "Inspiring creativity since 1913." Most Europeans can buy packs celebrating the anniversary, and Mexico City has held brand-themed events. All of which helps keep Camels among the five bestselling brands in the world.
Here in the birthplace of Camels, though, things are quieter. The cigarette is something of a cardiopulmonary anachronism, and not much to party about. Camel's success has been literally breathtaking, caravaning millions into that sleep from which we never awake.
Robert N. Proctor is a professor of the history of science at Stanford University and the author of "Golden Holocaust: Origins of the Cigarette Catastrophe and the Case for Abolition."
---
A cure for the common opinion
Get thought-provoking perspectives with our weekly newsletter.
You may occasionally receive promotional content from the Los Angeles Times.