Op-Ed: Don't split up California — make it even bigger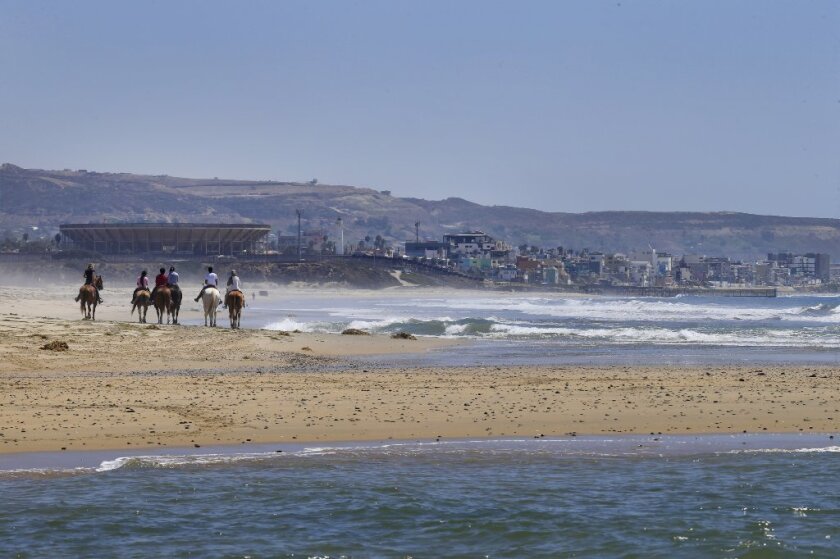 Billionaire techbro Tim Draper announced last week he would no longer try to split California into three states. Phew: It was the most ridiculous quest to tinker with the state since the Legislature voted in 1978 to tow an iceberg from Antarctica to solve that decade's epic drought.
Three Californias had it all wrong. Our state is stronger united, weaker divided. Our size and diversity across social, ethnic and geographic lines is what makes us great.
That's why we need to reunite with our twin, Baja California.
The 1848 Mexican-American War officially split us apart, but we've always held hands to spite our disapproving parents. Our border features cities and towns — San Diego and Tijuana, Calexico and Mexicali, Andrade and Los Algodones — cut off from each other by an arbitrary line that residents never let get in the way of creating business and family ties. The San Diego-Tijuana area hosts a $230-billion economy that entrepreneurs on both sides consider one whole; $44 billion in goods passed through the Otay Mesa commercial crossing last year alone.
The 1848 Mexican-American War officially split us apart, but we've always held hands to spite our disapproving parents.
That's just la frontera. Alta and Baja California are mirror images of each other. The wine region in the Valle de Guadalupe is as beautiful as anything in Napa, Sonoma, Temecula and Paso Robles. The peninsula's deserts are the flip side to our forests (and deserts, for that matter). Its coast is even more stunning than ours, and has the advantage of remaining largely unspoiled. We even both had an exploitative mission system!
More important, our respective federal governments have long treated us as freaks, as nations apart from the rest of the country due to our historic remoteness and independent spirit.
Since Mexico and the United States continue to take their Californias for granted, let's join together and show them what they're missing.
I'm not advocating for a separate nation. I think the renamed California Libre would work best as a free-trade zone (like the old Hong Kong) where residents keep their Mexican and American citizenships but can move freely across Alta and Baja California. Together, we can become an economic and good-living engine like few have ever seen.
Get Baja in Alta's domain, and we can apply our know-how to improve much of what ails our Mexican hermana. We can better monitor the overfishing in the Pacific and help restore the Gulf of California. Implement better conditions in Baja's agricultural fields, where indigenous workers toil under conditions that make California farmers seem downright benevolent. Help the refugee crisis in Tijuana, where Haitians and Central Americans and deported Dreamers linger in the metropolis with few resources and little hope.
Even better, the American government would acquire a toehold from which to fight Mexico's drug cartels, and our military could help Mexican federales root out that blight once and for all.
But Baja has a lot to teach Alta as well. Its people have suffered drought longer than we have, and have pioneered public-education projects to let people know water is a precious resource, not a treat for their lawns. Healthcare is ridiculously affordable south of the border — who needs Obamacare when we could all be on Tijuanacare?
After long neglect by the Mexican government, the self-sufficiency of Baja Californians is legendary. And so is their capacity for reinvention: After the narcowars of the last decade devastated American tourism to Tijuana, artists and chefs turned the city into one of the world's gastronomic and art capitals.
Enter the Fray: First takes on the news of the minute from L.A. Times Opinion »
Uniting with Baja doesn't mean all of Sherman Oaks should be allowed to buy a second home in Todos Santos, though. The last time Americans got free rein in the peninsula, we made Tijuana into our own private Gomorrah and turned Cabo San Lucas into a tacky wasteland where Mission Viejo housewives now roam year-round.
Alta residents will have to learn to treat Baja as the equal it is, instead of a place to exploit.
A sillier plan than Three Californias? Sure. Mexican President Andres Manuel Lopez Obrador would face impeachment by the Mexican people if he ceded any sovereignty to us gringos, and President Trump would sooner see California sink into the Pacific than let us take the lead on improving the relationship with our third-largest trade partner.
Then again, there's already de facto precedent for such a partnership in the relationship between Texas and Nuevo León. Many American and Texan companies have a presence in Monterrey, the state's capital and a place whose wealthiest regios (a nickname for its residents) have second homes and offices in Dallas, San Antonio and Houston. Nuevo León's native mineral water, Topo Chico, now dominates hipster bars from Austin to Los Angeles. The connection between the states is so deep that the grandparents of Gov. Greg Abbott's wife were from Monterrey.
Alta and Baja California: Are we going to let Texas beat us in something for the first time ever?
Follow @GustavoArellano on Twitter
Follow the Opinion section on Twitter @latimesopinion or Facebook
---
A cure for the common opinion
Get thought-provoking perspectives with our weekly newsletter.
You may occasionally receive promotional content from the Los Angeles Times.