Op-Ed: We need a state cuisine. And it should be Cal-Mex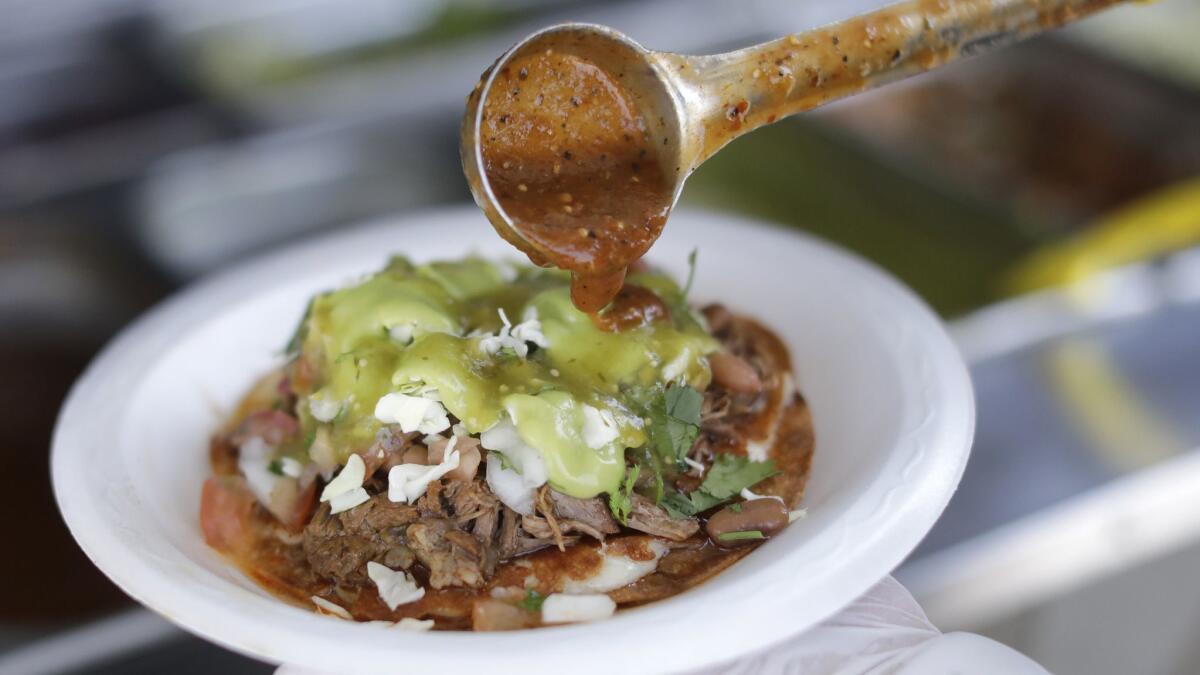 California now has an official state sport: surfing. Are you excited yet?
Hanging ten joins 30-plus state emblems, including our official bird (quail) and our official pattern (tartan, of all things).
They're all nice gestures; politicians are trying, in their small way, to create a shared heritage for such a vast state. But most designations have little day-to-day significance for Californians — when was the last time you had any use for our official state lichen? And who has time to surf?
If Sacramento wants anyone to care about an official state designation, if it wants that designation to be meaningful, it should pick an official state cuisine. And the choice should be Cal-Mex.
I'm not talking about Mexican food, which (contrary to what Tucker Carlson asserts) belongs to Mexico. I'm talking about its manifestation in California, where a unique food culture rose up over the past 170 years to influence all of America's eating habits and keep us full and hungry.
Fans of other cuisines will complain that Cal-Mex isn't worthy to represent the whole state, but they're all pretenders to the throne.
Here's just a small combo plate of our accomplishments: San Francisco gave America the Mission burrito, that foil-wrapped brick of meat, beans and rice made famous by Chipotle. San Diego offered the French-fry-stuffed California burrito, which is slowly spreading across college towns because it's the ultimate undergrad grub. Downey threw in Taco Bell — hate their food all you want, but the company served up the first taste of tacos for millions, and set the table for better things to come.
East L.A. gifted America the taco truck; Orange County, Korean tacos. Right now, Mexican American cooks like Wes Avila of Guerrilla Tacos and Carlos Salgado of Taco Maria are teaching Americans that classical kitchen techniques work just fine with Mexican food. Even Encino made its contribution: It was the home of the first El Torito, which taught America how to love margaritas. And let's not forget the Hass avocado, the fruit that launched a thousand guacamole bowls and hipster toasts.
We need an official state cuisine now because food culture is more popular than ever. Nearly everyone under 40 whips out their smartphones to Instagram the meal in front of them. The stories of the men and women who cook our meals are getting told online, in podcasts and on television. People are newly obsessed with how we eat in the Golden State, from high-end dinners to the tamale lady.
Declaring Cal-Mex our official state cuisine will not only attract culinary tourism, but also also inspire Californians to explore their state one living, delicious bite of history at a time. You must visit different regions to grasp the nature of our foodways. Swing through the Central Valley and order steak ranchero, the region's favorite Cal-Mex entree. Go visit Mi Ranchito in Stockton and feast on huge combo plates with a side of chicanas, an appetizer of sautéed steak and vegetables found only in Northern California. Get a Parmesan-cheese-spiked taco from Jimboys, a chain that started in Lake Tahoe that's now spreading across Southern California and isn't half bad.
Drop into Yermo and try to guess the location of the first Del Taco, or make a trek to the original El Cholo on Western Avenue, which is going to celebrate its 95th anniversary this fall and is the third-oldest continuously operating Mexican restaurant in the United States (after Lerua's and El Charro Café in Tucson).
Cal-Mex also deserves an official designation because it's long been disrespected. Food writers and historians have mocked our bolder contributions — pastrami burritos, Mexican teriyaki bowls, Doritos (invented at Disneyland) and Flamin' Hot Cheetos (created in Rancho Cucamonga by Richard Montañez, a Mexican American janitor who's now a PepsiCo executive) — as a mongrelization of "authentic" Mexican food.
Enter the Fray: First takes on the news of the minute from L.A. Times Opinion »
Even now, a lot of food lovers ignore Cal-Mex and would rather obsess about regional Mexican food that has come to California over the past generation — Oaxacan moles, Sinaloan seafood, Mexico City sandwiches. Those newcomers are great, but would have never drawn a crowd without dishes like chile verde, tamale pie, and hard-shell tacos to prepare Americans' appetites.
Fans of other cuisines will complain that Cal-Mex isn't worthy to represent the whole state, but they're all pretenders to the throne. Wine country food is too frou-frou; fast-food culture, too soulless. The California cuisine pioneered by Alice Waters, Wolfgang Puck and others was important, because it taught urban and suburban diners that the best food is the freshest, healthiest and most local, and that fusion food can be fun. But let's be honest: All they did was ape the farmers and immigrants who've eaten like that for generations, but never got book deals out of it.
We might worship differently, be registered to different parties, and not even speak the same language. But we all eventually eat Cal-Mex. It's the state at its finest: always innovative, partly Mexican, and forever sabroso.
OK, Sacramento: Who there will call me so we can work on a bill? Taquitos at Cielito Lindo are on me — if the FPPC allows it, of course!
Follow @GustavoArellano on Twitter
Follow the Opinion section on Twitter @latimesopinion or Facebook
A cure for the common opinion
Get thought-provoking perspectives with our weekly newsletter.
You may occasionally receive promotional content from the Los Angeles Times.