Column: Can 'chipsters' and barrio activists find common ground?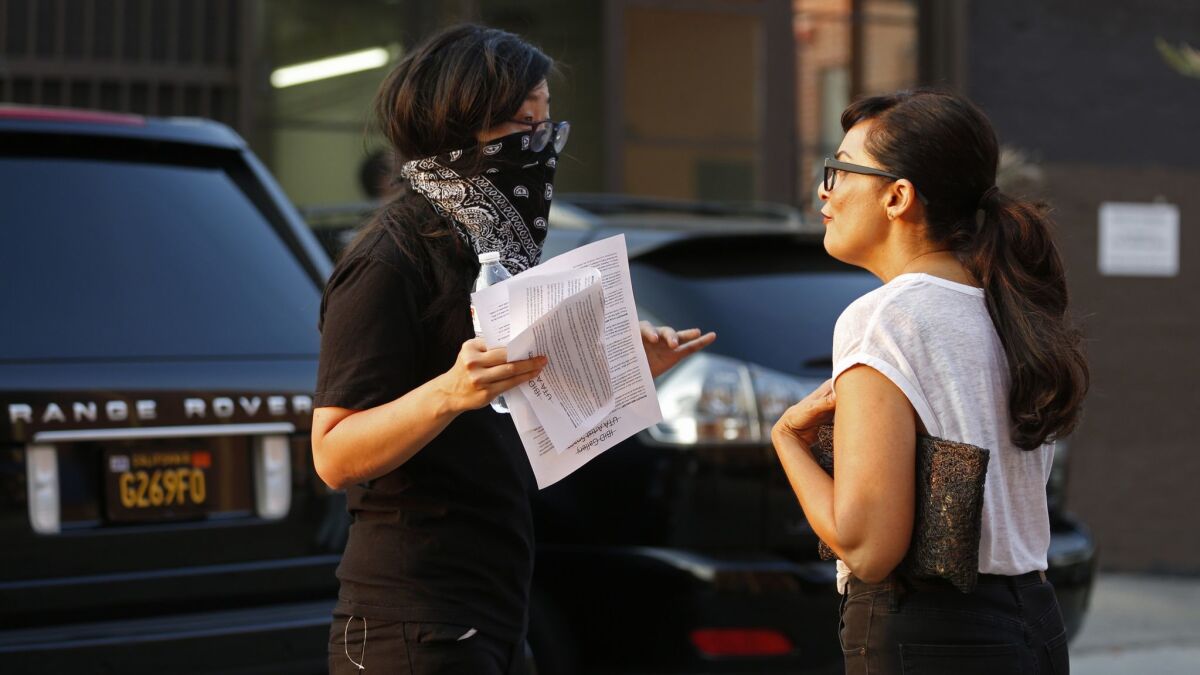 A fierce philosophical debate about the future of Los Angeles is getting a national airing on the TV series "Vida" on Starz. It's ostensibly a family drama about two estranged Mexican American sisters whose mother's death brings them back to Boyle Heights. But its true focus is the real-world battle over a new kind of gentrification.
Young Latinos from Anaheim to El Paso, and from Highland Park to Chicago have argued for the past decade about whether it is OK for hipsters to turn barrios into a playground of Pilates studios, single-origin coffeehouses and vegan taquerias — so long as those hipsters look like the working-class people they're pushing out.
There are even cute terms for the phenomenon: "chipsters" (Chicano hipsters) and gentefication, a portmanteau of gente ("people") and gentrification. Both describe upwardly mobile Latinos who want to shop and dine in the neighborhoods of their youth — but in businesses that reflect their social class. Oh, and they'd like not to price out anyone in the process.
Gentefication has a conscience never before seen in the annals of gentrification, its advocates say. Leftist Latino activists cry hypocrisy.
The clash has played out most prominently in Boyle Heights, where activists protested coffeehouses and hounded art galleries out of the neighborhood, attracting national news media attention. Even longstanding institutions like Self-Help Graphics were accused by these folks of being complicit in gentrification.
The sharp "Vida" lands its punches. The main characters Lyn and Emma are derided as "bougie" and worse. The hermanas clap back with talk about "baby mamas" and former friends stuck in the "vida loca" by their own inertia. It's dialogue ripped straight from social media feeds, where friends and family go at each other regularly over whether one can enjoy a Chardonnay and still be a woke Chicano.
Can young professionals and creative types with money ever move into an area without messing it up for the longtimers?
This may look like an intraethnic fight, but how it plays out could have implications for the future of urban neighborhoods across the country. Can cities evolve in such a way that the local tamale lady can coexist with bars that hold Morrissey karaoke nights? Can development ever bring investment to preserve, not supplant, longtime residents?
And can young professionals and creative types with money ever move into an area without messing it up for the longtimers?
The desire to keep barrios barrios is an urban movement unprecedented in Southern California history. For generations, the children of immigrants moved away from the old neighborhood as soon as they had the means to do so, and they did not return. The Jews of Boyle Heights decamped to the Westside; African Americans in South Central relocated to the Inland Empire or Leimert Park. After internment, Japanese residents largely left Little Tokyo behind to move to Torrance and Fountain Valley.
From the 1970s on, middle-class Latinos left East Los Angeles for San Gabriel Valley cities like La Puente and Whittier. The working-class cousins and compas who stayed behind ridiculed them as uppity and "Tio Tacos," the Chicano version of an Uncle Tom. But no one questioned this progression: You moved out once you made money, and you returned only for parties and funerals, just like the girls in "Vida."
Not gentefiers. They consciously and proudly want to live and play in the old hood. They view it as a step forward, not back. Activists in the barrio, however, refuse to give them a pass. In fact, the critiques are frequently harsher than those leveled at non-Latino hipsters because gentefiers should know better.
I see promise and holes in their respective arguments, and I've been blasted by both sides. Gentefiers act shocked that not everyone wants to embrace their gospel of chipsterdom. But ultimately, it is still gentrification — now with a brown face. No amount of Frida blouses or Dia de los Muertos forearm tattoos will change that.
I respect the resolve of groups like Defend Boyle Heights and their take-no-prisoner campaigns. But people who want to encase barrios in amber turn off potential allies with their atavistic views. They certainly don't consider that some locals might want to walk to a craft brewery without being called a vendido (sellout). My uncles wanted Bud Light, but my cousins want a mezcal-based Old Fashioned. Is that so wrong?
Is there common ground? I say sí, and I hope barrios from the Mission District in San Francisco to Barrio Logan in San Diego find it. Activists and gentefiers alike say they want to protect working-class neighborhoods, and they feel salvation can come via culture as much as it does from commerce. But this is a novel concept in California, where communities historically have been defined by developers who erect or destroy neighborhoods to suit the current tastes of the wealthy and middle class.
Both sides are far more invested in a positive outcome than, say, transplanted New Yorkers, who call our corner markets "bodegas." If gentefiers and their antagonistes can jointly hammer out a way forward for the barrios they profess to love, they will revolutionize the fight to protect working-class neighborhoods in cities across the United States.
And if they don't? They'll have to take their squabbling to the Inland Empire, where we'll all be living once Silicon Valley discovers the real Eastside — and that ain't you, Silver Fake.
Twitter: @GustavoArellano
---
Life is stressful. Our weekly mental wellness newsletter can help.
You may occasionally receive promotional content from the Los Angeles Times.