Op-Ed: As a boy, I was taught to ridicule Juan Gabriel. As an adult, I revered him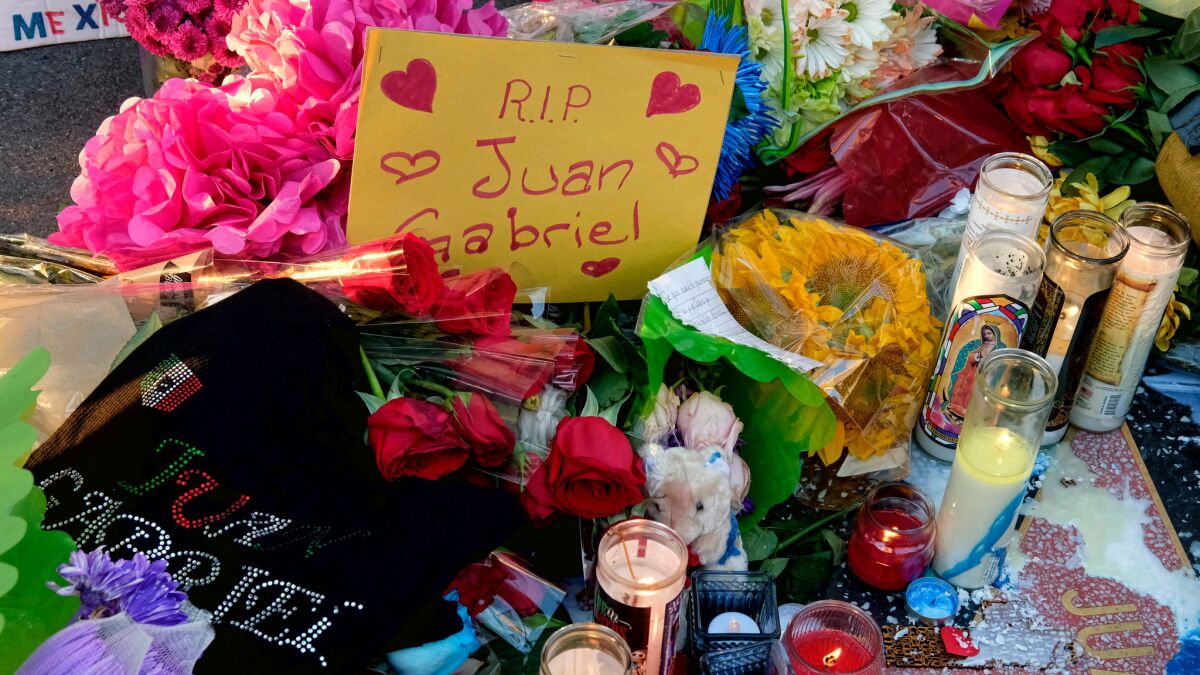 It's 1992, and I'm hating on my mom's newest CD: a synth-heavy recording by Mexican girl group Pandora called "…Con Amor Eterno" ("With Eternal Love"). She plays it every Saturday morning while doing morning chores, blasting it from Kenwood speakers and making my teenage life miserable. I don't mind the tight harmonies of the trio, or even the overwrought music and lyrics of love and lament. What I can't stand is the man who wrote their tunes: Juan Gabriel.
He was a superstar at that point, having recently become the first-ever popular singer to perform at Mexico's prestigious Palacio de Bellas Artes. And he was also something no Mexican father wanted their son to become: flamboyant, a queen — and unapologetic. His nickname — JuanGa — was a slur in my Latino-majority school in Anaheim, used against any boy perceived to be gay. So I grimaced every time my mom pressed play, putting on headphones to lose myself in N.W.A, the Supremes — anything manlier than JuanGa.
Flash forward to Sunday, when I learned that Juan Gabriel passed away of a heart attack at age 66 in Santa Monica. I immediately searched YouTube for the opening song to "…Con Amor Eterno": "Con tu Amor" ("With Your Love"). It's my go-to JuanGa song, because it makes me cry, a combination of shame at my ignorant past and wonder for the song. As I heard its timpani-like bass, tinny keyboards and tinkling chimes — hey, it was recorded in the 1990s — the tears flowed freely.
[Juan Gabriel] redefined masculinity as only a sequins-and-silk-loving man could.
Mexican boys are taught to ridicule Juan Gabriel; Mexican men learn to respect the legend. My evolution regarding the man born Alberto Aguilera Valadez is a uniquely Mexican story shared by millions that mainstream cultural critics will strain to explain in the coming weeks. But he's going down in Mexican history as one of its most influential citizens. He redefined masculinity as only a sequins-and-silk-loving man could. And he did it while creating a magnificent 45-year career, recording hits as recently as May, when his chintzy but heartfelt cover of Creedence Clearwater Revival's "Have You Ever Seen the Rain?" went viral across Latin America — a fitting finale.
Artistically, Juan Gabriel belongs to a Latin American genre of singer-songwriters who wrote a country's songbook a la Cole Porter or Irving Berlin. But none of the Tin Pan Alley generation ever became famous for performing, the way Juan Gabriel did. To find America's JuanGa, you'd have to start by partaking in that most Mexican of pastimes: mestizaje. Take the indefatigable showmanship of James Brown, the cult of Elvis, Liberace's camp, Elton John's flair, Judy Garland's on-stage command, Bruce Springsteen's mastery of folk and pop themes, the diva tendencies of Streisand, the chameleonic talent of David Bowie or Prince — and mash it all up into something that makes sense. And that's only an imperfect start.
Juan Gabriel's songs smashed the staid Mexican music industry. He seamlessly glided across genres — ranchera, banda, tropical music, pop — and even combined them. He'd sneak in the conjunto norteño accordions of his beloved Juarez during mariachi songs, predating by decades the current trend in Mexican regional music of putting tubas and squeezeboxes together. His lyrics forsook the fatalism of ranchera for the promise of love. He sang for survivors, for people who threw themselves to the world and fell, only to get up again in the hope that true love would come one day to save them.
"Con tu Amor" put it best:, "Gracias a ti/no siento tristezas/ni dolor/Hoy soy muy feliz" ("Thanks to you/I don't feel sadness/nor pain/Today, I'm very happy").
But JuanGa's truest legacy is not his music, it's what he represented: Personal freedom. Although he refused to answer questions about his sexuality, he was the one celebrity Mexico allowed to live as even somewhat gay. Juan Gabriel fought back the haters with his smile and sharp tongue, never apologizing for who he was. And that pride created an opening for young gay men and women to find courage — perhaps even come out. That's not all. Women living under the tyranny of machismo found that the only time they could go out on the town was for one of his concerts, their husbands not bothering to attend because what straight man admitted to liking JuanGa?
Eventually, however, even the machos caught up to JuanGa's genius. On Facebook, guys are openly admitted to weeping about Juan Gabriel's death, speaking of him in the same breath as Vicente Fernandez, the ur-hombre of Mexican music who nevertheless recorded many JuanGa hits. He himself tweeted out: "How the passing of Juan Gabriel weighs on me. A great artist and an excellent human being."
Even before his death, JuanGa had become a part of everyday Mexican life. Whenever a JuanGa song plays at a family party, everyone chants along. And his "Amor Eterno" ("Eternal Love"), a song dedicated to his late mother, has now become a staple of memorial services for men and women alike, JuanGa's ballad literally serving as a soundtrack to a loved one's life as photos of the dearly departed flash across a screen.
And now he is gone. May Mexico keep his lessons alive — and may the United States learn them.
Gustavo Arellano is editor of OC Weekly, author of the syndicated column, ¡Ask a Mexican! and the book "Taco USA: How Mexican Food Conquered America."
Follow the Opinion section on Twitter @latimesopinion or Facebook
Our six-week newsletter will help you make the right decision for you and your property.
You may occasionally receive promotional content from the Los Angeles Times.