Op-Ed: Forget the critics, Feinstein did the right thing by questioning a judicial nominee on her faith and the law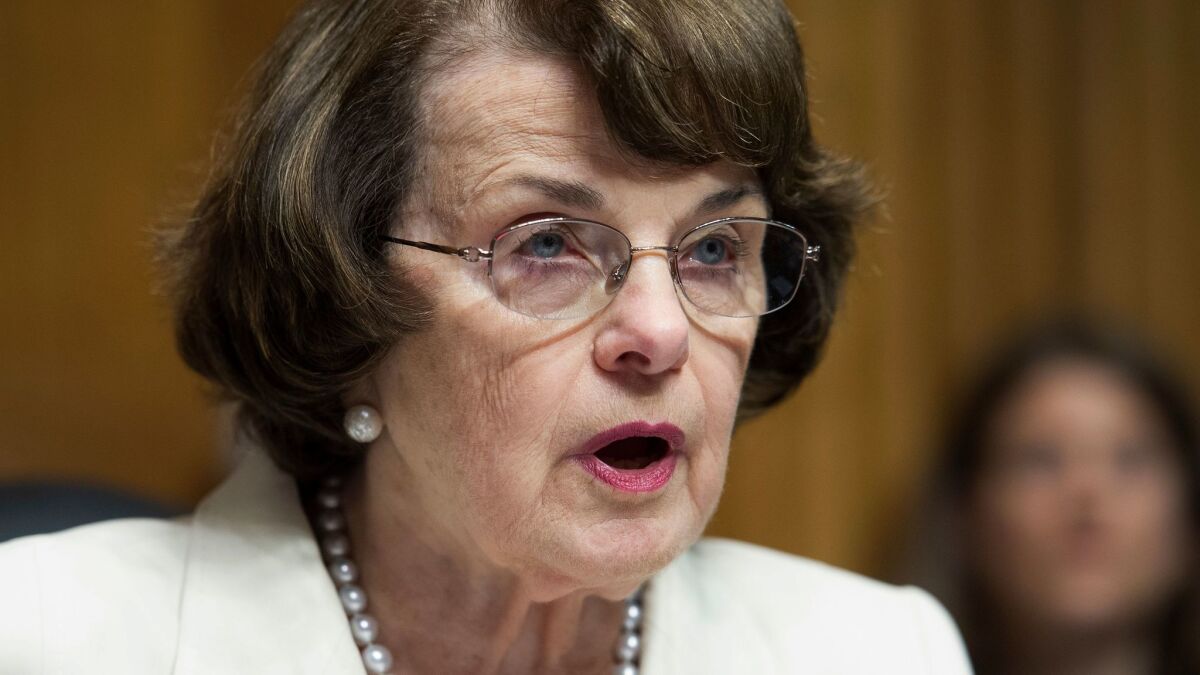 Sixty years ago, U.S. Supreme Court Justice William Brennan gave a wise answer to a fraught question. Brennan, who was Catholic, was asked at his confirmation hearing which would prevail in guiding him as a judge: his Catholic faith, or the law of the United States. He replied that he would be controlled by "the oath that I took to support the Constitution and laws of the United States and … that alone…." His answer has long stood as a gold standard for the judiciary.
Today, Amy Coney Barrett, a Notre Dame law professor and Trump nominee for a federal judgeship, challenges that standard. Barrett wrote a law review article in 1998 entitled "Catholic Judges in Capital Cases." In it, she and her co-author, John Garvey, took issue with Brennan's famous statement, saying, "We do not defend this position as the proper response for a Catholic judge to take with respect to abortion or the death penalty."
It's a provocative position, and Democrats on the Senate Judiciary Committee — notably the ranking member, California's Sen. Dianne Feinstein — questioned her closely on her views about faith and the law in her confirmation hearing last week. Although that line of questioning has drawn heated criticism, the senators had every right to pursue it: Barrett's statements suggest that she believes a judge may put obligation to her faith ahead of her obligation to carry out all of her judicial duties. In fact, there were moments in the hearing when senators should have pressed harder.
Barrett is nominated for a lifetime federal court seat. If she is confirmed, her rulings will affect millions of people for decades.
In their article, Barrett and Garvey suggest that the solution for a judge who anticipates a religious conflict with the law of the land is recusal — to simply withdraw from hearing the case she was assigned. But in one specific way that is the very definition of putting faith ahead of one's duties as a judge. A judge's job is to hear cases and apply the law, and the argument by a nominee that she may often be unavailable to fulfill these duties lays the groundwork for precisely the line of questioning Feinstein and others pursued.
Some critics of the senators who questioned Barrett have pointed out that there would be outrage if a Jewish nominee had been asked if her position on Israel would affect her work, or if a nominee of one race were asked if she could be fair to parties of another race. These examples of knee-jerk prejudice were provided, it appears, to imply that the questions put to Barrett were of the same ilk. But they were not. Barrett herself once forcefully advanced an argument that a judge's faith plays an instrumental role in determining how she does her job. It is entirely fair for a nominee to be questioned about her own relevant writings.
That questioning should have become even more pointed when Barrett's hearing took an unexpected turn. Having established that she believes recusal is the answer for a religious judge in a moral quandary, Barrett claimed in response to senators' questions that she couldn't "imagine … any class of cases" where faith would force her recusal. But Barrett has commented extensively about that very thing: cases that are morally difficult for a Catholic judge. The Judiciary Committee could have insisted on hearing how the same person who wrote that for Catholics the "prohibitions against abortion and euthanasia … are absolute" and that "Catholic judges … are morally precluded from enforcing the death penalty" could suddenly be at a loss for examples of cases she would avoid. Instead, the nominee was allowed to send mixed signals: Maybe she'd recuse, but more likely she wouldn't.
Meanwhile, Feinstein's and other Democrats' concerns about Barrett have generated a response from the far right that is both cynical and wholly predictable: bash progressives as anti-Catholic and anti-religion. That playbook was also on display in 2003 during the nomination of William Pryor, who currently sits on the 11th Circuit Court of Appeals. Pryor's record was anti-civil rights, anti-voting rights, anti-reproductive rights and anti-environment. He was also Catholic, so his supporters bought ads blasting senators who opposed him and featuring a painful phrase from America's past: "Catholics Need Not Apply." The ads ran in strategically chosen states to tar key senators as anti-Catholic bigots if they didn't confirm Pryor. It was outrageous, and Feinstein was correct to call the attacks "tawdry" at the time.
Barrett is nominated for a lifetime federal court seat. If she is confirmed, her rulings will affect millions of people for decades. Everything she has written and said about the law, including faith and the law, is relevant to her confirmation. Brennan's wise approach to personal belief and professional duty, so well stated, comports with American democracy and justice. Barrett's view — based on the evidence — is different and not entirely clear. The Senate and the American people have a right to know about it.
Nan Aron is the president and founder of Alliance for Justice and the author of "Liberty and Justice for All: Public Interest Law in the 1980s and Beyond."
Follow the Opinion section on Twitter @latimesopinionand Facebook
---
Life is stressful. Our weekly mental wellness newsletter can help.
You may occasionally receive promotional content from the Los Angeles Times.