Op-Ed: Don't ground the 737 Max 8 just yet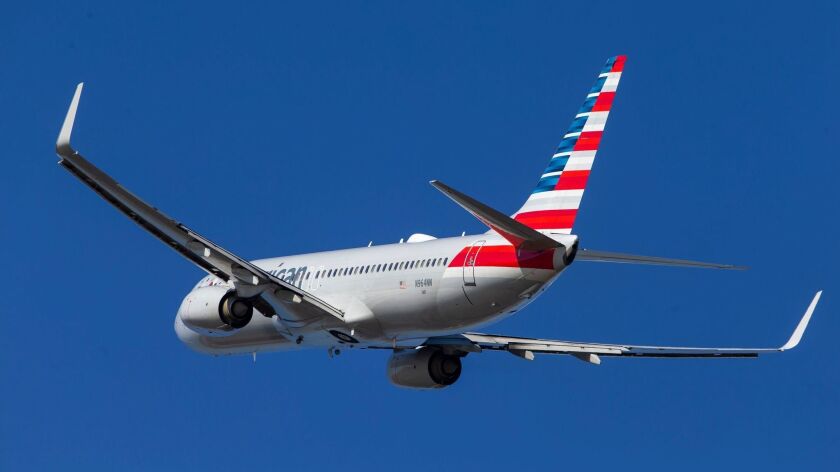 Update: Trump orders Max planes grounded; Boeing supports move 'out of an abundance of caution' »
Pressure is mounting for the Federal Aviation Administration and U.S.-based airlines to ground all Boeing 737 Max 8 airliners after a deadly crash Sunday in Ethiopia that has some similarities to one in October in Indonesia. Already aviation regulators in Europe, Australia, Asia and elsewhere have done so, and some passengers are calling airlines nervously asking what type of plane they are booked to travel on.
But the FAA is right to wait. While both accidents are tragic, it's not at all clear that they have the same cause.
After Lion Air Flight 610 crashed into the Java Sea in October, killing 189 passengers and crew, the 737 Max 8 came under increased scrutiny. It is one of Boeing's newest models of jet and included a new automated safety system to prevent the aircraft from entering a stall. Indonesia's National Transportation Safety Committee thoroughly investigated the accident, and its preliminary report pointed to this new system as causing the control problem those pilots had after takeoff.
We need to let the well-proven investigative process work. This process takes time, and we have to be patient.
Boeing, working with the FAA, quickly issued new guidelines and information to all 737 Max 8 pilots, explaining in detail how the new system should operate — and how to respond if it kicks in when it shouldn't.
So early Sunday morning when Ethiopian Airlines Flight 302 went down shortly after takeoff from Addis Ababa, killing all 157 aboard, the 737 Max 8 was again at the center of a horrible accident, for the second time in five months.
Could there be something wrong with the new jet? Boeing responded that it was confident in the jet, but some airlines and regulators were less convinced. Now a few politicians, too, are weighing in, telling the FAA how to do its job.
Here's what the accidents have in common. Both occurred during the climb phase of the flights. There was good weather. In each, the pilots advised the air traffic controllers that they were experiencing technical problems.
But the differences investigators already know about are also important to note. The Lion Air flight in Indonesia last year had been experiencing a technical problem four days leading up to the accident. The maintenance staff tried numerous repairs, but without success. Flight after flight, pilots experienced problems with the trim system, as well as the airspeed and altitude indications.
These recurring issues pointed to a problem with a sensor that measures the angle of the air flowing over the wing, called the angle of attack sensor. It was replaced but that did not fix the problem. As soon as Lion Air Flight 610 lifted off, the problems returned.
Nothing like this happened to Ethiopian Airlines Flight 302. Investigators reviewed maintenance records right after the crash, and there were no reports of the airplane having technical issues. This is a very significant difference.
Fortunately, the flight data recorders (wrongly called "black boxes") were retrieved from both accident sites. The Lion Air recorders showed the crew fighting for control of a jet that was experiencing multiple system problems, similar to its previous flights.
The recorders for the Ethiopian Airlines flight are being sent to a laboratory where experts will extract the data. Only that data can answer the pressing question: Is there truly a link between these two tragedies?
Grounding all 737 Max 8s before that data is reviewed would be premature. Aviation is the safest form of public transportation because the industry and FAA carefully evaluate data and monitor risks, and then make sounds decisions based on facts — not suspicions or panic. Or comments from politicians.
Enter the Fray: First takes on the news of the minute from L.A. Times Opinion »
Every U.S. airline with a 737 Max is carefully monitoring its fleet looking for any unusual or abnormal indications. None have been found.
Until the data from the recorders are analyzed, the FAA cannot determine if an "unsafe condition" exists. And only if they determine that an "unsafe condition" exists can they ground the airplane. Unless the actions the FAA takes are consistently based on facts and data, then they aren't actually enhancing safety.
In the aftermath of an aviation catastrophe, everyone wants an immediate answer to ensure it doesn't happen again. The news media highlight the questions and fears in their daily (or hourly) updates. Anxiety mounts. In this case we need to let the well-proven investigative process work. This process takes time, and we have to be patient.
We will know what happened to Ethiopian Airlines Flight 302 soon, likely within days. Once we have that knowledge, then let us decide if the 737 Max 8 should be grounded.
John Cox is an accident investigator and retired airline pilot. He has worked in aviation safety for over 35 years and is the CEO of Safety Operating Systems.
Follow the Opinion section on Twitter @latimesopinionand Facebook
---
A cure for the common opinion
Get thought-provoking perspectives with our weekly newsletter.
You may occasionally receive promotional content from the Los Angeles Times.