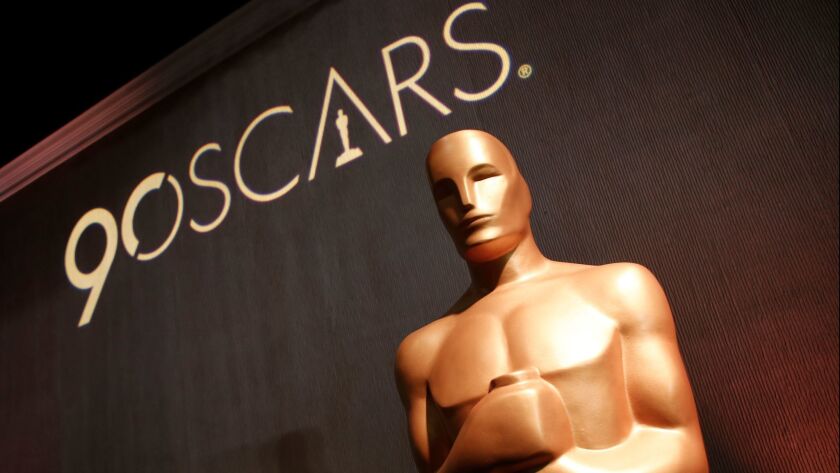 I don't participate in Oscar pools. I don't doggedly angle my way into Oscar parties. If a cookie in the likeness of a statuette is foisted upon me, I do what everyone does — I bite the head off first and dispose of the body later. The Academy Awards trigger a certain malaise, always have. It would be easy to dismiss this as snobbery, a rejection of Hollywood frivolity and art as competition. But who are we kidding? The frivolity is the best part. Second only to the competition.
It's the business-as-usual aspect to the Oscars that's kind of a drag. As usual, the Oscar polls are close to unanimous regarding who will win which award. Best picture? "Three Billboards." Best director? Guillermo del Toro. Best actress? Frances McDormand.
And yet, this year, my standard ambivalence is being tested. Because 2017 was anything but "as usual."
If 2016 was the year of the political upset, then 2017 was the year of the cultural upset. Suddenly, the average Oscar viewer knows as much about the inner workings of Hollywood as half of the people working there. With a viewership hovering around 40 million, the world really is watching. This is nothing new. What is new, however, is that the world is not tuning in for one night only. We've been tuning in — to the industry's sexual harassment scandals and its gender pay gap scandals (even at stratospheric levels), to issues of race and socioeconomic disparity, to a universe of shifting power.
Then there are the films themselves. There are records being broken by female and minority filmmakers, stories being told not just because they have been plucked out of obscurity by a liberal few but because they are of universal appeal to a ticket-buying many. And because they're good.
This year, the Academy Awards feel like a blank Scrabble square: What does America's entertainment establishment want to say for itself? What kind of word does it want to spell ("women" or "omen")? Does the industry want to conduct a conversation with this quickly shifting world or stay the course?
This year, the Academy Awards feel like a blank Scrabble square: What does America's entertainment establishment want to say for itself?
I don't doubt there will be a sense of current events on an individual scale in the form of black dresses on the red carpet and speeches that touch on gun control for any film that involves violence or children. But it's the awards themselves that speak the loudest, whose voices carry long after America has fallen asleep for the night and moved on.
Already there's a knee-jerk lamenting, a kind of pre-robbing of indie favorites "Get Out" and "Ladybird." As if the best way to admire someone's furniture is to speculate how thieves would get it out the door. But these forgone conclusions feel out of place today. In a year of such profound upheaval, there's every reason to believe the Oscars will spice themselves up in a real way, not just an envelope snafu way.
The Oscar pool favorites deserve the accolades. Of course they do. But I predict there will be an upset, and it will be big — either in the best director or the best picture category. All signs point to the fact that last year's best picture winner, a beautiful independent movie about being gay and black, was not an anomaly, but a harbinger.
While I am the fortunate recipient of screeners (including an inexplicable three of "Blade Runner 2049," all of which ended exactly the same), I am far from being a member of the academy. So perhaps my theories seem naive, even laughable, to those with inside knowledge of the voting process.
But there's the rub. It's 2018. Inside knowledge about Hollywood no longer feels so inside. My only qualification for speculation is that I am a movie lover who's been paying attention. And if Hollywood is paying attention right back, my guesses are as good as any.
Sloane Crosley's third book of essays, "Look Alive Out There," is out April 3.
Follow the Opinion section on Twitter @latimesopinion or Facebook
---