Op-Ed: Sunday's Super Bowl was so boring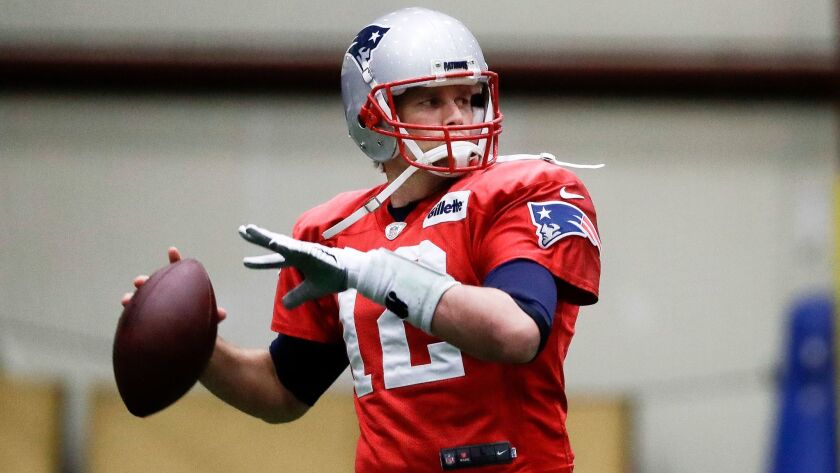 Don't get me started about how boring the Super Bowl was this year. How do I know if it hasn't even been played yet? I just know, OK?
When my buddy invited me over to watch, I should have said, "I've seen this game too many times; I'd rather paint my garage door."
Instead I replied, "Yeah, sure, whatever."
And now, of course, I'm kicking myself because I know what's going to happen, and then it will happen, and nothing will have changed except I stuffed 12 cocktail franks down my throat.
Super Sunday has turned into Groundhog Day: a mind-numbing, endless loop of Patriots victories. With Tom Brady at quarterback, New England has won the Super Bowl five times. Now the Patriots are going for a sixth title. If you live outside the 617 area code, how could you possibly care? For us non-New England fans, the NFL has fallen into a rut and sustained a concussion.
I am beyond tired of hearing the same Patriots' victory song played on this jukebox.
Even the halftime show — Justin Timberlake — is a repeat. At least the commercials, unlike the game, will be new. The ads will keep me alert until the game's back on: "Brady does it again…Brady does it again…Brady does it again..."
I've already texted a buddy who's a medic, telling him he may have to rush over to the Super Bowl party with a shot of adrenaline because my eyeballs will be rolling back in my head. I'll seem on the verge of nodding off irrevocably as the Patriots rack up their billionth first down.
Did you know they use tapes of Patriots Super Bowl wins as anesthesia when performing surgery?
"Brady does it again…"
Did you know they use tapes of Patriots Super Bowl wins as anesthesia when performing surgery?
The only Patriots Super Bowls I've celebrated involved the New York Giants. They put Brady into a blender, hit the pulverize button and left him on the field like a quivering glob of baba ganoush. Twice. But fat chance the Philadelphia Eagles know that recipe.
They'll hit the field on Sunday pumped up, but tragically unaware of the impending slaughter — a team turning the ignition key in a booby-trapped car. Even though they'll start out great and will be way ahead at the half — leading some poor, misguided Philly fans to scout ungreased light poles to climb, anticipating a celebration — the outcome will never be in doubt.
The Patriots love it when the other team takes the lead. Coach Bill Belichick wants it that way. Giving his team a handicap to overcome makes the game a little more interesting — for him, if not for us. He's never worried. He always knows what he's doing. I guarantee you that when Philadelphia goes ahead by three touchdowns with under two minutes left, every Patriots player on that sideline will know, deep in his heart, that they've just won the Super Bowl.
In the aftermath, some will say the Patriots caught a few lucky breaks. Their game-winning drive will turn on a crucial roughing-the-passer call; instant replay will reveal that the offender the refs cited was Eagles owner Jeff Lurie's wife, Tina — clearly visible in her VIP box and not on the field or in uniform at the time. Fans will howl. There will be bellyaching. But even photos of the officiating crew washing Belichick's car before the game won't convince the supposedly neutral higher-ups at the NFL that the refs showed New England any favoritism.
Luck, after all, is the residue of design. And New England's is foolproof. Repeatable. Invincible.
As Jean-Paul Sartre said: "In football, everything is complicated by the presence of the other team."
Not when it comes to the Patriots.
When the game ends, I'll feel like a chump for watching the same thing over and over, expecting a different outcome. And I will once again ask myself, as I do every year, was there anything not better to do than watch the Super Bowl?
Philadelphia believes they are Rocky Balboa. It took them more than a decade to get a rematch for the title, and all they'll find out on Sunday is that they've seen this before. Tom Brady remains Tom Brady.
Roger Director is a writer in Los Angeles and the author of "I Dream in Blue: Life, Death, and the New York Giants."
Follow the Opinion section on Twitter @latimesopinion or Facebook.
---
A cure for the common opinion
Get thought-provoking perspectives with our weekly newsletter.
You may occasionally receive promotional content from the Los Angeles Times.