Op-Ed: School vouchers don't just undermine public schools, they undermine our democracy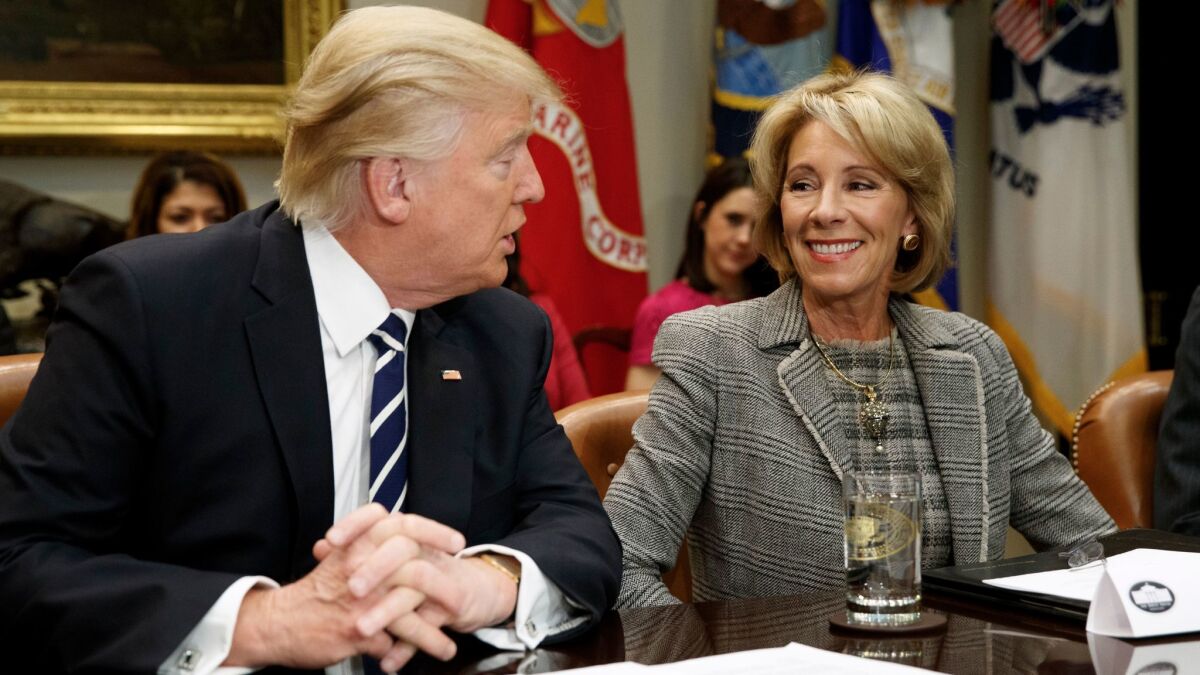 President Trump wants to siphon billions of dollars from public schools to fund private and religious school vouchers. It's an idea that's bad for kids, public education and our democracy.
Today, vouchers are used by less than 1% of the nation's students. Trump and his Education secretary, Betsy DeVos, want to change that. Trump's new budget proposal would make historic cuts to federal education spending, while diverting $1 billion into voucher programs — a "down payment" on his oft-repeated $20-billion voucher pledge. We believe the president's plan would deal a terrible blow to public schools and to the 90% of America's children who attend them, while doing almost nothing to benefit children who receive vouchers.
Although our organizations have sparred and disagreed over the years, such is the danger to public schooling posed by Trump's embrace of vouchers that we are speaking out together on this issue. The Trump-DeVos effort to push vouchers, or something equivalent through tax credits, threatens the promise and purpose of America's great equalizer, public education.
At a time when low-income children make up the majority of public school students, we as a country must do more to support families, teachers, administrators and public schools. Trump's plan would do the opposite.
Facts show that where vouchers have been put into practice on a meaningful scale, they hurt student learning.
Public schools have never fully recovered from the Great Recession. Research, common sense and our collective experiences working with children, families and schools tell us that we must invest in, not cut back, public education. That means providing high-quality preschool for kids, and the social, health and mental health services they need. It means making sure students are reading at grade level by the end of third grade; that they have powerful learning opportunities, including career and technical training that can prepare them for college and work; and that they are guided by well-supported teachers and other education specialists. It means addressing the federal government's deep underfunding of special education and building a culture of collaboration among teachers, administrators, parents and communities.
The Trump-DeVos budget and voucher plans, while still lacking in details, would eliminate more than 20 education initiatives, including after-school and summer programs, career and technical education, teacher professional development and funding to lower class size. Public money would go instead to schools that lack the accountability and civil rights protections of public schools. DeVos alarmingly fueled these concerns during a congressional hearing last week, when she repeatedly declined to say the Department of Education would withhold vouchers from schools that discriminate, including against LGBT students or students with disabilities. She similarly sidestepped questions about accountability.
We believe taxpayer money should support schools that are accountable to voters, open to all, nondenominational and transparent about students' progress. Such schools — district and charter public schools — are part of what unites us as a country.
Champions of an essentially unregulated, free-market approach to K-12 education, including DeVos, counter that theirs is a better path to helping students in need. But the facts show that where vouchers have been put into practice on a meaningful scale, they hurt student learning.
In April, the research arm of the Department of Education released a study of the federally mandated voucher program in Washington. It showed voucher students did worse in math than similar public school students, and it adds to a growing body of education research that concludes that vouchers may harm rather than help student achievement. In fact, the results of voucher tests, compared with other reforms, are the worst in the history of the field, according to Kevin Carey, education policy director at New America.
Administration officials have suggested what amounts to a "back door" way to increase the reach of vouchers: tax credits for corporations and the rich who contribute to third-party voucher funds. The nation's School Superintendents Assn. looked at states where such credits are already in place and found that, in some cases, the donors have been able to make a profit off the backs of taxpayers and ultimately kids. And what Carey calls the "shell game" of moving money through these funds makes it difficult to account for how the money is spent.
The Trump administration's perverse priorities are increasingly clear: Impose the biggest cuts to federal education funding in memory and slash support to poor children and families by cutting Medicaid, food stamps and other programs, all while cutting taxes for the rich. It is an agenda that betrays millions of families seeking a better life, and one at odds with what this country stands for. Public schools are a fundamental engine of opportunity in this country. We will stand together to defend them.
Jonah Edelman is chief executive of Stand for Children, which advocates for quality public education. Randi Weingarten is president of the American Federation of Teachers.
To read the article in Spanish, click here
Follow the Opinion section on Twitter @latimesopinion and Facebook
Life is stressful. Our weekly mental wellness newsletter can help.
You may occasionally receive promotional content from the Los Angeles Times.