Op-Ed: Don't stop with family separation. End the whole immigration prison system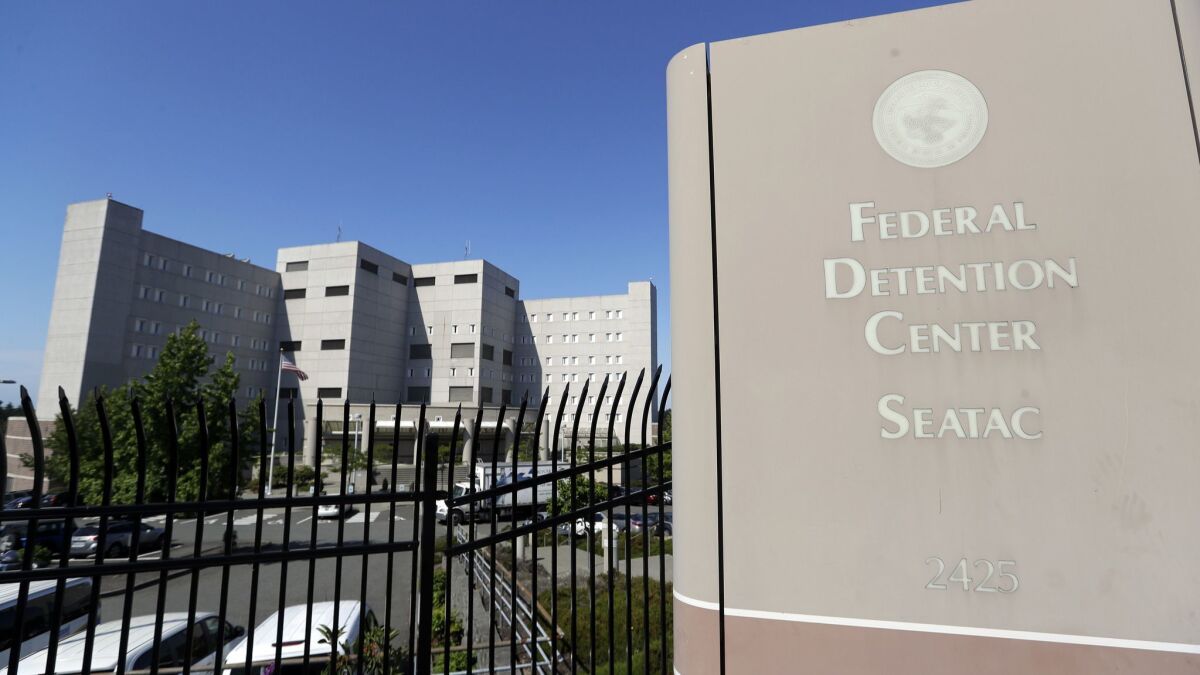 The Trump administration, shamed by the national outcry over separating children from their asylum-seeking parents at the border, has capitulated. The president Wednesday signed an executive order to end that brutal practice — and instead could imprison children alongside their parents indefinitely.
The question Americans need to ask themselves next is this: Why are we imprisoning immigrants or asylum seekers at all?
I have been working with families and individuals in our immigrant prison system for about a decade, including people arrested in ICE raids, victims of human trafficking and those who arrive at the border seeking asylum. There are, on any given day, approximately 34,000 to 40,000 such people being held in immigration detention.
The largest of these facilities is the adult-only Adelanto Detention Facility, just 90 miles outside Los Angeles where up to 1,960 immigrants are held.
This is a form of civil, administrative confinement, which means people held in these prisons are not afforded the safeguards of the criminal justice system, such as legal counsel. The conditions are just as inhumane too. We have documented widespread abuse in immigrant prisons, including physical and sexual assault, medical neglect, bacterial infections from mold, and maggots in food. Since the creation of the Immigration and Customs Enforcement agency in 2003, there have been over 180 reported deaths in immigration detention. A report released Wednesday by Human Rights Watch looked at 15 deaths between December 2015 and April 2017; it found that inadequate medical care contributed or led to the person's death in eight of them.
Enter the Fray: First takes on the news of the minute from L.A. Times Opinion »
The idea of imprisoning immigrants and asylum seekers while they await the outcome of their requests to stay in the United States is a relatively new phenomenon. It wasn't until 1981 that the Reagan administration opened the McAllen Detention Center on a former U.S. Navy Base in Puerto Rico to detain Haitians. The next year, as Reagan warned of a "tidal wave of refugees" fleeing civil wars in Central America, the administration established its Mass Migration Emergency Plan, requiring that 10,000 immigrant prison beds be ready for use at any given time.
This gave rise to the formation of the world's first private prison company, Corrections Corp. of America (CCA), which changed its name in 2016 to CoreCivic. CCA/CoreCivic got its first federal government contract for an immigrant prison in Texas in 1983. And the publicly traded corporation has been lobbying to expand our immigrant prison system ever since. In the 1980s, there were anywhere from 30 to 3,000 people being held at a time; today it's 10 times that, and 73% of them are in facilities operated by private companies.
In 1996, under the Clinton administration, two laws were passed that greatly expanded our civil immigrant prison system. These laws added extensively to the list of crimes that made any non-U.S. citizen, including many legal permanent residents, vulnerable to civil incarceration and deportation. Then the George W. Bush administration launched Operation Streamline, which authorized the criminal prosecution — rather than civil deportation — of those apprehended at the border; that's the program the Trump administration used to separate families.
So where we are today is the result of three decades of increasingly aggressive policies under both Democratic and Republican leadership. It is time that we all take responsibility for this system and put forth what former First Lady Laura Bush recently called for: "a kinder, more compassionate and moral answer."
And we can.
The Trump administration or Congress can implement community accompaniment programs, through which relatives and local organizations take responsibility for making sure immigrants and asylum seekers can have their day in court, with due process, instead of being caged in a system that is deliberately set up to prevent them from accessing legal counsel or other support.
We already have a more humane and less expensive response to migration that does not involve tearing kids from parents, or incarceration.
My organization, Freedom for Immigrants, has been piloting these programs since 2014. In the first six months of our Bay Area-based program, we were able to secure the safe release and housing of 61 people, showing that our communities do indeed want to welcome immigrants. Instead of being detained or wearing ankle monitors, immigrants are released on parole or bond. We connect them to resources, including attorneys, transportation and even housing. If they are recent asylum seekers without family, our volunteer hosts provide them with a place to live while immigration courts process their cases.
In the late 1990s, the federal government ran a similar pilot program with the New York-based Vera Institute for Justice where people were released into the care of Vera rather than be imprisoned. Their pilot found that 93% of asylum seekers appeared for their hearings, as did 94% of immigrants with past criminal convictions.
The Lutheran Immigration and Refugee Service, which ran a pilot program in collaboration with ICE in 2015, found that it costs only $50 a day for an entire family to receive housing and supportive services, such as connections to attorneys and help getting to court hearings. This is far cheaper than the average $798 it costs taxpayers daily to imprison a family (2½ individuals).
So we already have a more humane and less expensive response to migration that does not involve tearing kids from parents, or incarceration. It is time that we implement it.
The moral outrage over family separation has been absolutely justified. Now let's turn this moment into a movement to end the immigrant prison system and replace it with a more compassionate and cost-effective approach that upholds our values as a nation and the dignity of people who want to come here.
Christina Fialho is a Los Angeles-based attorney and the co-founder and executive director of Freedom for Immigrants (formerly CIVIC).
Follow the Opinion section on Twitter @latimesopinionand Facebook
---
Life is stressful. Our weekly mental wellness newsletter can help.
You may occasionally receive promotional content from the Los Angeles Times.