Op-Ed: I sit on the Air Resources Board. California's foot-dragging on electric buses is beyond egregious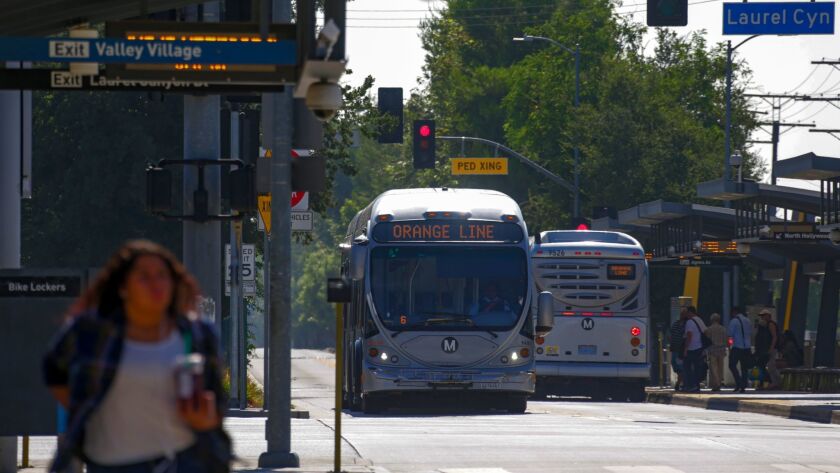 For nearly two years, the California Air Resources Board has been refining a rule that would require public transit agencies across the state to shift to zero-pollution buses. These buses produce no tailpipe pollution, and riders don't risk their lung health as they wait to pay their fare.
I sit on the Air Resources Board, and I have seen egregious foot-dragging that's putting the whole rule-making process at risk.
As of now, there are 39 public transit agencies in the state with fleets of more than 50 buses. Half of those agencies have at least some zero-emission buses or have recently ordered such vehicles.
The Los Angeles County Metropolitan Transit Authority adopted a plan last summer to shift its bus fleet to 100% electric vehicles by 2030. A few weeks later, Stockton announced that 100% of buses in that conservative Central Valley city would run on electric power by 2025.
But a handful of agencies are resisting any proposal to phase in electric buses and phase out reliance on polluting natural gas or diesel.
That reluctance has helped stall bold action at the Air Resources Board. Specifically, a few vocal opponents of shifting to electric buses have insisted that the technology isn't ready, the costs are too high and public agencies can't afford to abandon fossil fuels.
We must finish the years-in-the-making rule requiring transit agencies to buy electric buses as their fossil-fueled buses wear out.
Simultaneously, the natural gas industry has been working steadily in Sacramento to grab on to incentive funds intended for electric vehicles, including electric buses.
Here are the facts:
Electric bus technology has improved dramatically. In just a short time, the range a bus can travel without recharging has risen from just over 100 miles to about 300 miles. That's a range that easily accommodates the distance most transit buses travel in an average day. For those routes that are longer, there's in-route fast-charging technology.
Prices for electric buses are dropping almost as dramatically as range is increasing. Electric buses are now competitive with fossil-fueled buses on a total cost of ownership basis.
Air Resources Board staff, using a computer-generated model, have determined that if all public transit agencies in California shifted their entire fleets to zero-emission buses by 2040, they would save more than $500 million compared with the status quo.
California is the electric bus manufacturing capital of the nation. Three out of the four leading electric bus makers serving the nation are located in the state. Two — BYD and Proterra — are building buses right here in Los Angeles County. Another new electric bus company, GreenPower Bus, is building a factory in the Central Valley.
These electric bus companies are creating good-paying manufacturing jobs. They're showing again that the new energy economy can benefit the state, the environment and public health, all at the same time.
In return for investing in electric buses, transit agencies will help cut climate pollution as well as common air pollution. Although California's electricity system still includes natural gas power plants, electric buses produce nearly a third less climate pollution than the least polluting natural-gas bus. And life-cycle emissions from electric buses will continue to decline as the electricity system in California moves toward 100% renewable energy.
Transit agencies that adopt electric buses are also helping demonstrate and encourage development of technology that can eventually become common in other vehicles, including heavy-duty trucks. Though some transit agencies, such as L.A. Metro, have the vision needed to make the change, others need a push.
There's no reason for the Air Resources Board to delay any longer than we already have. We must finish the years-in-the-making rule requiring transit agencies to buy electric buses as their fossil-fueled buses wear out.
Dean Florez is a member of the California Air Resources Board and past Senate Majority Leader representing environmental justice communities.
Follow the Opinion section on Twitter @latimesopinion or Facebook
---
A cure for the common opinion
Get thought-provoking perspectives with our weekly newsletter.
You may occasionally receive promotional content from the Los Angeles Times.