Op-Ed: Registered and ready to join the elite 17% of voters who rule L.A.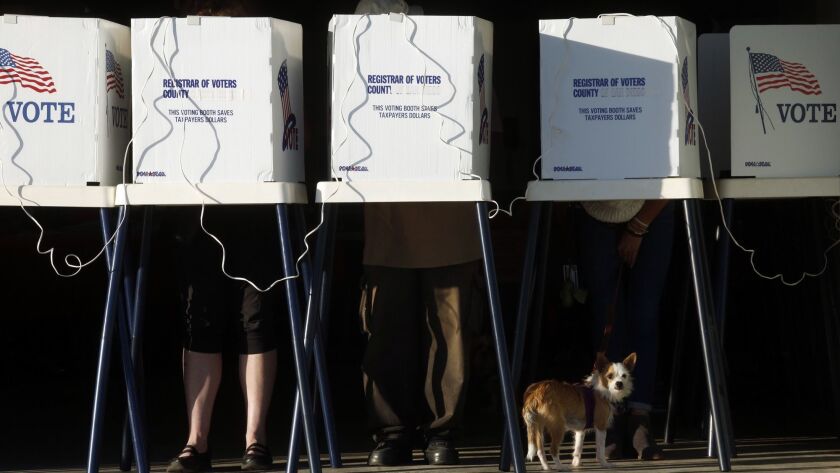 On June 5, I will join the ruling elite of Los Angeles. It isn't some coastal cabal or special interest group funded by dark money. It's a powerful minority called "voters."
Los Angeles County, with a population of 10.2 million, has 5.1 million registered voters, but during the local elections in March 2017, only 17% of them cast a ballot. That's a lot of power: Every voter who casts a ballot is doing so on behalf of 11 others who don't have a voice in our elections or those who chose not to vote.
Would you like to be among the deciders? Monday at 11:59 p.m. is the deadline to register for the June 5 election.
This voting elite decide on bonds, taxes and policies for the millions who choose not to vote, but they also speak on behalf of those who do not have the right to vote — including over 2 million children and many of the county's 3 million immigrants who lack citizenship. They vote on policies affecting thousands of people with criminal histories who may not know about their rights to vote under certain circumstances.
Of course, voting isn't the only way to be counted. Many voters and nonvoters have participated in street protests and other forms of activism since the 2016 presidential election. And, as the Supreme Court has confirmed, all residents — not just voters — must be counted when legislative districts are drawn. Elected officials have to represent all those who live in their districts — not just those who voted for them. However, only U.S. citizens over 18 get to choose those officials.
When only a few vote, there's an increased chance that those who are elected don't reflect the will of the majority. The influence of deep-pocketed corporations and special interest groups become more pronounced. Rich donors and their political action committees relish low-turnout elections that are easy to win by just getting the reliable "party faithful" or "base voters" to show up at the polls.
As a first-time voter and young person, I am not important or rich enough to be wooed or courted by candidates. As an Asian American, I probably will not be targeted by either party. As someone who has grown up with social media, I am not easily swayed by dumb "news," so I'm probably not even valuable to foreign powers looking to manipulate our elections. Like millions of other Angelenos, my only way to sway the future of my state and nation is my ballot.
This bit of leverage is no small thing. Americans — most notably women and African Americans — have marched and sued and sometimes died to secure the right to vote. Even today, there are efforts by people like Kansas Secretary of State Kris Kobach to further dampen turnout with strict voter identification laws that disproportionately affect communities of color and immigrant communities. Given how many voters self-suppress by not showing up at the polls, one wonders: Why do Kobach and his ilk bother? Perhaps they sense the potential electoral strength of new voters, young voters and voters of color.
This June, I'll be voting for the first time. I've done nothing personally to earn this privilege; I'm standing on the shoulders of my immigrant forbears and uncowed civil rights activists. I did nothing but be born here and have 18 birthdays. But I know I'm one vote. And in L.A. County, that means a lot.
Jason Fong is a freshman at Wesleyan University. He was born and raised in Los Angeles.
Follow the Opinion section on Twitter @latimesopinionand Facebook
---
A cure for the common opinion
Get thought-provoking perspectives with our weekly newsletter.
You may occasionally receive promotional content from the Los Angeles Times.