Op-Ed: Teachers have been walking out all year. Now they're walking straight to the ballot box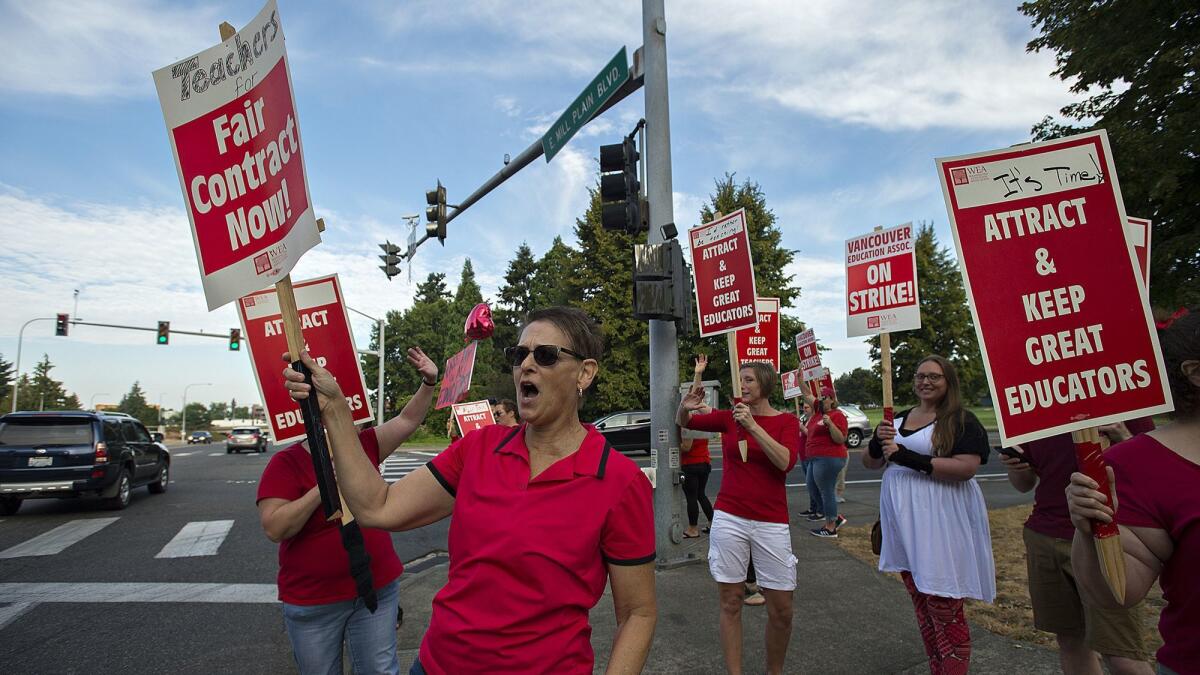 What unfolded in West Virginia, Oklahoma and Arizona last spring was not supposed to happen. Tens of thousands of teachers went on strike in bright red states where government-employee unions are weak.
They were boiling over, angry at low pay and lawmakers who kept cutting taxes while letting school funding sink to woeful levels. The teachers in those states won raises, and so did the ones who walked out in Kentucky and Colorado.
On the eve of Labor Day, many teachers are still boiling over. More than 30,000 teachers in Los Angeles voted Thursday to authorize a strike if their union and school district fail to agree on a contract. Earlier in the week, teachers in Seattle voted to strike in September if their union and school district don't reach a deal. And North Carolina's teachers are inching closer toward a statewide walkout.
Whether or not the strike wave continues, it's clear that teachers and their unions have been galvanized into focusing on the November elections. They are seeking to elect lawmakers who will support public education, not starve it. Some teachers are trying to become lawmakers themselves.
As teachers flex their political muscle, their unions are facing a coordinated attack.
Scores of teachers are running for political office in states where educators walked off the job earlier this year. They're on the ballot in West Virginia, Oklahoma, Arizona, Kentucky, Colorado and North Carolina. Sixty are running for office in Oklahoma alone.
They include Craig Hoxie, a high school physics teacher in Tulsa who was making less than $50,000 a year after 19 years of teaching. Hoxie said he decided to run during last April's strike while he was walking in the teachers' 110-mile march from Tulsa to Oklahoma City.
"We need to get our funding back to levels where we will be able to sustain our operations and stop degrading what we do for the kids," Hoxie said. "We need to turn education into a regular yearly priority so we don't have to jump in every year to try to fix things." Oklahoma's public school spending per pupil is fourth lowest in the country. It has dropped by more than 10% since 2008, after factoring in inflation.
Educators are running for office even in states that didn't have strikes. The Democratic gubernatorial candidates in both Minnesota and Wisconsin are former teachers; the Democratic candidate for Connecticut's 5th Congressional District, Jahana Hayes, was 2016's National Teacher of the Year.
In some states, teachers have adopted an additional strategy. As Republican lawmakers champion austerity and tax cuts, unions in Colorado are pushing a ballot initiative to increase school funding. The referendum would raise the income tax for people earning more than $150,000 a year, and also the corporate income tax.
Unions in Arizona were pushing a similar measure that would have increased the income tax for people making more than $250,000 a year, but the state Supreme Court threw if off the ballot last week for inexact wording. School spending per pupil in Arizona fell 36% from 2008 to 2015, after factoring in inflation. Joe Thomas, president of the Arizona Education Assn., the state's largest teachers' union, says educators are trying to restore about $1 billion of what was cut. "If you bring back that funding, then we can probably get competitive salaries," Thomas said.
The outpouring of public support during the #RedforEd strikes could provide a big boost to teachers in this year's elections. A recent poll found that in states that had strikes, 63% of the public supports increasing teacher pay, up 16 points from last year.
Randi Weingarten, president of the American Federation of Teachers, the country's second-largest teachers' union, hopes the momentum will translate into reform. "The most important piece right now is to try to build on the strikes and create transformative change in state after state by changing who's in the elected leadership because most education policies happen in state legislatures, executive chambers and local school boards," Weingarten said.
As teachers flex their political muscle, their unions are facing a coordinated attack. The Supreme Court's June decision in Janus vs. AFSCME means that government employees can't be required to pay any fees to the unions that negotiate for them. Public-sector unions are expected to lose 10% to 30% of their revenues as a result.
Enter the Fray: First takes on the news of the minute from L.A. Times Opinion »
The Freedom Foundation, a group backed by the Koch brothers and other anti-union billionaires, pledged to inform every government employee on the West Coast of their right to decide whether to pay fees to their labor union "and its predictable leftist political agenda." The foundation sent emails to 76,000 teachers in Los Angeles and San Diego in May, urging them to quit their unions and stop paying union fees.
But in state after state, teachers remain convinced that tax-cut mania has sapped education budgets, depressing teacher salaries and increasing class sizes. "These billionaires want to weaken our collective strength and voice on matters like fighting vouchers, fighting to protect your pension and fighting on class size," said Lily Eskelen Garcia, president of the National Education Assn., the nation's largest union. "I anticipate that we are going to hold our own." Teachers know that having a strong union helps to keep school budgets at healthy levels.
Although tax cuts might be politically wise, they will prove educationally foolish. What hurts children's education hurts the country's future. Yes, teachers want higher pay. But they also want to put school funding back on track. All lawmakers, whether Republican or Democrat, should want the same.
Steven Greenhouse was a reporter for the New York Times for 31 years, including 19 years as its labor and workplace reporter. He is currently writing a book, "Beaten Down, Worked Up: The Past, Present and Future of American Labor."
Follow the Opinion section on Twitter @latimesopinion or Facebook
A cure for the common opinion
Get thought-provoking perspectives with our weekly newsletter.
You may occasionally receive promotional content from the Los Angeles Times.