Mayor Eric Garcetti offers to mediate between L.A. school district and teachers union in contract talks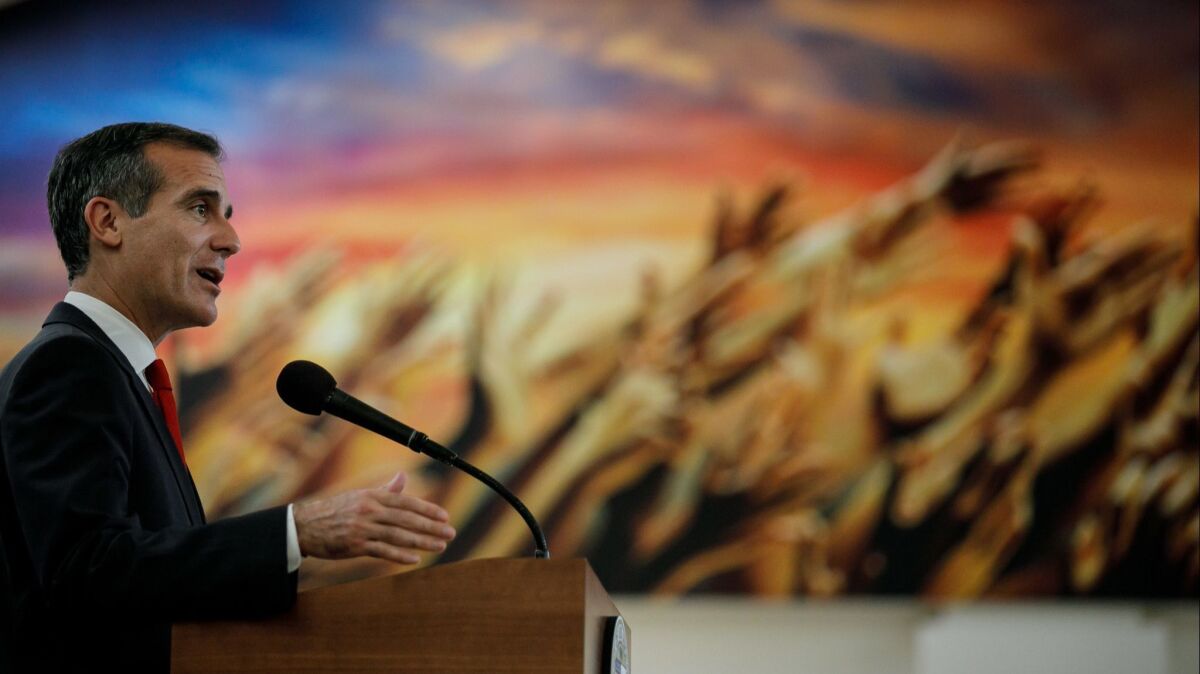 Los Angeles Mayor Eric Garcetti has volunteered to help break through a stalemate in contract talks between the nation's second-largest school system and its teachers union.
The offer comes as United Teachers Los Angeles is conducting a strike-authorization vote, which would allow the union leadership to call a strike without going back to the membership for approval.
"We need to make sure teachers are in schools and that children have teachers," Garcetti said Friday in response to a reporter's question at an unrelated event. "I will do anything that I can to make sure there is not a strike, or, if a strike is called, to directly intervene in negotiations."
Garcetti said he'd made the offer to leaders on both sides, and that the broad outline of a deal appears within reach.
"This is a time, I think, in which there can be reasonable increases for teachers," he said.
L.A. schools Supt. Austin Beutner said he welcomes the offer "to convene a meeting with L.A. Unified and UTLA leadership to help resolve this situation and prevent a strike, which will harm students, families and the communities we serve."
In a Monday interview with The Times editorial board, Beutner also suggested that the union was negotiating in bad faith and had been pushing toward a strike from the get-go. As partial evidence, he referred to an opinion piece that ran in The Times on Aug. 23, written by Glenn Sacks, an L.A. Unified teacher and a union representative at his school. Sacks wrote that the union planned to strike Oct. 3.
Union spokeswoman Anna Bakalis said Monday that Sacks' assertion that a date had been set was inaccurate.
"We have to adhere to the mediation process and that means mediation and then fact finding," she said. "That process takes weeks."
On Monday night, the union, responding to the mayor's offer, renewed its push to begin formal mediation.
"We believe a state mediator can help move the parties toward an agreement, and there is no reason for any delay," said a union statement. "Civic leaders should be pressuring the district to follow the law and go into mediation immediately."
The union has pushed for mediation as early in August as possible, and has accused the district of stalling. Beutner wanted a later date, he said, to avoid disruption early in the school year. The start date to begin work with an outside mediator has been set for Sept. 27.
Salary is one part of the division between the district and the union. United Teachers Los Angeles has asked for a 6.5% raise retroactive to July 1, 2016, with the possibility of future raises in a contract that would run through June 30, 2020. The district unofficially has offered 6%, stretched out over a three-year period. Other district employee unions already have settled for about 6%, spread out over several years in various ways, but they could be entitled to additional compensation if the teachers get more.
Strike-authorization votes are a standard pressure tactic and do not preordain a walkout, but district officials appear to be worried. On Thursday — the first day of voting — the district helped coordinate a news conference with parents who spoke out against a strike.
The teachers' 69-page proposal covers many areas besides salary, including changes that would add greater protections for teachers who want to hold on to their current assignments at schools and that would result in additional hiring to bring down class sizes and extend nursing and counseling services at campuses.
Garcetti said last week that he empathizes with teachers on such fronts.
"For most teachers I've talked to, it's not about the pay — it's about class sizes, it's about the independence they have, it's about their ability to do what they do well. And I think there are a lot of nonmonetary things that the teachers union and the district could agree upon," he said.
But many of the desired changes are expensive. Beutner said he'd like to reduce class sizes, but the money isn't there. The teachers' entire package would bankrupt the district, he said Monday.
In his remarks, Garcetti said he accepted the district's position that the school system's financial bind is real.
"If there is too big of a raise this year, it is true that this district would go off a cliff," he said. "You would see larger class sizes, possible layoffs, etc. So I think that it's very important to live inside the means that we have.
Twitter: @howardblume
---
UPDATES:
8:10 a.m. Aug. 28: This article was updated to add teachers union reaction to the mayor's mediation offer.
This article was originally published at 6:40 p.m. Aug. 27.
The stories shaping California
Get up to speed with our Essential California newsletter, sent six days a week.
You may occasionally receive promotional content from the Los Angeles Times.