Op-Ed: 'We had a thing for Cher, and now we knew where to find her'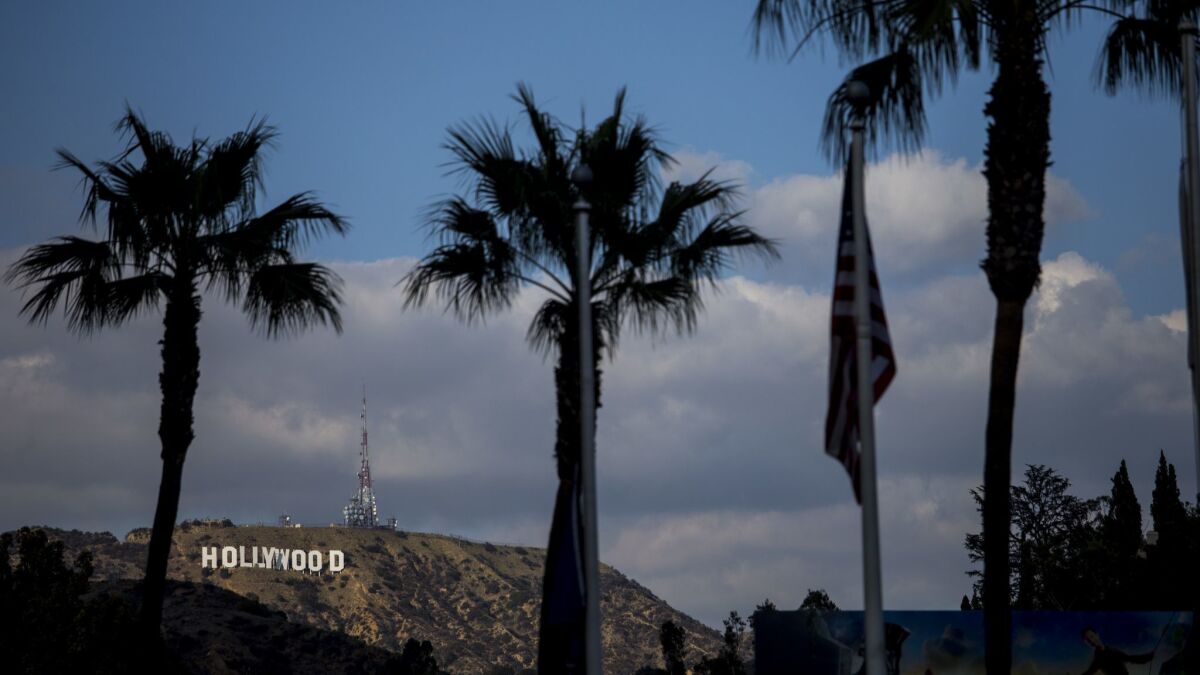 It's been nearly 40 years since I've lived in Los Angeles. I still visit every year or so and am always struck by how surpassingly pleasant it is, and how . . . floaty.
There's a buoyancy particular to my hometown, one I feel nowhere else. I'm an inch over my seat before the plane has landed, leaning into the window to stare at what never changes and always surprises: the flat-out astonishing number of perfectly turquoise swimming pools, unlikely cabochons set in the grid of neighborhoods around LAX.
Then there's that flat shimmer of water over bone-dry tarmac. I never see those mirages, not on the East Coast. Maybe it's the humidity here. That I can't picture a California freeway without a heat mirage shimmering in the distance is testimony to my advanced years. Surely no empty swath of 405 any longer exists during daylight.
Traffic is epic. But as a visitor, without a car of my own, I float above it, driven about by friends or colleagues, comfortably infantilized, swaddled in climate control. And whether by accident or intent, at some point we'll pass the house in which I grew up, on Sunset Boulevard.
There's a buoyancy particular to my hometown, one I feel nowhere else.
It was designed by Robert Byrd, the same architect who built the house on whose door the Manson gang wrote "Pig" with Sharon Tate's blood. I didn't know about the murders then, but people never forgot what happened just miles away. Years after the fact, when real estate agents showed our house to prospective buyers, a few found the connection too unsavory to ignore.
There's still no sidewalk on the north side of the boulevard where we lived. It's a hillside; no place to put one. As there were no crosswalks, and no lights to slow traffic, the only way I ever got to the other side of Sunset, the one with the sidewalk, was circuitously, by car.
Beyond the boulevard were neighborhoods I visited only on Halloween, dropped off by car to walk with friends along orderly blocks of houses, ringing doorbells. Because there was no walking from one house to another where I lived, there was no neighborhood, but a string of separate homes on outsized properties, each with its separate access at the end of a long driveway. It would have taken an hour to amass a single handful of candy.
The grandparents who raised me moved to Los Angeles because they believed in the California dream — "lock, stock and barrel," my grandmother would say. Wandering Jews who had crisscrossed the globe, at last they built a house, the one in which they expected to spend the rest of their lives, and before the money ran out, they lived a life out of Sunset magazine.
Sparkling French doors kept the indoors drenched in sunlight. Outside, fancy barbecues unfolded against a backdrop of roses, bougainvillea, bird of paradise, lemon trees, orange trees, limes and avocados. When I moved east I didn't imagine I'd miss the vegetation, the smell of eucalyptus. For a decade or so, I was excited by seasons. Wasn't it great to have four? As it turns out, I miss year-round flowers. I didn't realize the Atlantic Coast would smell and look different than the Pacific, with its cliffs and chaparral.
Why would anyone want to live anywhere else? When my grandparents asked the question, it wasn't rhetorical. Each of my mother's parents had separately decided where to put their displaced European selves. It was during World War II, and in L.A. their deracinated Judaism burned off like fog over the Pacific.
As soon as they settled in, they took off. What they loved to do was drive: up the coast, down the coast, through the Mojave Desert, a night or two in Las Vegas before heading to Death Valley's Furnace Creek Resort to float among movie stars in its spring-fed pool.
Los Angeles was always a company town, "the industry," whose currency is fantasy. In the high school I attended, the day after the Oscars, a quarter of the students were absent: They'd stayed out too late with their famous parents.
A man used to sit on a folding chair on the corner of Sunset and Hillcrest selling maps to homes of the stars. He's been replaced by a PDF, no doubt. My best friend and I bought one from him when we were 15, driving illegally with only learner's permits and no adult licensed driver. It was a joke, the map, until we found Cher's address.
Enter the Fray: First takes on the news of the minute from L.A. Times Opinion »
We had a thing for Cher. Children of Los Angeles, we were in our movie star phase. We'd been to tapings of "The Carol Burnett Show." We watched "The Sonny & Cher Comedy Hour" religiously. We got ourselves on "The Gong Show," and we got ourselves gonged almost before we began our skit, inspired by if not exactly stolen from Sonny and Cher.
We had a thing for Cher, and now we knew where to find her. Or at least her garbage. We parked behind the house, in the service alley, and lifted the bags from the cans, put them in the trunk, and closed it quietly. Then we opened them under the streetlight that shone on my friend's driveway.
It didn't seem weird. It seemed courageous and clever. We did it over and over. We checked out Carol Burnett's trash and discovered Lucille Ball's was padlocked. Our strikes were targeted. We didn't care about any old star, and Cher's was the only garbage we stole, and sorted.
Now we knew what products she used: what shampoo, what moisturizer. Now we used the same ones. My best friend collected long black hairs pulled from a brush. She untangled and straightened them, but she didn't wash the Cher off. She made a little fetish of 25 strands or so tied together with thread and hung it in her school locker.
I want to be able to say it seemed weird, but I can't. That's the thing about L.A., things makes sense there — just not to other people. Having to drive to get across the street from your own house? Plundering movie star trash? Using it to decide what mascara to buy? Concentrating on the mirage ahead? These aren't problems, they're the only solutions. Obviously.
Kathryn Harrison's latest book, "On Sunset: A Memoir," will be published Oct. 2.
Follow the Opinion section on Twitter @latimesopinionand Facebook
Life is stressful. Our weekly mental wellness newsletter can help.
You may occasionally receive promotional content from the Los Angeles Times.